The battery-electric vehicle innovation is the next big thing for the auto industry and Wrightspeed is at the forefront of it. Gilbert Passin, the CEO of Wrightspeed will be discussing this topic with us in this exclusive interview with TechBullion.
You have been in the auto industry for years, tell us a little more about yourself and the big changes happening around you?
My name is Gilbert Passin. I am the chief executive officer and chief operating officer of Wrightspeed. I've been in the auto industry for more than 30 years and have worked for world-renowned automakers including Tesla, Toyota, Renault, Volvo, and Mack Trucks. The big changes happening now obviously pertain to electrification as everything from motorcycles and passenger vehicles to buses and heavy-duty commercial vehicles are now going electric. 
Please tell us more about Wrightspeed and your vision for the auto industry?
Wrightspeed is designing the world's most efficient battery electric powertrains. We're focused on powering and repowering a new generation of cleaner, lighter, quieter, and more efficient vehicle fleets for urban streets, specifically, short-haul operators such as refuse, delivery and construction trucks, as well as city transit buses.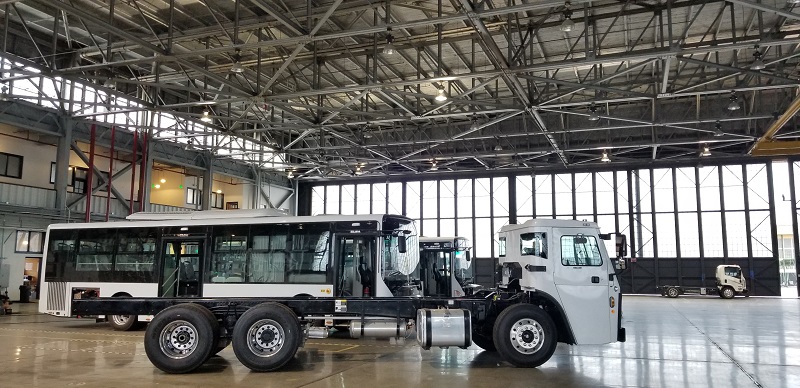 What specifically are range-extended electric vehicle powertrains, what problems are they solving and what makes them unique?
Medium- and heavy-duty vehicles comprise only 4% of the total on-road vehicles, while producing 30% of on-road emissions and consuming 26% of the fuel. Wrightspeed solves both the emission and consumption problems through the electrification of heavy-duty local transport. Our powertrains not only help fleets meet sustainability goals, but also reduce their bottom lines. 
Depending of the application, Wrightspeed provides:
Up to 24% lower TCO vs. diesel and 10% lower TCO vs. direct-drive electric

As early as 2 year payback for buses & 4 year payback for trucks

67% reduction in fuel consumption and 63% reduction in emissions with our range-extended option.

50% less annual maintenance spend vs. diesel
Could you give us a walkthrough of the Wrightspeed Route™ Powertrain, how does it work?
Wrightspeed provides a full powertrain solution that includes electric axles, battery packs, auxiliary electronics, and instrument cluster including software controls and telematics, as well as a range-extender module option.
Our "on axle" motor transmission solution uses two high-speed traction electric machines that connect to left and right independent 4-speed gear boxes. This patented configuration ensures the machines are most efficient when operating as traction motors and also as generators during regeneration. It also allows the highest torque to each wheel and therefore enables Wrightspeed-powered trucks to climb the steepest hills while fully loaded.
Our battery pack is also special – it's fully modular and offers system redundancy if any cell failures were to occur.
Finally, we provide an advanced display panel for all information needed by the driver, and connected telematics for fleet operators.
The GO-green and full-electric evolution are the new focus with competition between stronger, and long-lasting batteries. Do you see Wrightspeed leading to solving this challenge?
We are in the great position of being able to integrate whatever best battery technology is available into our powertrain. Whether it is high-capacity batteries (even solid-state batteries) for full EV trucks, or high-power packs for range-extended systems, we will work with cell manufacturers to use their best technology in our packs.
On the Wrightspeed technology, we were fascinated by the GTD power engines, how does this boost acceleration?
Having the highest torque means we can put down more power relative to other, larger electric motor configurations. So high torque when starting off means faster acceleration. That said, we are not trying to win any heavy-duty truck races – the name of the game is efficiency, stability and reliability.
Wrightspeed was recognized by the World Economic Foundation as a 2016 technology pioneer. What has been your biggest achievement since then?
We are using the same exact technology today that we showed at the World Economic Foundation, but now that technology has been engineered and applied to real-world vehicles. For example, we are going to deliver our first commercial orders in 2021 which are for a city transit bus application. I am also excited to see the team grow and mature into a company that can now scale.
Would you mind telling us more about your exceptional talent and leadership team, who are the brains behind Wrightspeed Vehicles? 
Wrightspeed is comprised of an innovative world-class team of mechanical, battery and software engineers, and very skilled tradespeople. 
Our executive leadership team includes industry-proven executives like VP of Engineering Broc Tenhouten, CFO Suzy Taherian, VP of Business Development Alan Dowdell, and recently hired VP of Supply Chain Ann Lee-Blythe and VP of Manufacturing Christopher Gross.
For investors and partners, do you have any available opportunities to share with us from Wrightspeed?
Wrightspeed is actively engaging with fleet operators, municipalities, Tier 1 suppliers and OEMs worldwide. We're always open to discussing new partnerships and new avenues to make a very positive global environmental impact in the world of medium- and heavy-duty commercial vehicles.
For more information, visit the website: https://www.wrightspeed.com/