The electric vehicle (EV) industry has been rapidly gaining traction in recent years, with more and more consumers opting for sustainable transportation options. As a result, the demand for electric vehicle insurance has surged, leading to a significant growth in the EV insurance market.
According to The Brainy Insights, the global EV insurance market is expected to grow at a compound annual growth rate (CAGR) of over 16.88% from 2023 to 2032. This growth can be attributed to several factors, including increasing government initiatives to promote the adoption of electric vehicles, rising concerns over environmental pollution, and the development of advanced technologies in the EV sector.
In response to this growing demand, leading insurance providers are now offering specialized EV insurance policies that cater to the unique needs of electric vehicle owners. These policies offer comprehensive coverage that includes protection for battery damage, charging equipment, and other EV-specific risks.
The growing EV insurance market presents a significant opportunity for insurance providers to tap into a rapidly growing customer base and offer innovative products that cater to the unique needs of electric vehicle owners.
As more drivers make the switch to electric, they are also looking for insurance policies that cater to their unique needs. EVs have different safety features, charging requirements, and maintenance needs compared to traditional gas-powered vehicles, which require specialized knowledge and expertise to insure properly.
Many insurance companies have recognized this need and are offering tailored policies for electric car owners. These policies often cover specialized risks such as battery damage, charging station mishaps, and cyber-attacks on vehicle software.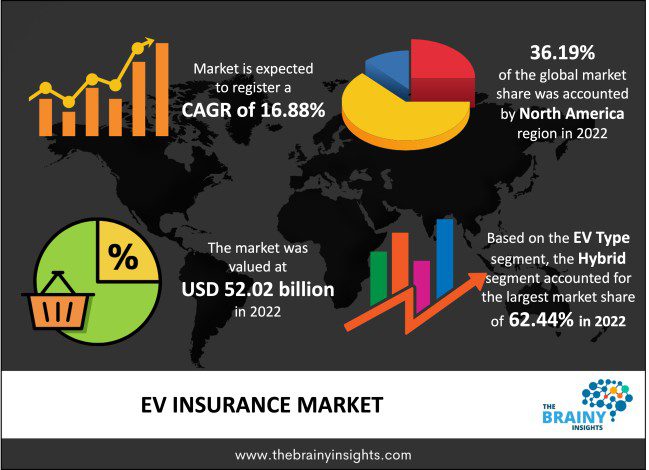 Top Key Players AXA, Allianz, Aviva, Allstate Insurance Company, Zurich Insurance Group, ACKO General Insurance, HDFC ERGO, Beinsure Digital Media, Lemonade Inc., GEICO, Liberty Mutual Insurance Group, Esure, Progressive Casualty Insurance Company, Direct Line, General Motors, Stellaris
Global EV Insurance Market by EV Type:
Global EV Insurance Market by Plan Type:
Third Party Liability Coverage
Comprehensive Coverage
Global EV Insurance Market by Vehicle Type:
Global EV Insurance Market by Coverage:
Accidental Damage
Theft
Natural Disaster Damage
Fire Damage
Battery or Parts Replacement
Global EV Insurance Market by Distribution Channel:
Banks
Insurance Companies
Online Brokers
OEMs
Global EV Insurance Market by Region:
North America
Europe

Germany
France
U.K.
Italy
Spain

Asia-Pacific
South America
Middle East and Africa
About The Brainy Insights: 
The Brainy Insights is a market research company, aimed at providing actionable insights through data analytics to companies to improve their business acumen. We have a robust forecasting and estimation model to meet the clients' objectives of high-quality output within a short span of time. We provide both customized (clients' specific) and syndicate reports. Our repository of syndicate reports is diverse across all the categories and sub-categories across domains. Our customized solutions are tailored to meet the clients' requirement whether they are looking to expand or planning to launch a new product in the global market. 
Get More About Similar Category Report @ Electric Vehicle (EV) Traction Motor Market