These days when digitalization has established a name for itself, brands and businesses are in a rush to reach the top pages of the search engine. It may seem to be a tough job to crack, but with the help of quality writing, you can achieve success and convey your message to the audience in an efficient manner. Hiring professional proofreading and editing service providers is essential to ensure your content is written error-free and clearly. 
And this is where Editor World comes in. 
Considered one of the most trusted platforms where skilled professionals connect, the experts professional at Editor World have a keen eye for minor details. They offer to provide a comprehensive range of solutions that meet the requirements of individuals. But, why do you need to choose them over others? Are they really experts in their domain? Here in this Editor World reviews, we will try to answer these all and investigate whether it is a reliable platform or not.
Services Offered by Editor World:
Same-Day Editing:
Editor World understands that sometimes you need a quick turnaround for your editing needs. With their same-day editing and professional proofreading service, you can receive your documents within a tight deadline. Whether it's an urgent business proposal, an academic paper due tomorrow, or any other time-sensitive project, Editor World's same-day editing ensures your work is polished and error-free without compromising quality.
Business or Corporate Editing:
In the competitive business world, clear and concise communication is vital. Editor World offers business and corporate editing services to help enhance your professional documents. From reports and presentations to marketing materials and website content, their expert editors ensure that your business documents are error-free, well-structured, and convey your message effectively.  
Academic Editing:
For students and researchers, submitting well-written and error-free academic papers is crucial for success. Editor World's academic editing services cater to various academic disciplines, including humanities, sciences, and social sciences. Their experienced editors review your research papers, essays, theses, and dissertations, ensuring accuracy, clarity, and adherence to academic conventions. 
Personal Editing:
Editor World recognizes that not all writing needs are strictly professional or academic. They offer personal editing services for individuals who require assistance with personal documents, such as personal statements, letters, resumes, or cover letters. Their editors provide a fresh perspective and ensure that your documents are error-free, engaging, and effectively showcase your unique qualities and experiences.
Book (Fiction/Nonfiction) Editing:
If you are an aspiring author or a seasoned writer, Editor World's book editing services can help you refine your manuscript and prepare it for publication. Their editors specialize in fiction and nonfiction and provide comprehensive editing, including proofreading, structural feedback, character development, plot analysis, and more. 
ESL Editing:
English as a Second Language (ESL) writers often face unique challenges when writing in English. Editor World's ESL editing services cater specifically to the needs of non-native English speakers. Their editors have extensive experience working with ESL writers, helping them improve their English language proficiency, enhance grammar and syntax, and refine their writing style.  
Custom Writing:
In addition to their editing services, Editor World also provides professional writing services for clients who require original content creation. Their skilled writers can create engaging and informative articles, blog posts, marketing materials, website content, and more. Whether you need content for your business or personal needs, Editor World's custom writing services can deliver high-quality, tailored content that meets your requirements.
Rewriting or Paraphrasing:
Sometimes, you may have existing content that requires improvement or needs to be rewritten to suit a different purpose. Editor World offers rewriting and paraphrasing services to help you transform your content while maintaining its essence. Their editors ensure the rewritten content is accurate, coherent, and effectively conveys your intended message.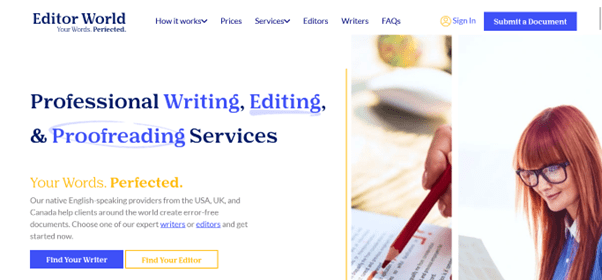 Awards and Recognition
Editor World has been bestowed with numerous awards and certifications that recognize its commitment to providing outstanding services. Here is a list of certificates and awards that Editor World has received over the years:
Gold & Silver Stevie Awards
Editor World has been honored with Gold and Silver Stevie Awards, internationally recognized accolades celebrating business achievements. These awards showcase Editor World's dedication to providing its clients with exceptional editing and proofreading services. 
Gold Titan Awards
Editor World has been honored with the Gold Titan Award, a prestigious recognition bestowed upon organizations that have demonstrated exceptional performance and innovation in their respective fields.
BBB Accredited
Editor World is proud to be accredited by the Better Business Bureau (BBB). This accreditation signifies Editor World's commitment to maintaining the highest business ethics, customer service, and trustworthiness standards.  
Final Verdict
Editor World has garnered a significant reputation as a professional editing and proofreading service provider. Their team of skilled editors is committed to providing quality services with excellent customer support and competitive pricing. Their well-defined solutions ensure that organizations and individuals get an error-free and polished piece of content.   In short, businesses can rely on them for quality editing services.
In this Editor World reviews we have tried to provide you with ample information of this brilliant platform. Their dedication to enhancing your writing and their focus on customer satisfaction make them a reliable choice in the realm of professional editing services.