We've all been there – facing that dreaded lock screen after forgetting an Android pattern, or worse, finding ourselves unable to access a Samsung device due to the Factory Reset Protection (FRP) lock. This feature, designed to protect your personal data from unauthorized access, can become a nuisance when you're the one locked out. So, how do you regain control of your device? Introducing iToolab UnlockGo Android – Easy Samsung FRP Tool, a versatile software that simplifies the complexities of Android pattern unlock, Samsung FRP unlock, and even how to bypass Google account verification after reset. 
Read on to discover why unlocking Samsung FRP is essential and how iToolab UnlockGo can make it hassle-free.
Why Do You Need to Unlock Samsung FRP?
Factory Reset Protection, or Samsung FRP, is a security feature that prevents anyone who doesn't have your Google account details from setting up your device after a factory reset. While this is a critical security measure that protects your data from theft and unauthorized usage, it can create complications for genuine owners. Here are some scenarios where unlocking Samsung FRP becomes necessary:
Device Resale:

If you're planning to sell your device or give it away, the FRP lock will prevent the new user from setting up the device without your Google account credentials. Unlocking FRP ensures a smooth transition to the new owner.
Forgotten Credentials:

It's not uncommon to forget login details, especially if you've just reset your

Android pattern unlock

. An FRP unlock tool becomes indispensable in such situations.
Device Recovery:

If your device has been lost or stolen and you manage to recover it, you'll still need your Google account details to unlock it. However, if these credentials are forgotten or compromised, you'll need to bypass the FRP lock to regain control.
Technological Errors:

Sometimes, devices act up, necessitating a factory reset. If the FRP lock engages post-reset, and you can't remember your Google account credentials, you're essentially locked out of your own device.
Legal Transfer of Ownership:

In cases of legal transfers or inheritances, the original owner's Google account details might not be available, making the FRP unlock process essential for the new owner to use the device.
Tutorial: How to Use UnlockGo to Bypass Samsung FRP Lock
Unlocking your Samsung device's Factory Reset Protection (FRP) lock doesn't have to be a complicated process. With specialized software like iToolab's UnlockGo Android, you can effectively remove Google account verification and take back your device. Here's a comprehensive guide to help you through using the tool.
Step 1: Connect Your Samsung Device to Your Computer
Begin by downloading and installing UnlockGo for Android on your computer. Once the installation is complete, connect your Samsung device to your PC using a USB cable. 
Open the UnlockGo software and select the "Remove Google Lock (FRP)" option. Click on the "Start" button to initiate the process.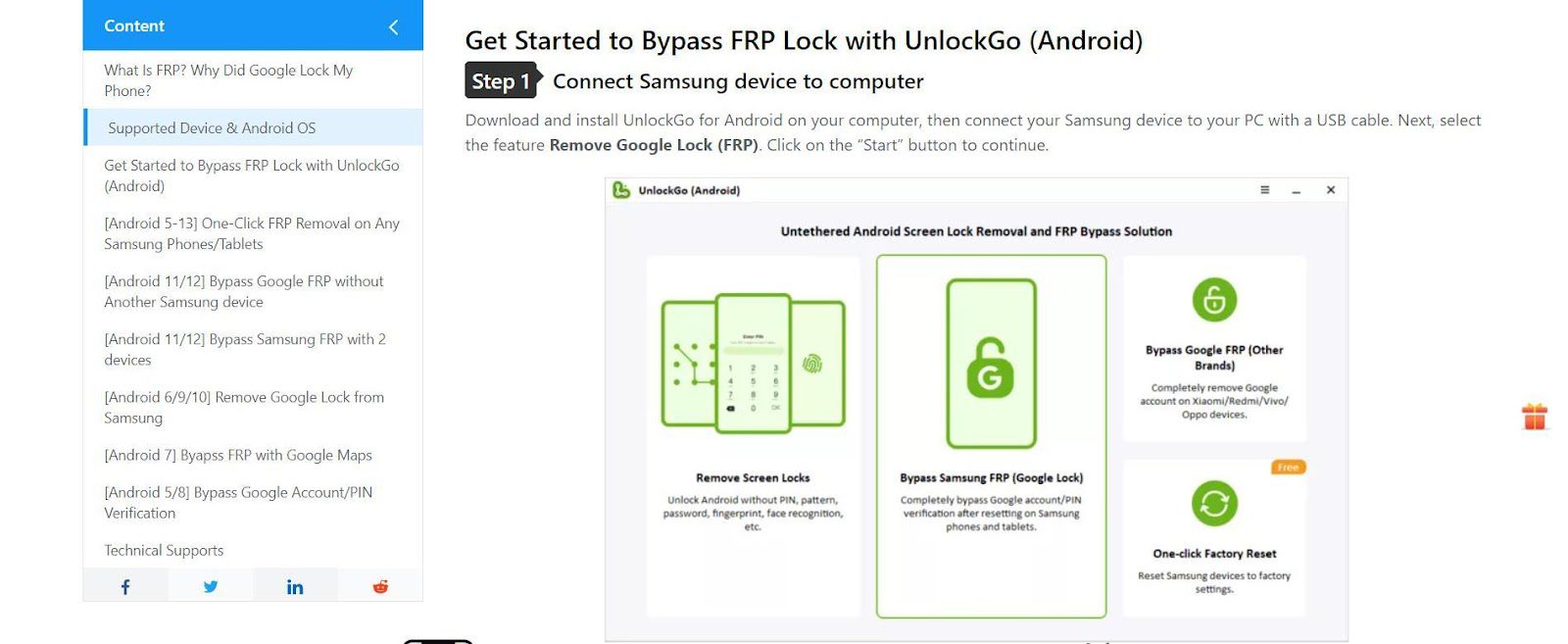 Step 2: Choose Your Unlocking Solution
You'll have different options depending on your Android operating system. UnlockGo provides innovative methods to bypass FRP, particularly for Android versions 5 through 13, in just 3 minutes. Choose the solution that applies to your device and click "Next" to proceed.
Step 3: Enable USB Debugging
After clicking "Next," wait a few moments for a pop-up window to appear. The window will provide instructions on using a secret code to access the Samsung Diagnostics Menu (or Test Menu). Follow each step carefully to enable USB debugging on your Samsung device.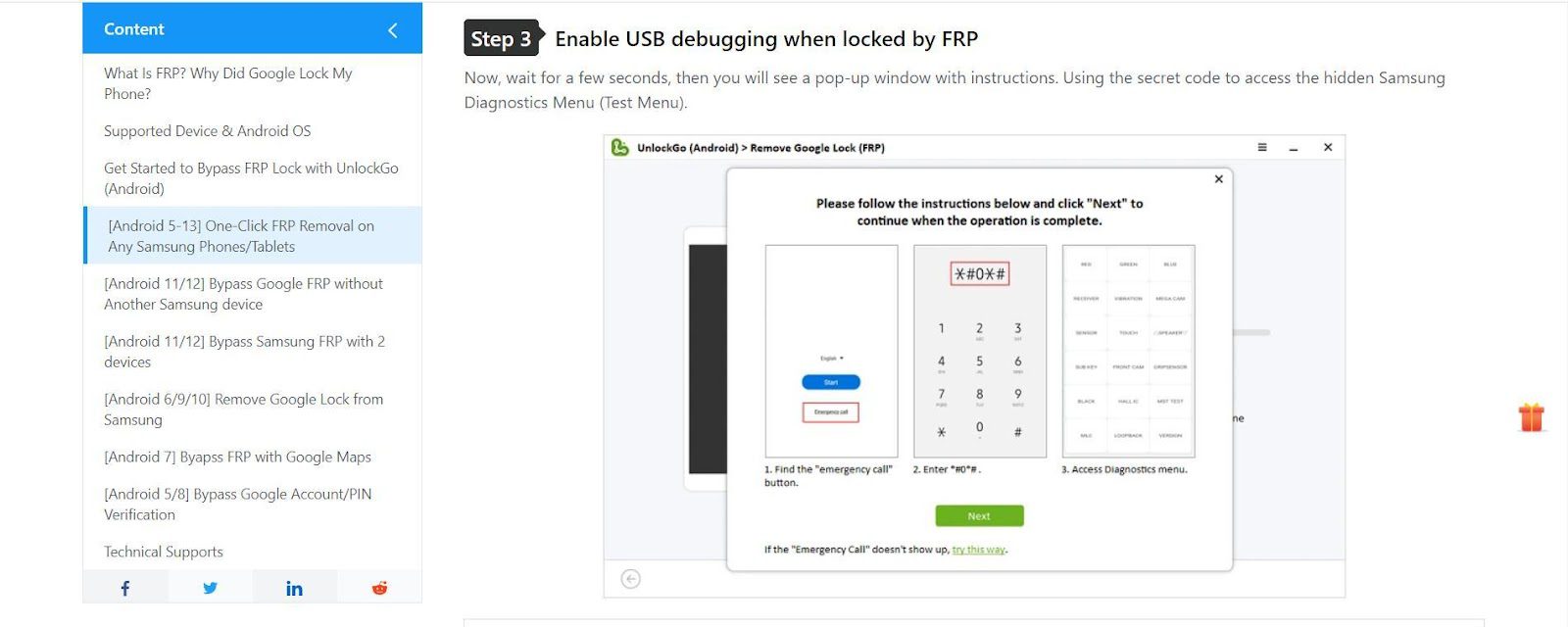 Notes:
If the "Emergency Call" button doesn't appear on the welcome screen, click the green link that says "try this way" on UnlockGo's interface.
You won't be able to enter the Diagnostics Menu if you go through the Emergency Dial feature via the "Power off" menu.
Step 4: Completion – FRP Lock Removed!
Once USB debugging is enabled and permission is granted, the Google account verification will be bypassed within seconds, and your device should automatically reboot.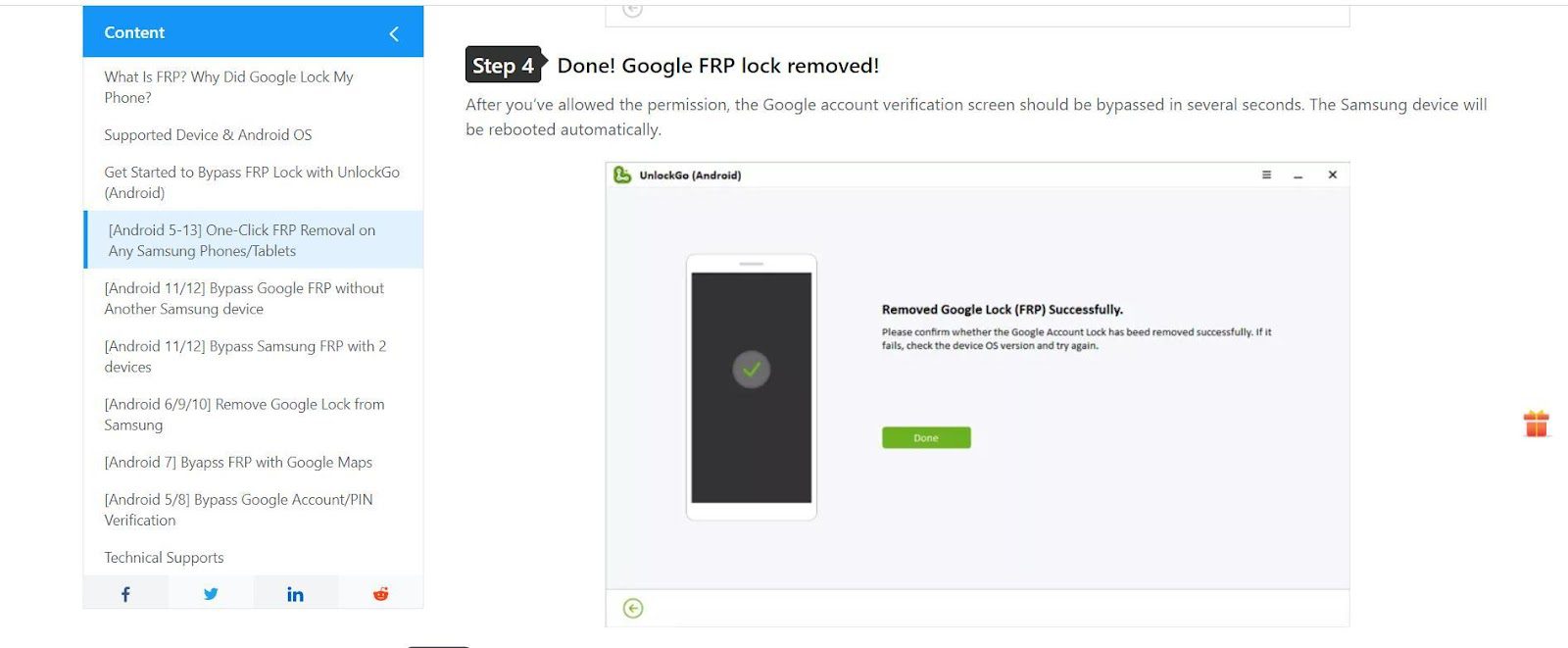 Notes:
If your device restarts with a flashing screen, manually reboot it by holding down the Volume Down and Power keys simultaneously.
If this method fails, navigate back to the previous page and specify your device's OS version for an alternative solution.
Comparing iToolab UnlockGo Android to Other FRP Bypass Tools
When it comes to bypassing Factory Reset Protection (FRP) on Android devices, the market offers various tools and software. However, not all are created equal. Here's why many consider it the most reliable and efficient tool for bypassing FRP on Android devices:
Extensive Compatibility
One of the standout features of UnlockGo for Android is its impressive compatibility range. It works seamlessly with over 15 different Android phone brands and is compatible with Android versions 5 through 13. Furthermore, it's designed to operate smoothly on Windows systems starting from Windows 7 up to the latest Windows 11, as well as macOS 10.11 and later. This level of compatibility makes it a go-to tool for a broad range of devices and systems.
Ease of Use
What sets UnlockGo for Android apart is its user-centric design. The tool's intuitive interface ensures that even if you're not tech-savvy, you'll be able to navigate through the process effortlessly. Moreover, the tool offers alternative methods for specific models that don't provide an emergency call feature, making the tool highly adaptable. For a more detailed guide on this feature, you can read up on how to bypass Google account verification after reset.
Comprehensive Functionality
UnlockGo for Android is not just limited to bypassing FRP locks; it also has capabilities for removing other types of screen locks, such as patterns, PINs, and passwords. This added feature means that UnlockGo can serve as your all-in-one solution for regaining full control over your Android device. 
High Success Rate
Based on advanced algorithms, UnlockGo for Android can bypass FRP locks in a matter of minutes with a success rate of up to 99%. This high success rate gives you peace of mind that the chances of regaining control over your device are exceedingly high.
Professional Yet Simple
UnlockGo for Android offers a balance of professional-grade capabilities while being remarkably easy to use. Whether you're a phone repair technician looking for a reliable tool or an individual facing a lockout situation, this tool saves you valuable time by making the FRP bypass process as straightforward as possible.
Your One-Stop Solution for Android Unlocking Needs
Locked out of your Android? No worries. With UnlockGo for Android, you're just a few clicks away from regaining control. It's compatible, easy to use, and incredibly effective. So go ahead, give it a try, and put those lockout worries to rest!