Earn a Percentage of an entire NFT Marketplace with Zunanaut NFT Collection
NFTs have become incredibly popular recently, with the market hitting a $40 billion estimate in 2021 and continuing to grow in 2022. If you are searching for an NFT collection that will be worth your while, Zunaverse.io is the best option. Not only does it feature low gas fees and speedy transactions, but it also has a lifetime reward system that has never been seen before in this industry. 
Keep reading to know more about this NFT marketplace and the Zunanaut NFT collection.  
Zunaverse.io: Definition
Zunaverse.io is $ ZUNA's first token utility project that is already live, six months before its expected launch date on the project's roadmap. It is a fully operational NFT marketplace on the Binance Smart Chain network with a primary goal of increasing the value of the $ZUNA coin over time. 
Since this platform is built on the BSC network, it features fast transactions and lower gas fees, which any crypto enthusiast will appreciate. In addition, it is designed to benefit the entire ZUNA ecosystem by automatically using 2.5% of all the transactions on this platform to buy back $ZUNA coin. Other unique features of this NFT marketplace include the ability of holders to lazy mint, single + multiple minting, and even auction their NFT collections.
The Zunaverse NFT marketplace has a complete set of features, a smooth user interface, and is dedicated to constant improvement. One of the unique features of this NFT marketplace is that it has integrated $ZUNA as a payment option to gain access to unique features on the platform, such as gaining access to special NFT drops and showcasing your NFT collection. As a result, we can expect this platform to become the go-to BSC center for everything non-fungible. 
It is also worth noting that there is an in-built $ZUNA auto buy back system on the Zunaverse NFT Marketplace that enables 2.5% of each transaction that takes place on the platform to be used to buy $ZUNA automatically forever. In other words, when the Zunaverse NFT marketplace gains more users, the value of $ZUNA also increases.
How to Become Part of the Zunaverse NFT Marketplace
As mentioned earlier, the Zunaverse NFT marketplace is now live. Holders of $ZUNA can now use this platform by collecting Zunanauts, which is an exclusive 1969 astronaut-themed NFT collection that helps holders passively earn $ZUNA rewards within the first 12 months of holding ZunaNauts NFT's as well as Zunaverse NFT marketplace rewards in the form of partial ownership of the platform. This means that owners of Zunanaut NFT collections receive a percentage of all the transactions on the platform indefinitely. However, you must stake your Zunanaut collection on the Zunaverse.io marketplace to receive these rewards. 
About the $ZUNA Coin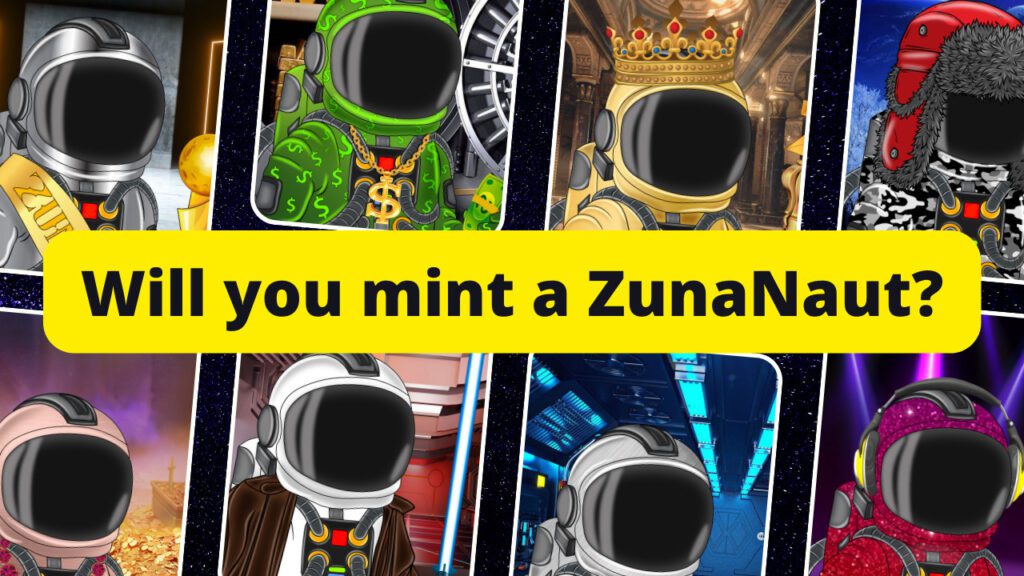 $ZUNA coin was developed on the BSC network as a deflationary token with the primary function of providing holders with passive reflections and automatically creating liquidity to secure the token's trading. 
Be aware that 5% of each transaction involving this coin is given to token owners, while another 5% of each transaction goes to the liquidity pool, where it is permanently locked away. The burn wallet receives a portion of every transaction plus the total transaction value. But, it all depends on the number of coin holders. Interested parties can buy $ZUNA from reputable platforms such as CoinTiger.com, PancakeSwap.finance, and more exchange platforms coming soon.
Conclusion
Now that the Zunaverse NFT marketplace is live, $ZUNA holders can now earn more from the project's impressive rewards system. There are already more than 30,000 $ZUNA holders, and many more will join this wave due to its exceptional features and utility. For more information on this project, visit its official website and follow its social media channels as listed below. 
Twitter |Discord |Telegram |Facebook |Instagram|