The Wondershare team reiterated their commitment to redefining the possibilities of digital experiences by providing simple and convenient software to millions of people worldwide with the launch of Dr.Fone. The application is designed as a tool kit providing users with a variety of resources to fix issues, including helping them to recover deleted messages from iPhone 13 as well as other iOS and Android devices and ensure they have their gadgets functioning optimally in good time.
Overview Of The Global Smartphone Market
The global smartphone market has witnessed tremendous growth over the years. Several brands have emerged in recent times to deliver products to meet the needs of consumers. A report by Mordor Intelligence revealed that 1,366.14 million units of smartphones were shipped in 2020, with a projection that it will reach over 1,500 million units by 2026. Users of such gadgets often encounter issues that make it difficult to get the best of their devices, often requiring them to pay technicians or purchase relatively expensive software applications. However, Wondershare seeks to change this narrative with the launch of the all-inclusive Dr.Fone.
Features And Benefits of Dr.Fone
Dr.Fone comes with a wide range of features that have stood it out from popular solutions, with users describing it as one of the most complete resources for solving all kinds of problems, from system breakdowns and data loss to phone transfers. The comprehensiveness of Dr.Fone, helping users to recover deleted messages from iPhone 13 as well as other information from their devices, has continued to help it rank high with users. The versatile application has been designed to be compatible with several versions of the iOS, solving problems either when or after updating the device to iOS 15.
Some of the exciting features of Dr.Fone include WhatsApp Transfer, System unlock, Screen Unlock, Password Manager, and Phone Transfer. Other attributes of the software are Data Recovery, Phone Backup, Phone Manager, System Repair, and Data Eraser.
Dr.Fone has grown to become one of the most sought-after applications in its category, with over 50,000,000 users across the globe, more than 153.6 million software downloads, and 654,000+ satisfied business partners.
How To Use Dr.Fone To Recover Data
Dr.Fone can be used for several purposes, with data recovery being one of the most popular. The software application has a user-friendly interface that allows iPhone users to recover their data as detailed below:
Ensure the latest version of iTunes is running before using Dr. Fone and then disable automatic syncing in iTunes.

Use the device's USB cable to connect the iOS device to a computer and launch Dr. Fone letting it automatically detect the device.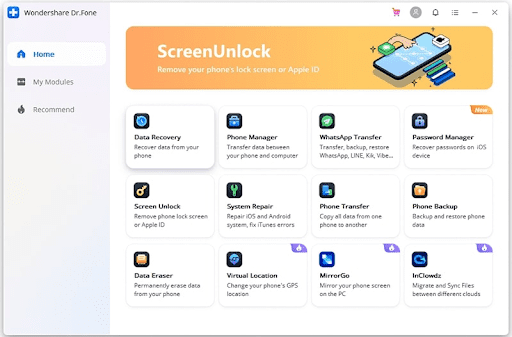 Click the Start Scan button in the window to let Dr. Fone scan the iOS device for deleted/lost data. This process often takes a few minutes. Click the Pause button to stop the process if any needed data is seen during the scan.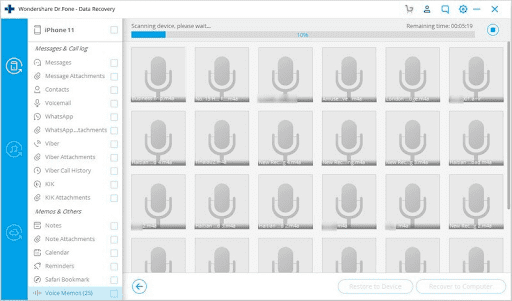 After the scan is finished, the results appear, displaying both lost and existing data on the device in different categories. Enable the "Only display the deleted items" option to filter out the deleted data, and by clicking the file type on the left side, preview all the found data. There is also a search box on the top right that lets users search for a specific file.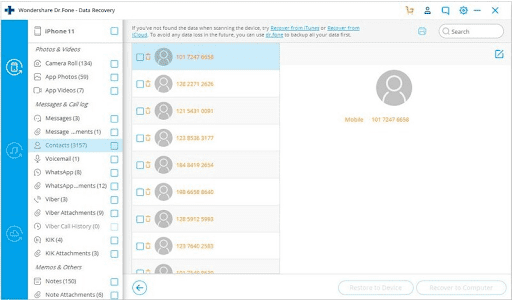 Put a check mark in front of the box to select when the needed data is seen, and then click the Recover button at the bottom right of the window, and all the recovered data should save to the computer.
Feedback From Users Across The Globe
Dr.Fone has undoubtedly become increasingly popular amongst different categories of iPhone users for its amazing features and benefits. The software application has also been ranked high by other stakeholders in the tech and consumer electronics market, judging by the reviews from users.
"Dr.Fone serves as a much improved version of iTunes. It's everything iTunes does, better. And it does a lot more. The app also lets you backup and restore WhatsApp messages. This is especially useful if you're moving to a new phone." – iPhone Hacks.
For more information about Dr.Fone and how to acquire the revolutionary application, visit – https://drfone.wondershare.com/. Wondershare can also be found across social media, including Facebook and Instagram.
About Wondershare
Wondershare was founded in 2003 and has become a global leader in software development and a pioneer in digital creativity. With powerful technology, the solutions offered are convenient and straightforward, making Wondershare trusted by millions of people in more than 150 countries worldwide. The company aims to help users pursue their passions to build a more creative world.