As AR-assisted laser cataract surgery gets FDA clearance, ophthalmologist Dr. Benjamin Ticho offers an expert insight into this and other innovations in the field.
Traditional cataract surgery has been around since the 1950s. It's a process that's evolved repeatedly, culminating in the various cutting-edge options now available. The safest, most effective, and most widespread method used today is laser cataract surgery. Still, innovation continues to come thick and fast, according to ophthalmologist Dr. Benjamin Ticho.
"As an ophthalmologist, I see incredible and continued innovation from within my field on an almost daily basis," According to the expert, the latest and most ground-breaking innovations relate to AR-assisted laser cataract surgery.
AR or augmented reality combines interactive elements and real-world environments using computer-generated perceptual information. The technology has previously been used for everything from military purposes to communications and entertainment. Now, the U.S. Department of Health and Human Services Food and Drug Administration has cleared the tech for use in cataract surgery.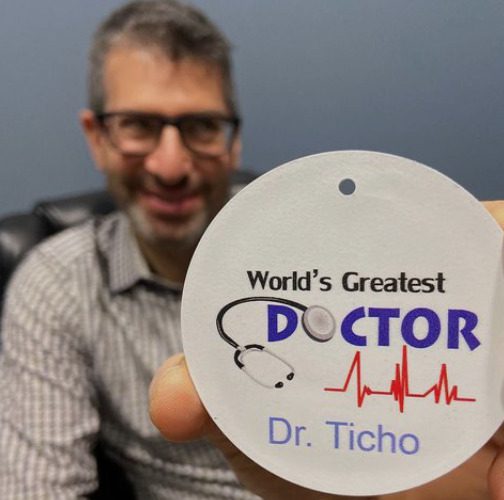 AR-assisted laser cataract surgery
Dr. Benjamin Ticho reports that the procedure occurs between the operating room and a separate laser suite during typical laser cataract surgery. Therefore, the patient must be transferred during the operation. Yet, with the assistance of augmented reality, the goal is an all-in-one solution that allows safe and effective surgery to take place in the same space.
The ultimate result, it's hoped, will be a single, compact platform designed for use in either an operating room or a smaller in-office surgery suite. "It's just one of numerous incredible innovations that have come to light recently."
The first AR-assisted laser cataract surgery systems will see an initial small-scale trial launch toward the end of 2022. A more widespread roll-out is then expected at some point later next year.
Other laser cataract surgery innovations
Dr. Benjamin Ticho continues to see innovation in other areas of laser cataract surgery. The Illinois-based ophthalmologist reports pioneering advances in femtosecond cataract laser technology and continued innovation surrounding presbyopia inlays.
Hugely pioneering new steps are also being taken in retrobulbar anesthesia, post-procedure pain reduction, and more. "I expect to see any incredible advances in the coming years," he adds, "with AR-assisted laser cataract surgery being a prime example."
Dr. Benjamin Ticho proud to serve Chicago for over 30 years
Dr. Benjamin Ticho is a board-certified ophthalmologist, twice re-certified, practicing in Northwest Indiana and Chicago Ridge, Illinois. His primary focus is direct patient care, including the surgical treatment of cataracts, strabismus, and oculoplastic conditions.
Dr. Ticho is a University of Michigan Medical School graduate. The owner of Ticho Eye Associates, has served the Chicago metropolitan area for over 30 years.
Ticho Eye Associates now has three locations in and around Chicago Ridge, Illinois, earning a solid reputation as a leader in the local eye care space. With that, and under his expert guidance, Ticho Eye Associates is today one of the area's most patient-preferred ophthalmology centers.