The Dollar is gaining strength to the upside after weeks of bearish sentiment. This reversal is causing moves in all parts of the market as we see a selloff in crypto and Gold.
Bitcoin fell below $17,000 and Ether rebounded $1300 to the downside. Gold is trading lower as it retraces after touching $1806.
PPI data came out hotter than expected on Friday at the end of last week which resulted in Dollar bulls, however, those upside moves were wiped out almost instantly. We may see more bulls today as the market prices are in the PPI data.
This week, we have the interest rate hike which will be the last one for the year and the market has priced in a rate hike of 50 basis points.
In today's DIFX Analytics, we're going to look into the following assets:
Bitcoin is moving toward $16,700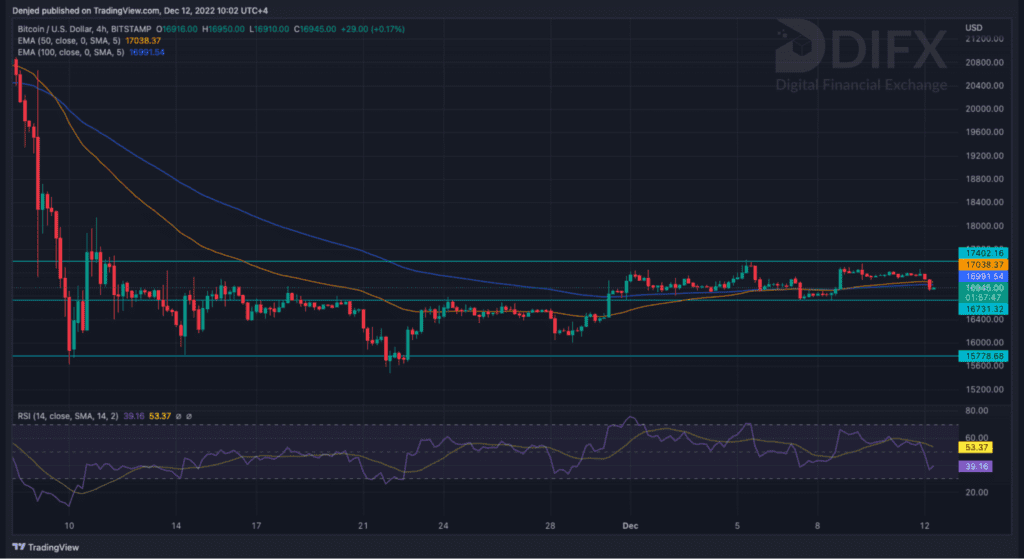 Bitcoin is still trading between the $16,700 – $17400 range since it broke into it in early December.
Positive indication in the 50-day EMA crossing the 100-day EMA on the 4-hour chart but we have yet to see price action make any decent moves upwards.
Traders can keep an eye on how the price reacts to the first support level on the chart.
Dollar is sliding to the downside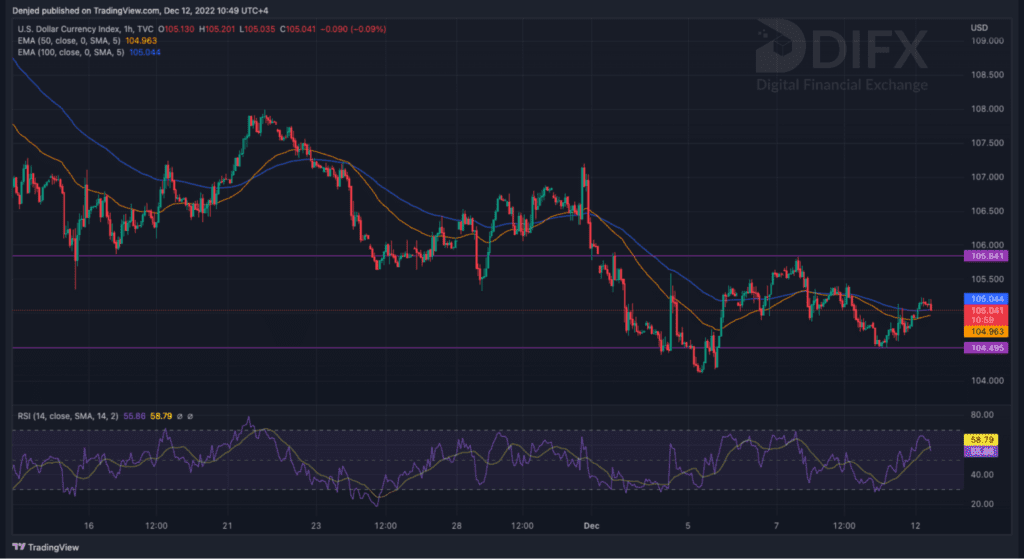 The Dollar is at $105 after touching as low as $104.49. RSI has been gaining strength and we are seeing higher lows being set as the reversal looms.
Indicators are pointing to a bullish retracement as price action has just crossed both the 50-day and 100-day EMA on the hourly chart.
Analysts are anticipating a bull run toward $106 in the near term.
Ether is bearish as it rebounds $1300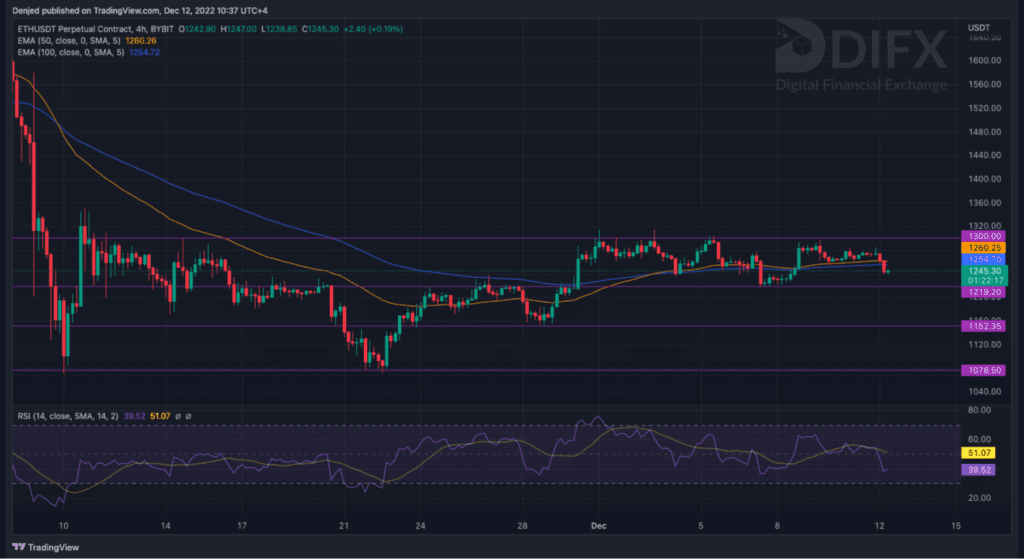 Ether is bearish and sliding toward support levels at $1220. We saw price action cross the EMAs to the downside.
In the short term, we are seeing a slight selling pressure in Ether, but analysts expect the price to hold at $1220 and rebound. 
Gold is trading at $1786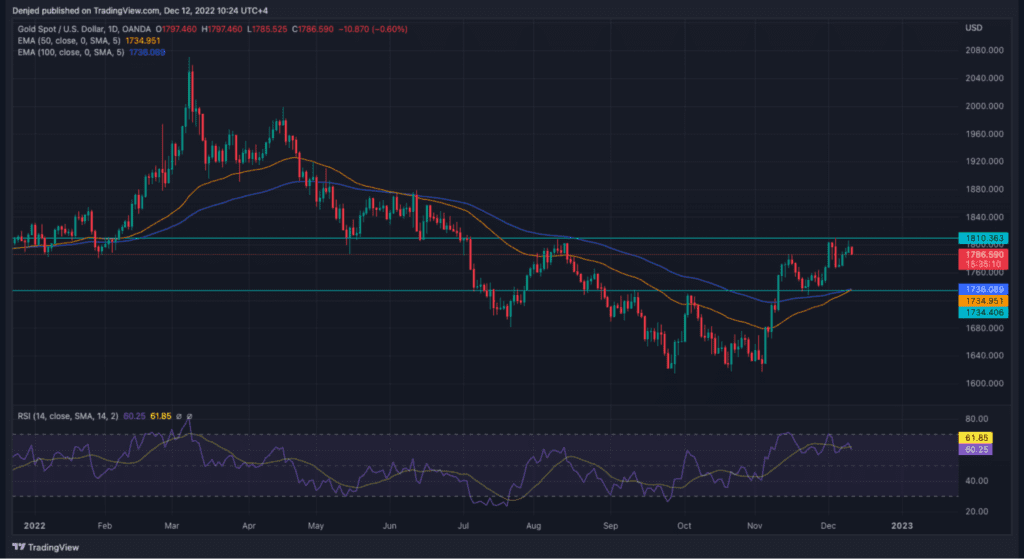 Gold is falling after double topping at $1806. RSI is diverging in a bearish fashion which is signaling a reversal to the downside. 
We see EMAs on the daily cross at $1734. This is a good area to mark support if we continue to see price action selloff.
*****
To learn more about the markets and start your trading journey, sign up now on Digital Financial Exchange (DIFX) to create your diverse portfolio of assets. 
About Digital Financial Exchange
Digital Financial Exchange (DIFX) is a centralized cross-asset crypto exchange that allows users to trade between multiple asset classes that include indices, forex, crypto, metals, and commodities, just to name a few. The DIFX fully-insured crypto wallet comes from a partnership with Fireblocks, one of the leading crypto custodians in the world.
To begin your journey with Endless Possibilities, download the app now from the iOS or Google Play Store, or visit us at difx.com
Trading Disclaimer
DIFX shall not be responsible for any loss arising from any investment based on any recommendation, forecast or other information herein contained. The contents of this publication should not be construed as an express or implied promise, guarantee, or implication by DIFX that the forecast information will eventuate, that clients will profit from the strategies herein or that losses in connection therewith can or will be limited. Trades in accordance with the recommendations in an analysis, especially leveraged investments such as foreign exchange trading and investment in derivatives, can be very speculative and may result in losses in particular if the conditions or assumptions used for the forecast or mentioned in the analysis do not eventuate as anticipated and the forecast is not realized.