Nonfarm payrolls will be released today at 17:30 Gulf Standard Time which is an indication of inflation in the US. If the data comes out higher than forecasted, this means that more jobs were created than expected.
This indicates that higher interest rates are not slowing down the economy at the projected rate, meaning they may need to keep interest rates higher for longer. If that is the case, we will see the Dollar increase in value as investors will move their money into the safe haven asset.
Gold has hit resistance and been rejected by the $1860 level. Yesterday, we saw a signal that job data was higher than expected as mentioned above. This is bullish for the Dollar and thus bearish for gold. We could see Gold fall to the next support level.
EUR/USD will continue on its bearish retracement if the Dollar gains persist.
Bitcoin is still consolidating and we have not seen much movement in the digital asset even as the rest of the market has awakened post the holiday period.
In today's DIFX Analytics, we're going to look into the following assets:
Dollar finds strength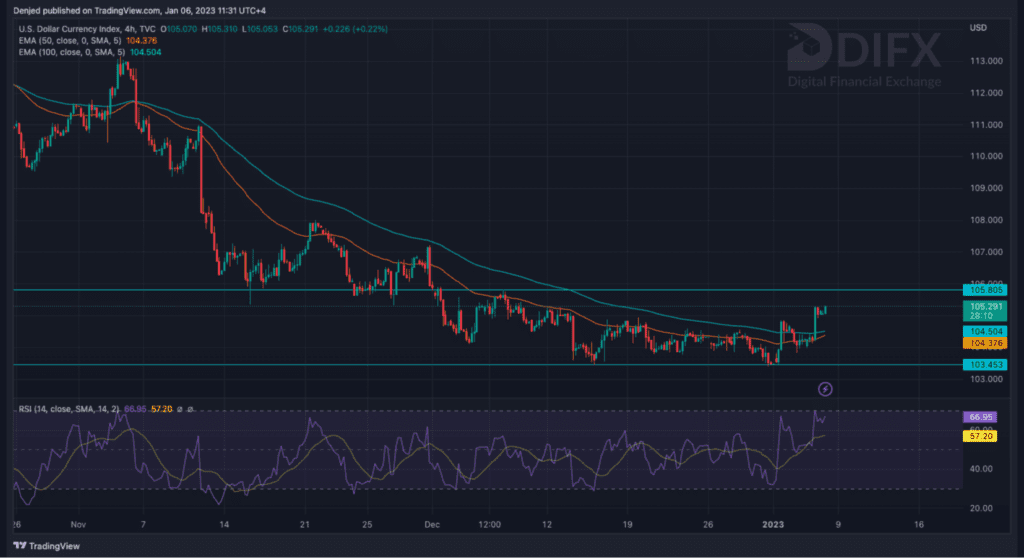 The dollar has broken out of its bearish trend and is trading upwards. The EMAs are about to cross signaling more bulls in the asset.
RSI is moving into a higher range and we should see it break 70 in the near term. Overall, we see Dollar bulls as the index retraces after a couple of months of weakness.
Analysts are waiting to confirm a reversal but at the moment, it can be considered a retracement or pullback.
Bitcoin eyeing $17k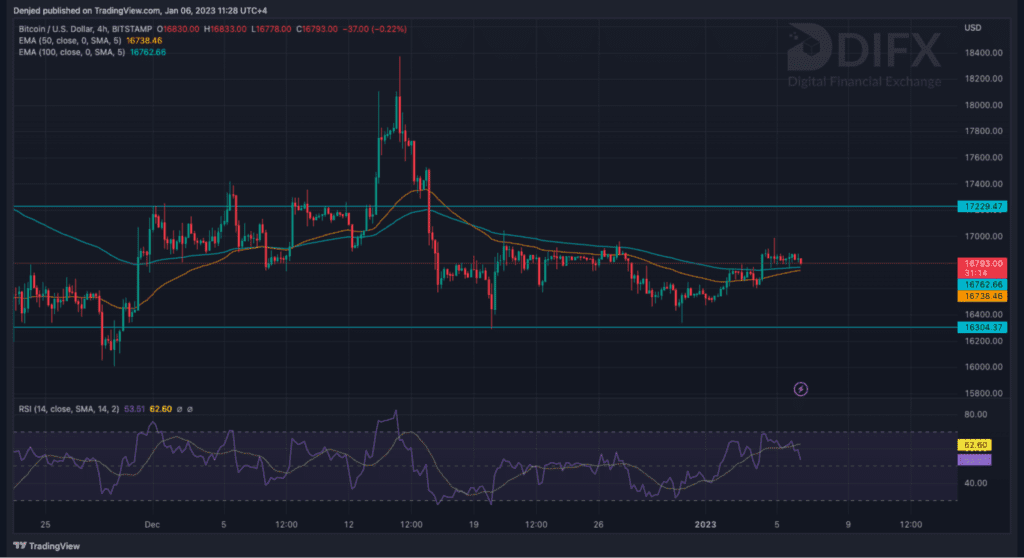 Bitcoin is now hovering over the 100-day EMA near $16,800. We are expecting the asset to break above $17,000 as it accumulates more long positions.
Technicals are indicating we should see more bulls unless RSI slides below a 50 reading. The 50-day EMA is closing in on the 100-day EMA and if they cross, we should see more momentum to the upside.
EUR/USD is bearish
EUR/USD is about to break below our support level. We should see the asset trade bearish as it falls beneath this range.
Nonfarm payroll data later will bring more volatility to the market and we may see the Dollar bullish and EUR/USD fall toward the next level at $1.04.
Gold is retracing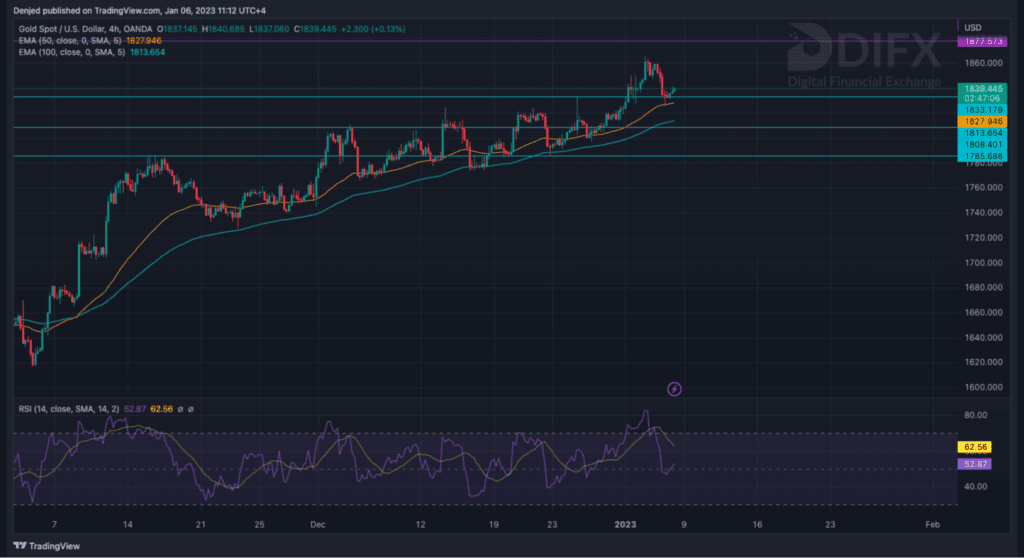 Gold is retracing and has settled near our 1st support level. ADP Nonfarm data came out higher than expected which is bullish for the dollar and bearish for Gold.
ADP is a strong indicator of what's going to happen in Nonfarm Employment later today. If Nonfarm data comes out higher than forecasted then we should see a big slide in the precious metal toward support 2 and 3.
*****
To learn more about the markets and start your trading journey, sign up now on Digital Financial Exchange (DIFX) to create your diverse portfolio of assets. 
About Digital Financial Exchange
Digital Financial Exchange (DIFX) is a centralized cross-asset crypto exchange that allows users to trade between multiple asset classes that include indices, forex, crypto, metals, and commodities, just to name a few. The DIFX fully-insured crypto wallet comes from a partnership with Fireblocks, one of the leading crypto custodians in the world.
To begin your journey with Endless Possibilities, download the app now from the iOS or Google Play Store, or visit us at difx.com
Trading Disclaimer
DIFX shall not be responsible for any loss arising from any investment based on any recommendation, forecast or other information herein contained. The contents of this publication should not be construed as an express or implied promise, guarantee, or implication by DIFX that the forecast information will eventuate, that clients will profit from the strategies herein or that losses in connection therewith can or will be limited. Trades in accordance with the recommendations in an analysis, especially leveraged investments such as foreign exchange trading and investment in derivatives, can be very speculative and may result in losses in particular if the conditions or assumptions used for the forecast or mentioned in the analysis do not eventuate as anticipated and the forecast is not realized.