According to an NCBI (National Center for Biotechnology Information) statistic, male pattern hair loss affects over 16% of men between the ages of 18 and 30 and over 50% of men in their 40s today.
Glue on hair for men or hair replacement systems are not intended to fix the issue long-term. They are, however, the quickest and safest method for giving men instant length and volume and creating the most daring hairstyles.
What Is Glue on Hair for Men?
Men's glue-on hair has been around for a while. They gained popularity in the late 19th and early 20th centuries as Western males began valuing their appearance more.
Glue on Hair for Men Are for Natural Looks
There is a ton of glue on hair available today. Many natural-looking glue-on hairpieces are available to fit men's looks and lifestyles, whether you suffer from hair loss or are considering selling hair systems. 
Glue on Hair for Men Is Glued or Taped to the Scalp
By definition, glue-on hair for men refers to hairpieces affixed to the wearer's scalp with glue or tape and are also known as "hair systems" or "toupees."
Glue on Hair Is Semi-Permanent
Glue-on toupees are semi-permanent hair pieces that are slightly different from wigs. Once fastened, the wearer can take it off whenever he pleases. It must be worn while sleeping and taking a shower, and it stays in place on the wearer's head like his own hair.
Glue on Hair Is Meant to Look Real
However, when we discuss glued-on hair, we primarily refer to hairpieces created to blend in with the wearer's natural hair on the sides and back of the head to create the illusion of a full head of hair. That is the main distinction between a wig and a glue-on toupee.
Glue on Hair Gives Instant Length and Volume
The easiest and most practical method of hiding balding patches is a glue-on hair piece for men. It enables the wearer to achieve the newest, most voguish hairstyles in the most secure, risk-free manner possible.
How Long Do Glue-On Toupees Last?
For about 3–4 weeks, the glued-on hair can remain securely attached to the head. The wearer then must return to the hair salon to have it removed and put back on.
Why Do You Need to Reinstall the Glue on Hairpiece?
Our natural hair grows beneath the toupee's base when it gets attached, and our scalp continues to sweat. Over time, buildup will appear beneath, the hair system will loosen up, and a corner may begin to lift at the front or sides. The wearer must take it off for cleaning and maintenance before it is put back on.
Typically, 3–4 weeks separate two maintenance sessions (for all base materials). It's time for maintenance and a reinstallation whenever the glued-on toupee begins to come loose or a corner of it begins to lift. 
What's the "Lifespan" of Glue on Hair for Men?
A glue-on toupee has a limited lifespan from when applied to the wearer's head until it is no longer functional and needs to be discarded. Most toupee hair can last for three months on average. However, it will differ from one unit to the next.
The base material, such as lace, skin, monofilament, etc., must be durable for hair systems to last a long time.
| | |
| --- | --- |
| Base Material(Product Code) | Lifespan |
| Skin 0.03mm | Around 4 Weeks |
| Skin 0.06mm | 2-3 Months |
| Skin 0.08mm | 3-4 Months |
| Skin 0.1mm | 3-6 Months |
| Swiss Lace | 1-2 Months |
| French Lace | 3-4 Months |
| Monofilament | 6-12 Months |
Lace:

Lace's most realistic appearance, indiscernible hairlines and parts, and unrivaled breathability are all attributes. Typically, French lace lasts 3 to 4 months. As an improvement over French lace, Swiss lace feels more comfortable on the head, has a more natural appearance, and can last 1-2 months.

Skin:

A thin PU membrane resembling our epidermis makes up the skin bases. Toupees with 0.02-0.03 mm skin hairpiece typically last for four weeks. Toupees measuring 0.06 to 0.08 mm can last 2-4 months. Those thicker than 0.1 mm and last for three to six months are referred to as toupees.

Monofilament:

The most rigid base material is monofilament. It is typically applied with other materials, such as PU perimeters, for greater strength. If properly cared for, monofilament toupees usually last 6 to 12 months.
Only a general guideline should be used when glue on hair for men. Consult the product specification or ask your supplier for the exact duration of the glue-on hair for men.
How Much Does Glue on Hair for Men Cost?
The cost of glue-on hair for men varies primarily according to the base material and the hair vendor or supplier you select. Men's human hair hairpieces are priced differently based on base materials.
Lace:

Lace is a more expensive base material than other base materials because it has a more realistic appearance and is more breathable. Swiss lace is more expensive than French lace and is an upgrade.

Skin:

Skin toupees are generally less expensive than glue-on toupees. They offer the best value because they are easy for new wearers to maintain.

Monofilament:

Monofilament typically costs less than lace and is used with other base materials for a long lifespan.

Lace front:

Lace costs more than other types of hair bases. The secret to achieving the most natural look is an incredibly realistic and indiscernible front hairline. Only the front portion of lace-front toupees is made of lace, giving the most natural-looking hairline while saving money.

Other hybrid hair systems:

Different base materials can be combined to create hybrid hair systems, such as monofilament with a PU perimeter to strengthen it or a PU base with a few lace windows on top for better ventilation. These hybrid glue-on toupees for men come in a variety of price ranges.
Retail prices for hair pieces at New Times Hair typically range from $100 to $500, with typical hair lengths of 5′′ to 8′′. Buy more and receive a wholesale price to save a bundle. There is a three-piece minimum order quantity (MOQ).
Glue-on Hair for Men Before and After
Do you want to witness transformation's power? Here are some before and after pictures of the wearers. The people in the images are all the final clients of our affiliated salons and hairdressers.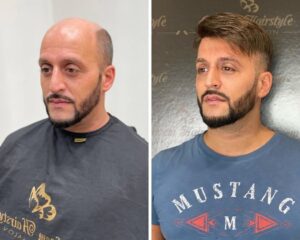 Conclusion
Men experiencing hair loss finally have a non-surgical, affordable solution in the form of glue on hair for men. Any man experiencing hair loss for various causes is eligible to wear glue-on toupees. A glue-on toupee's price varies, primarily depending on the base material. Lace is more expensive than other materials because of its organic appearance and unrivaled comfort. Clingy and simple to maintain are PU bases.
Shop for the best glue on hair for men at www.newtimeshair.com