Red River Technology's Paul Delacourt reveals how the digital transformation company is yielding industry-leading results led by innovation.
With decades of program management experience, Paul Delacourt is an accomplished executive celebrated for his strategic vision. Well-accustomed to building teams poised to address complex and challenging environments, Delacourt is proud to serve as the director of programs at Red River Technology in Chantilly, Virginia.
Delacourt joined Red River Technology last year after more than a quarter of a century spent working for the Federal Bureau of Investigation. Now, as the digital transformation firm's program director, the former special agent is dedicated to helping achieve results on behalf of the organization's clients in the commercial and federal markets.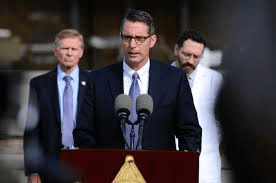 He and his team are committed to promoting unsurpassed levels of innovation driven by positive client outcomes. "We're delighted to be able to report next-level innovation driven by the exceptional standard of results that are continually achieved here at Red River Technology," Delacourt explains, speaking from the company's Virginia office in Fairfax County.
According to the technology expert, Red River takes a unique approach to innovation, led by a focus on its clients' pain points and needs. "We ask questions that get to the heart of clients' problems," Paul Delacourt says, "and create smart solutions to address them."
From there, a company-wide leveraging of creativity and technical expertise is employed to achieve what the firm specializes in – digital transformation. "The result is the infusion of innovation into every corner of a business," reveals Delacourt, "from financing options to staff training."
All of this is tackled, the company reports, in order to pursue the outcomes called for by clients to move their organizations forward. It's something that's at the very heart of what makes Red River Technology different, according to the company's literature.
With that, results-driven innovation sits alongside a unique corporate culture, secure supply chain, full technology life cycle, and dedicated partner ecosystem to set the digital transformation firm apart from others in the market. "At the same time, we also strive to be a good corporate citizen, routinely providing fresh opportunities for combined individual and community growth," Paul Delacourt the director of programs adds.
Paul Delacourt starts 2022 on an impressive footing
Soon set to mark a year with Red River Technology, Paul Delacourt has also recently been appointed to a number of other important roles elsewhere. Among these is a place on global consulting firm Strategen's multidisciplinary team of experts. Going into 2022, Delacourt further joins CONQ's Washington, D.C., office as the company continues to lead the transformative analytics sector.
Moreover, Delacourt will continue to serve as an adjunct lecturer at the University of Chicago Graham School, where he leads classes on various analysis- and intelligence-focused topics. All of this and more represents an excellent start to the New Year, less than 12 months after he retired from the Federal Bureau of Investigation to pursue other opportunities.
Paul Delacourt left the FBI in May 2021, having most recently served as the assistant director of the intelligence and security service's Strategic Realignment Program Management Office in Washington, D.C.