​How digital transformation improves the efficiency of business processes and increases company profits
Nikolay Khorkov, founder and CEO of the Fibertool group of companies, is an expert in business development and growth.
Digital Transformation and the Telecommunications Sector
The evolution of the internet and digital technologies exemplifies how each advancement in communication—from dial-up telephone lines and Ethernet copper cables to PON fiber—has not only led to quantitative changes (access speed, number of subscribers) but also elevated the quality of life and work for people.
Nowadays, every aspect of human life relies heavily on the stability and performance of base stations, routers, data centers, and other equipment interconnected by information networks, creating an incredibly vast infrastructure.
Digitalization, also known as digital transformation or transitioning to Industry 4.0, aims to enhance a company's current state or even revise its original business model. This holds true for telecom organizations as well. Ultimately, digital transformation strives to boost a company's profitability by altering the underlying business processes.
It's crucial to differentiate transformation from traditional automation. Though automation can be flexible and effective, it doesn't fundamentally change a company's key processes. Instead, it streamlines employees' work, often reducing the impact of the "human factor."
Indeed, automation enhances existing processes within a company, while digitalization's primary objective is to evaluate whether existing processes (a series of operations, employee responsibilities, etc.) are necessary and, if so, replace them with more efficient alternatives.
For instance, incorporating AI algorithms for business analysis can significantly boost the sales department's efficiency compared to manual labor by a team of managers, whose efforts can then be allocated to other tasks.
Digital transformation entails the development of new service offerings and the introduction of novel client engagement formats. For example, an IT company that has long specialized solely in providing equipment and components can diversify its business by entering the sales and licensed software support market.
In the telecommunications sector, a common example involves large companies building comprehensive digital ecosystems around their core business—communications. 
Take the Russian MTS, which, in addition to mobile and fixed-line services, connects households to the internet and offers its own entertainment streaming TV broadcast service. Today, the MTS brand ecosystem encompasses MTS Bank and an extensive network of retail communication stores, offering a wide array of digital devices and products under the company's own brand. MTS has also recently announced plans to invest approximately 1 billion rubles by 2026 in various advertising technologies, primarily targeting the eCommerce sector.
The Turkcell operator's ecosystem in Turkey features the Paycell payment platform and the BiP messenger super app, which serves as a portal for applications and services from Turkcell and other companies, including news, entertainment, and games. Adopting an ecosystem approach to business development through digital and financial services has enabled Turkcell to boost revenue, minimize subscriber churn, and increase the average revenue per active user of the company's services.
11Street, an SK Telecom subsidiary, ranks third in South Korea's e-commerce market in terms of gross turnover. In 2020, its revenue constituted 5% of SK Telecom's annual revenue. The company actively employs a system of special discounts and benefits for SKT subscribers to reinforce its business.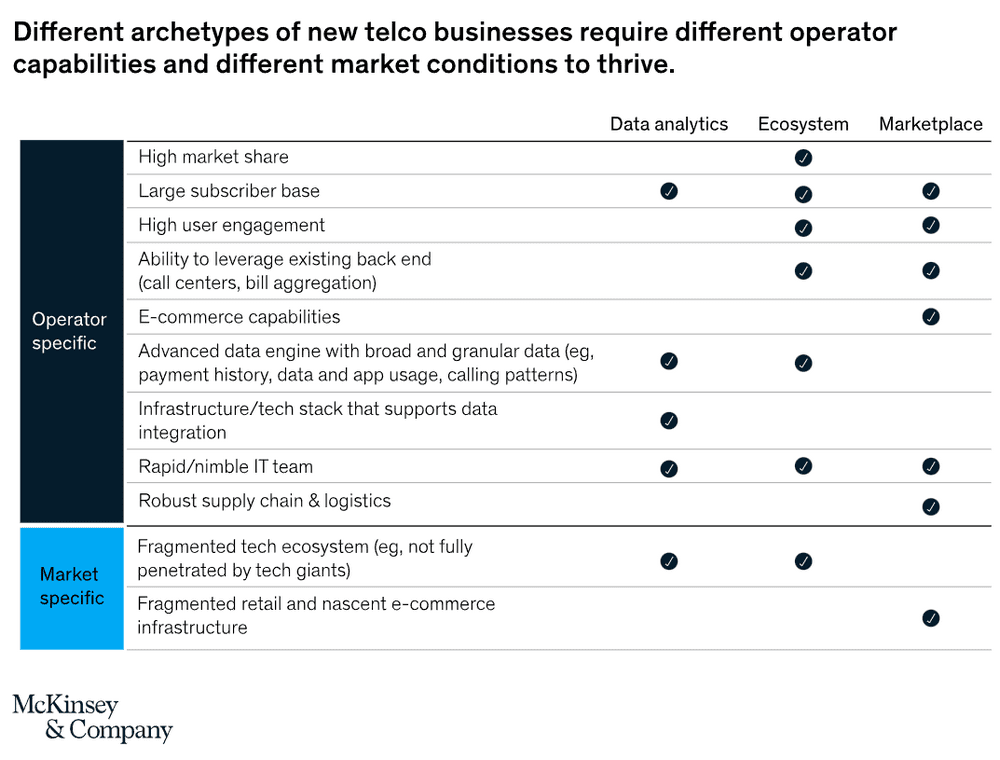 The creation of a digital service portfolio around the primary telecom business is a prevalent trend worldwide. The creation of a digital service portfolio around the primary telecom business is a prevalent trend worldwide. According to McKinsey analysts, the successful development of new business lines beyond the core business of telecom companies requires specific market conditions. In any case, regardless of business diversification plans, operators must have a flexible IT team to adapt and thrive.
Digital transformation market
IDC analysts estimated global spending on digital transformation (DX) of business practices, products, and organizations in 2022 to be $1.8 trillion, a 17.6% increase from 2021. The IDC Spending Guide predicts that, by 2026, global investments in digital transformation will reach $3.4 trillion, with an average annual growth rate of 16.3% over the five-year period.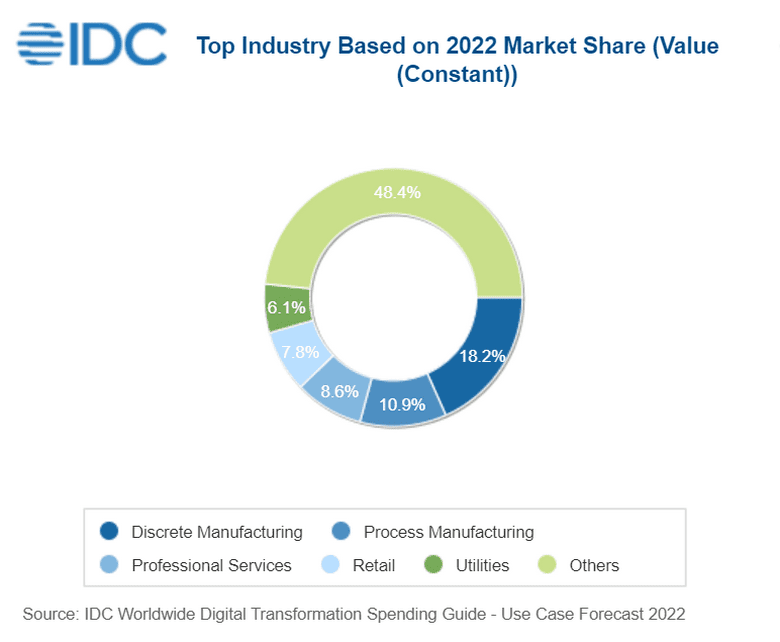 According to a McKinsey executive survey, the COVID-19 pandemic significantly accelerated digital transformation, compressing three to four years of progress into a single year. The share of digital or digitally enabled products in companies' portfolios advanced by seven years in the same period.
Why are existing networks insufficient, and why will the demand for them continue to grow?
Digital transformation acts as a catalyst for telecom companies' growth but also demands significant enhancements in speed and quality for transferring vast amounts of information. Upgrading fiber optic networks is crucial for the digitalization of large-scale industries such as transportation, energy, healthcare, education, tourism, and manufacturing. This enables effective reduction of communication chains, access to improved analytics, minimization of the human factor, and increased security of cloud storage. Optical fiber is the only medium capable of providing the high speeds necessary for exchanging large volumes of data.
Developing innovations in fiber optic networks is particularly critical for new and emerging technologies, such as quantum internet, next-generation green data centers, 5G mobile networks, and fiber-to-the-home (FTTH) connectivity.
Besides the traditional tasks of accelerating data access, fiber optic networks can optimize pressing challenges in the digital transformation era, such as edge computing—where low latency and connection stability are crucial—and large-scale business automation.
In the public sector, enhancing network architecture at all levels—from national to district and municipal scales—drives the faster development of smart city infrastructure. This allows for broader citizen access to public digital services and the implementation of modern law enforcement systems.
For organizations, modernizing fiber optic network architecture enables more efficient data usage to optimize operations, increase profitability, and quickly adapt to Industry 4.0 realities.
For end users, fiber provides access to high-quality multimedia content, VR/AR applications, IoT, and modern intelligent internet services. For instance, a 4K Ultra HD home TV consumes data at a rate of approximately 15-18 Mbps, further increasing the demand for higher network bandwidth.
Size and Trends of the Global Fiber Optic Cable Market
According to the latest report from the Business Research Company, the global fiber optic cable market was valued at $72.65 billion in 2022 and is expected to grow by 10.4% to $80.24 billion in 2023.
Despite the slowdown in the global economic recovery following the COVID-19 pandemic, caused by supply chain disruptions and a sharp increase in raw material prices, analysts anticipate the global fiber optic cable market to grow by 9.4% annually over a five-year period, reaching $115.12 billion in 2027.
The development and improvement of fiber optic networks are fundamental prerequisites for rapid digitalization. Simultaneously, the transition to widespread use of electronic tools and services acts as a major factor in accelerating the construction of optical telecom networks utilizing more efficient technologies
Digitalization in Network Construction
According to numerous leading researchers in the global communications market, further development and improvement of optical data transmission networks will involve integrating all interested parties around telecommunications companies. These companies are particularly focused on successfully and rapidly commercializing their fundamental 5G network architecture.
ABI Research suggests that telecom operators who have already built 5G infrastructure are still experiencing a lack of consumer load due to insufficient use of geographically distributed resources for computing and data storage. These resources include cloud gaming, smart transportation and smart city elements, manufacturing, and other rapidly growing industry verticals.
Companies engaged in digital transformation within telecom network construction have access to entirely new formats for generating added value. They can offer their partners innovative consumption models for equipment, products, consumables, or services used in constructing telecommunications networks.
For customer companies, revising the interaction model will ensure greater manageability and transparency of business processes while reducing prices for contractors' services.
Let's examine this process using the example of companies that install and maintain fiber optic networks. To address such challenges in the traditional work format, contractors must purchase expensive equipment and a large number of consumables, as well as hire highly paid specialists for each project. This results in many processes having low efficiency, which is especially critical now in an era of rapid network development.
A more profitable model for all market participants could involve renting equipment or subscribing based on usage without purchasing the equipment outright.
By shifting the interaction format with customers from a sales model to a service model, network equipment manufacturers can maintain constant contact with their clients and offer them comprehensive, turnkey services with all the necessary equipment and consumables for each specific request. Manufacturers can also provide additional services like training or consulting while receiving detailed feedback for product improvement, gaining an in-depth understanding of market needs, and optimizing network construction processes.
Contractors, in turn, can avoid the hassle of maintenance, depreciation, and other issues arising during equipment operation for their own use. Including equipment rental or subscription fees based on usage in their estimates would allow companies to significantly reduce costs and redirect the saved funds toward further business improvement.
This approach to changing the current business model serves as a prime example of digital transformation—where externally, all business processes appear the same as before, but their innovative content and data usage can significantly boost a company's efficiency and pave the way for further development.
Conclusion
Telecom sector enterprises' management should prioritize harnessing the full potential of digital transformation in network construction processes, as the future of numerous other economic sectors depends on the rapid deployment of new fiber optic capacities today.
Only digital transformation can guarantee the transition to new business formats and a novel paradigm of interaction with partners and customers. Presently, the telecom sector offers numerous opportunities for digital transformation at every stage of the value chain. The sooner this transformation begins, the greater the chance of maintaining and strengthening long-term business competitiveness.