UNITED ARAB EMIRATES, DUBAI – Last week, on the 12th of October a blockchain themed event took place at the Ritz-Carlton in the DIFC bringing over 100 attendees from influential investment firms, embassies, blockchain companies and Sheikhs. Dignitaries included Nouriel Roubini, a world-renowned economist and a member of the International Monetary Fund, who predicted the financial crash of 2007-2008 two years prior to it happening.
    The event was hosted by DEX Ventures Group, a FinTech investment fund specializing in blockchain investments, and focused on bringing the best minds together to join forces around making blockchain more available and useful to the world and specifically to the companies to discuss the effect the blockchain has on the Gulf Countries and globally and bring the best minds together to join forces around making blockchain more available and useful to the world.
    Aurora Wong: "Tonight we have royal family members, prominent families from the region and renowned speakers flying in from all around the world as well as key players of the blockchain and digital assets funds. Today we'll discuss many key technologies and how to implement them to make UAE a better place for the blockchain."
    The event was also attended by DEX Limited, an associated company of DEX Ventures, which has secured approval from the Financial Services Regulatory Authority (FSRA) of Abu Dhabi Global Market (ADGM) to operate as a MTF (Multilateral Trading Facility) as well as a regulated custodian of both fiat and virtual assets.  Such license enables UAE based DEX to offer clients a secure and transparent institutional-grade platform in a highly regulated financial ecosystem.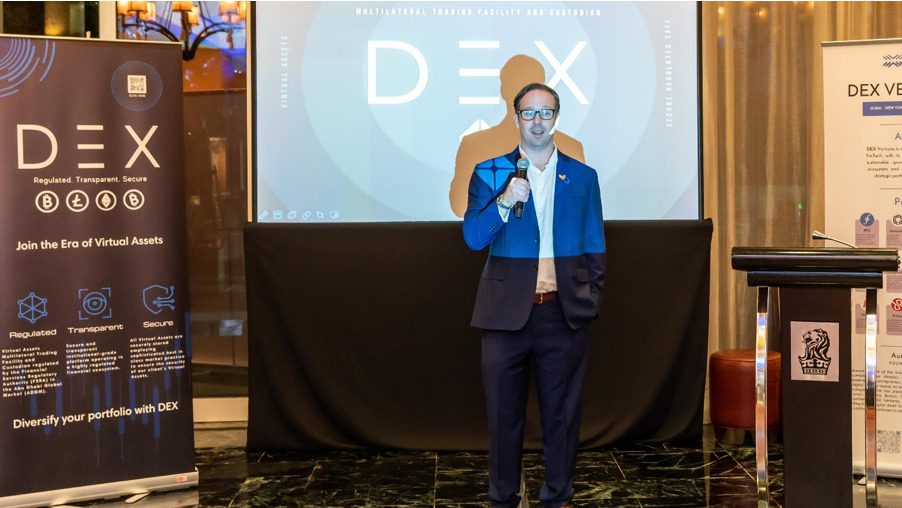 The global impact of the blockchain technologies is undeniable. With the total market cap of the cryptocurrencies now being over 2.5 trillion US dollars.
          The total market cap is probably not even near its maximum values. Why? Before there was no regulation in the crypto space and many of the global institutional investors were hesitant to invest in cryptocurrencies. But with the rise of regulated companies, such as DEX Limited, institutional investors are able to diversify and invest in cryptocurrencies while satisfying their compliance and fiduciary duties.
According to the study of Nickel Digital Assets that included the opinion of UAE investors, as many as 62% of global institutional investors with no prior exposure to crypto, expect to dive into the world of cryptocurrencies in this year alone. CoinShares had also reported the increase of virtual assets portfolio of the institutions for 5 weeks in the row. Apart from that Bitcoin has reached a price of 60 000 US dollars, which also fuels the interest to this virtual asset.
Will UAE become the next global center for Blockchain and ride the wave of new technologies? Time will only tell, but the fact that the best minds are coming together is a very positive sign.