The application areas of loader cranes include waste management, forestry, construction, oil and gas verticals, and likewise. They do reduce the pressure on load handling equipment. They hold the distinction of enabling the transfer of the goods without getting second equipment involved.
The governments across the globe, along with the private sector, are into infrastructural development projects, which is the major factor driving the loader crane market. Multiple construction projects are being launched, to strengthen commercial as well as transport infrastructure in various regions. As such, private-public partnership construction projects are booming, especially in the Asia-Pacific, as it is home to developing economies.
At the same time, the fact that initial installation costs are prompting small-scale manufacturers to refrain from owning the loader cranes can't be ignored. Persistence Market Research has walked through these facts followed by insights in its latest market study entitled "Loader Crane Market".
How is the Loader Crane market categorized?
The global loader crane market, by lifting moment, spans less than 50 kNm, 50-150 kNm, 151-250 kNm, 251-400 kNm, 401-600 kNm, and over 600 kNm. By boom length, it's less than 11 m, 11 m to 20 m, and more than 20 m. By platform, it's a light commercial vehicle, intermediate commercial vehicle, heavy commercial vehicle, and likewise. Persistence Market Research has, through its analysts and consultants, etched these facts with future perspectives in its latest market study entitled "Loader Crane Market".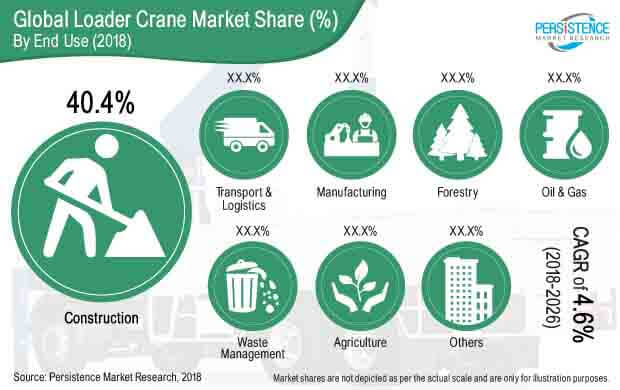 Region-wise Snapshot
Europe holds the major market share, followed by North America and the Asia-Pacific. China is expected to lead this region. LATAM and MEA are also expected to pick up the pace. Persistence Market Research has scaled through these facts with insights in its latest market study entitled "Loader Crane Market".
Competitive Landscape
Persistence Market Research has profiled the key players in the loader crane market as PALFINGER AG, Cargotec (Hiab), Fassi Gru S.p.A., Atlas Group, Tadano Ltd., Cormach S.r.l., PM Group S.p.A., XCMG, Next Hydraulics s.r.l., Hyva Group, Prangl GmbH, and likewise. Players like PM Oil & Steel S.p.A. Manitex International's subsidiary has incorporated various technological innovations, resulting in increased power and reduced weight of loader crane. Hiab has its loader crane to address the recycling and waste treatment industry, wherein local authorities and municipalities need to handle the management of scraping and collecting waste materials effectively.
To Get All-In Insights On the Regional Landscape of The Report Market, Buy Now-
What's Further?
The global loader crane market is expected to move towards substantiation in the next 10 years – Persistence Market Research
Get a Sample Report (Including Full TOC, Table & Figures) –