Removal of particulate matter from the air is the basic objective of dust control systems. The name itself is self-explanatory. The market players are also emphasizing on development of dust control systems with upgraded technology. Also, the governments of several countries are coming up with regulations and standards regarding workers' safety and the environment.
The ongoing trend also pertains to doling out cost-effective and better-performing dust control systems. Persistence Market Research has walked through these intricacies with prospects in its latest market study entitled "Dust Control Market". It has its team of analysts and consultants to conduct this research on a voracious count.
How does the Dust Control market disperse itself?
The global dust control market, by type spans wet (WEPS (Wet Electrostatic Precipitators) and wet scrubbers) and dry (bag dust collectors, cyclone dust collectors, electrostatic dust collectors, vacuum dust collectors, and modular dust collectors). Mobility-wise, it's handheld, mobile controllers, self-propelled, tractor-mounted, trailed, and fixed controllers.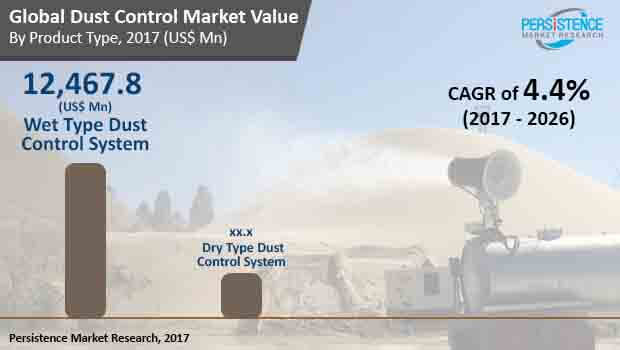 By end-use, it's mining, construction, oil & gas, chemical, textile, pharmaceuticals, food & beverage, and likewise (power of utility and metal & finishing industries). Out of these, the wet type is expected to hold the largest market share due to extensive demand for grinding, sawing, polishing, sanding, and likewise. Persistence Market Research has highlighted these findings with insights in its latest market study entitled "Dust Control Market".
Region-wise Analysis
North America and Europe are going steady concerning dust control systems. However, the Asia-Pacific is subject to maximum turbulence. It is expected to go great guns in the dust control market in the forecast period. Countries like India, China, Australia, and New Zealand are leading from the front, with immense growth potential at their discretion. Persistence Market Research has entailed these facts with probable calls to action in its latest market study entitled "Dust Control Market".
GAIN COMPLETE ACCESS TO THE COPY
Competitive Landscape
Persistence Market Research has profiled the key players in the dust control market as Global Road Technology, Quaker Chemical Corporation, Donaldson Company, Inc., Nederman Holding AB, Camfil, JKF Industri A/S, Sly Environmental Technology Ltd., Beltran Technologies, Inc., and likewise. These players are actively engaging in various modes of expansion for keeping themselves affable to the dust control market. They are inclusive of mergers, acquisitions, new product launches, joint ventures, and partnerships.
The Way Further
The global dust control market is bound to grow on a comparable note in the next 10 years – Persistence Market Research
GET A SAMPLE COPY(INCLUDING FULL TOC, TABLE & FIGURES)