Leading US-based global e-bike manufacturer, Delfast, Inc., announces the introduction of TOP 3.0i, a smart electric bicycle designed with a new onboard computer to enable sustainable driving.
Delfast, Inc. has again taken the pursuit of enhancing the riding experience of millions of people across the globe by delivering the most innovative electric bike to customers worldwide as the brand introduces the TOP 3.0i. Described as the industry's smartest e-bike, TOP 3.0i is a Class 2 e-bike that builds upon the range and power of the company's award-winning TOP 3.0 model. It comes with a new onboard computer that collects and analyzes data to deliver helpful information about the bike, including battery charge level with the Battery Management System as well as diagnosis of any issues to improve the overall riding experience.
"TOP 3.0i is more than an e-bike—it's a smart device," said Daniel Tonkopi, founder and CEO, Delfast, Inc. "Our new onboard computer is the brain of the bicycle—the 'i' in 3.0i stands for intelligence—providing riders with information that results in a safer, smarter and more enjoyable ride."
Delfast Inc. and the Ebike Market Trend
A recent report published by Statista put the size of the global e-bike market at $26.73 billion in 2021. It also projected the market size to hit $53.53 billion by 2027, driven by the rising environmental concern and growing demand for eco-friendly products. Delfast has decided to take the experience a notch higher with their range of products and the recently introduced TOP 3.0i.
Features of the TOP 3.0i
The TOP 3.0i comes with an onboard computer designed to synchronize all e-bike parts, ensuring it functions as a single organism. The computer controls and monitors the condition and work of the arts of the e-bike and subsequently sends the information to the Delfast server in real time. The onboard computer can also detect the bug and send it directly to Delfast, enabling tech support to address any potential issues, with an embedded GPS tracking module for collecting all the bike rider's information.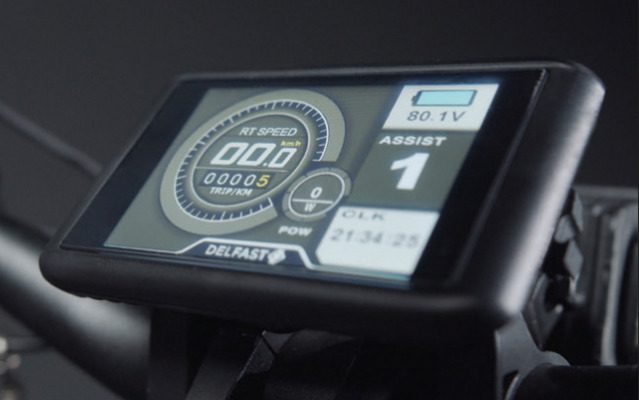 Features of the TOP 3.0i are G7 4G connection, Delfast's proprietary GSM (Global System for Mobile) system, Bluetooth connection to the onboard computer when off-grid, full control of all light and signaling equipment from the onboard computer, tracking total mileage, odometer and speedometer metrics, proprietary built-in GPS navigation system, speed and energy monitoring in Eco and Unlimited modes, and a host of others.
The TOP 3.0i, which is expected to retail for $6999, with shipment beginning in June 2022, is an upgraded version of Top 3.0, Delfast's best-selling e-bike, known for its unparalleled range, power, and state-of-the-art technology. It currently holds the world's best range offering up to 200 miles on a single charge in ideal conditions, outfitted with a powerful motor that can reach speeds up to 50mph. Other features and accessories include:
Two driving modes: Class 2 (750W, 20 mph) and Unlimited (3000W, 50 mph)

Regenerative dual-piston hydraulic brakes

Computer-controlled immobilizer theft-protection

Gates Carbon Drive™ carbon-reinforced belt

High & low beam LED headlights

Front and rear LED turn signals & brake lights

Quick start Power ON/OFF button

Enduro 2.75-19 motorcycle tires

Handlebar Phone Mount

Front and rear fenders 
For further information about the TOP 3.0i and other products from Delfast, visit – https://us.delfastbikes.com/. Delfast can also be found across social media, including LinkedIn, Facebook, and Instagram.
About Delfast
Delfast is a leading global e-bike manufacturer that specializes in producing unique, eco-friendly electric bikes that deliver exceptional range, power, and speed. The company has revolutionized the electric bicycle market by setting the Guinness World Record for the electric bicycle with the longest charging range on record. Delfast has a global presence with thousands of customers in over 40 countries enjoying the range of e-bikes from the company. It remains dedicated to reducing carbon emissions by making high-quality electric bicycles and thus generating an environmentally friendly society.