There's little doubt that Web3 suffers from a lack of reliable analytics, which is understandable given how quickly it grew. But Defy Trends CEO and founder Imge Su Cetin are aiming to rectify this, through a platform that combines multiple data points and assigns each project a value, making it easier for people to make data informed investment decisions. The tool also assists with education, research, and NFT evaluation. 
Born in Turkey, Imge Su is a multi-talented data scientist and futurist with an unconditional love for technology. The Defy Trends founder holds a Master's degree in Data Science from UCSD and was a senior data scientist in the United Nations, helping to forecast migration patterns.  
A prominent data scientist and expert in the field of Web3, I sat down to understand why Imge Su founded Defy Trends and how this tool could help make investing clearer for institutions, professional traders, and individuals looking to participate in the market. 
How would an investor use the Defy Trends application?
The tool caters to individuals, professional traders, and enterprises. It is useful for all classes of investors due to the different data and packages that we offer. The main strength is that it helps people to invest intelligently based on real-time information. By assigning each token a score between 0  – 100, investors have a comparison tool to evaluate coins. We also provide education and research tools. 
This Defy Trends application helps to compare different projects in an industry where it is hard to find reliable information. It also helps to avoid low-quality projects, which is quite important for those making the transition from fiat to crypto. There are many projects with little to no long-term viability and you can lose your entire allocation if you don't perform due diligence.

The information provided by this tool allows traders to see a holistic view of the entire market in one place. This can save traders hundreds of hours of research. It also assists in terms of developing a coherent trading strategy based on real-time information. Without such a tool, aggregating information and presenting it neatly on a user-friendly interface, it would be very difficult to trade and invest profitably.  
We want our users to include real data in their decision making process, to move away from trusting influencers and what they hear from their friends.
What metrics are most important for crypto investing right now?
There is not really a single metric, but a combination of metrics, just like in traditional trading. Many factors need to be taken into account such as the total number of wallet addresses, active wallet addresses, total transaction volume, etc. Social sentiment is also key, and cannot really be evaluated without a tool to assist. Defy Trends looks at over 1 million data sources in generating its scores. 

A project can have little action and then a flurry of social activity within a 1 to 2 month period – a sure sign of a pump and dump scheme to artificially increase the price. These metrics can mislead investors if not correctly interpreted. 
What is the difference between on-chain and off-chain information?
On-chain refers to information that is available from the blockchain, visible to all nodes on a network. The basic premise of blockchain is that you can view transactions on the chain.  Off-chain information relates to news and media information, such as partnerships, policy, international news, that can affect the price. 
It's important to look at both of these metrics to give a really broad picture. Because projects will typically need to have strengths on-chain and off-chain to scale and expand. A project with strong technical fundamentals might have little financial, legal, and marketing power to take off. A project that has strong marketing but little technical strengths might be weak, or even a pump and dump scheme. 
Defy Trends provides information on both to give the most informed picture, with a score based on multiple different criteria. At the same time individual traders can pick and choose personalized strategies. A trader can buy and/or sell tokens solely using social sentiment, for example, and still make profits. Defy Trends merely gives them flexibility to do this based on real-time information. 

What is the Ambassador program about?
The ambassador program is a global initiative to bring more women into the space by providing chapter leaders with educational resources, templates, and networking opportunities. The Ambassador program aims to help women to meet their financial and career goals through Web3 technologies. Web3 offers unparalleled opportunities for growth in comparison to legacy banking, which is why it's important to offer women equal opportunities. These chapter leaders will then recruit women within their communities and provide them also with training, networking, and skills.
Can you tell us a little about the Defy Ecosystem?
The main component is our dashboard that presents all the information to users. This is the front-end component which makes data driven investment decisions easier  for users.  Of course, the back-end consists of deep machine learning algorithms that take in information from a variety of different sources and feed the results through APIs to the interface. To support our users, we have created education modules, videos, and short articles.

The native token is $DEFY which can be used for staking rewards, voting, research, education, and payments. We are creating a fully-fledged ecosystem for all aspects of crypto and NFT investment. Education and research are quite relevant to gain deeper insights in relation to this new field of investment. 
Is there a single metric that stands out for coin value? Is social sentiment more powerful than on-chain information?
Everything needs to be taken into consideration. Social sentiment perhaps has the strongest short-term influence on coin value. The markets are still largely driven by hype and hysteria – which is exactly what Defy Trends is here to rectify. For long-term evaluation, technical indicators in tandem with agreements and partnerships matter a lot.
However, users have different strategies. For example, some may only look at on-chain analytics. Others might only be interested in sentiment scores. This does not mean that one kind of information is more valuable than another. This is why it is essential to have a tool such as Defy Trends to meet the needs of all users. 
Your team is on the cutting edge of analytics as applied to Web3 – does traditional financial psychology still apply and are you relying on classical pattern recognition mechanisms to predict coin value, or taking a new approach?
Yes and no. Traditional financial psychology still applies perfectly well. Do your due diligence on new projects, take technical indicators into account, diversify across coins, and hold for reasonable time periods. Common sense is always relevant. But we are seeing new platforms, particularly social media platforms, that can influence coin value and with increasing relevance. 
All of this information needs to be correctly aggregated, sorted, and analyzed, which is what Defy Trends does. Using NLP algorithms, we tag news by topics so you don't have to spend hours looking through different sources to find reliable information. 
Of course, the very fact that blockchain information is readily available changes a lot. The days of sifting through balance sheets are well and truly finished, given all this information is now easily available on blockchains as opposed to legacy financial data points. 
Imge Su Cetin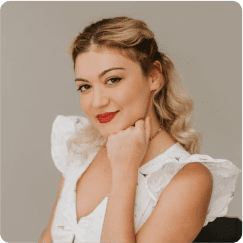 Born in Turkey, Imge Su is a multi-talented data scientist and futurist with an unconditional love for technology. The Defy Trends founder holds a Master's degree in Data Science from UCSD and was a senior data scientist in the United Nations helping to forecast migration patterns.
While trading cryptocurrencies, she developed an app that forecasted her 10 favorite coins over multiple weeks to aid her trading decisions. This became the prototype for Defy Trends, a platform that now encompasses data analytics and education with the goal of supporting investors in making data-backed decisions.