As the social media landscape continues to evolve at a rapid pace, visual content has emerged as a dominant force, leaving traditional social listening tools struggling to keep up. In response to this challenge, Dash Hudson, the global leader in social marketing software, has unveiled a revolutionary AI-Powered Social Listening tool that leverages the power of its proprietary technology, Vision AI, to analyze visual content and offer a more comprehensive understanding of social conversations. 
The introduction of this groundbreaking solution marks a significant milestone for Dash Hudson and the social marketing sphere. The development provides brands with an efficient tool that enhances their strategy development, improves audience comprehension, and aids them in making data-driven decisions that result in substantial business growth.
The Challenge of Visual Content in Social Media Marketing
In recent years, specifically around the mid-2010s, a monumental transition occurred in the realm of social media, resulting in visual content like photos and videos taking the helm as the primary communication medium. This change, underscored by platforms like Instagram, TikTok, and Snapchat, has dramatically altered how users articulate their thoughts and interact with their networks. With this shift towards visually-centric content, social media is evolving from a primarily text-based space to an increasingly visual one. New research from Dash Hudson found that users on Instagram are nearly 3x more likely to share a Reel than they are to comment on it, while Tweets with images or video receive higher Engagement Rates (5.13%) than Tweets with text-only (4.0%), which goes against the platform's text-focused perception. To truly understand how brands and their competitors are being presented online and how audiences respond, marketers must move beyond text and numbers.
The transition poses a hurdle for marketers now tasked with observing and interpreting a mounting quantity of visual data to extract audience insights and fine-tune their strategies. Conventional social listening tools, though proficient in tracking text, fall short when it comes to scrutinizing visual content. This deficiency places marketing professionals on the back foot, inhibiting their ability to employ social listening insights for tasks like data analysis, strategic modification, and securing a competitive edge.
Bridging the Gap with AI-Powered Innovation
In response to the shortcomings of conventional  tools, Dash Hudson has unveiled a trailblazing Social Listening tool. This solution provides a nuanced and holistic comprehension of social dialogues. Consequently, it facilitates brands in honing their strategies, deepening audience connection, and formulating decisions grounded in solid data that catalyze significant business achievements.
At the core of Dash Hudson's Social Listening solution is Vision AI. This proprietary technology, which has been continuously learning and evolving since 2016, enables the tool to go beyond traditional text-based features like monitoring topics, hashtags, and keywords. Instead, it analyzes visual trends, providing a more holistic and accurate representation of social conversations.
This modern approach allows brands to uncover the power of visual trends, gaining real-time insights into the ever-changing social media landscape. The result is a tool that enables brands to stay ahead of the curve and ensure their content is not only relevant but resonates with their target audience.
Some additional advantages of using this tool include:
Actionable Insights
With its ability to identify relevant conversations and assess their significance, Dash Hudson's AI-Powered Social Listening tool provides social teams with actionable insights that lead to tangible business results.
Real-time Conversational Insights
With the tool's ability to track what people are saying about a brand, product, or experience, social teams can gain a deeper understanding of their community in real-time. This feature enables brands to stay ahead of the competition and their industry by monitoring the topics that matter most without getting distracted by irrelevant noise.
Relevant and Timely Monitoring
Dash Hudson's tool empowers social media managers to maintain constant awareness of the landscape by the minute, ensuring that content is always relevant and resonates with key audiences. This feature helps brands stay on top of visual trends and respond quickly to emerging conversations.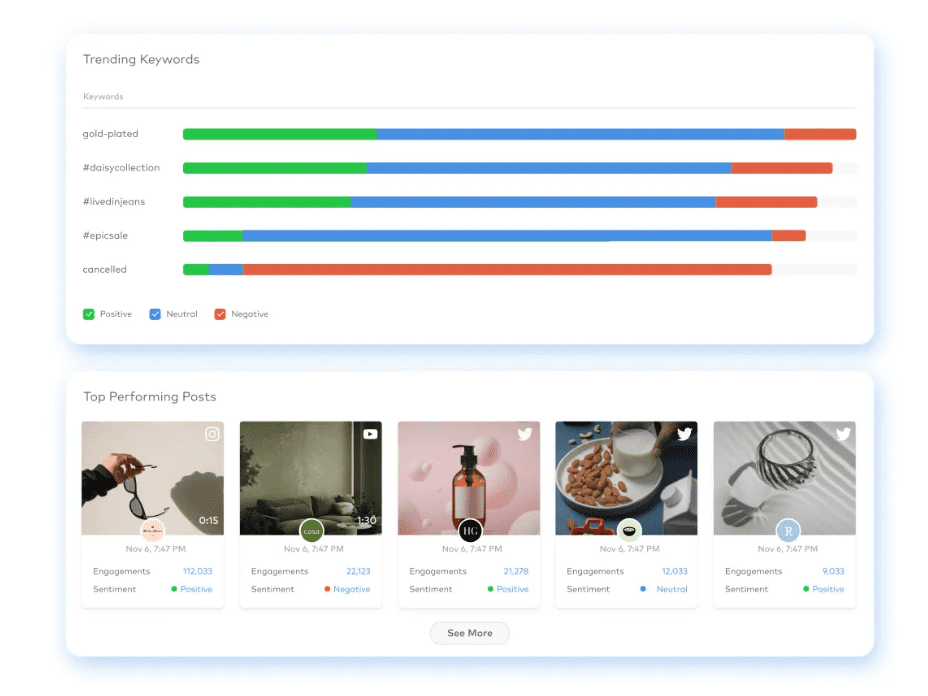 Early Success of Dash Hudson's AI-Powered Social Listening Tool
The proof of the tool's effectiveness lies in the experiences of the brands that have adopted it. Madeline McNamara, Community Manager at Love Wellness, has already seen the value of the new tool in action:
"Our team has been using and loving Dash Hudson's new Social Listening tool for both high-level strategic planning and detailed community conversations. We look forward to continuing to leverage the tool, and the insights provided, as we build our Love Wellness social media presence."
The Future of Social Media Marketing with Dash Hudson
As we navigate into a future where social media dialogue is increasingly visually-oriented, social listening technology must evolve to keep pace with this trend. For brands to genuinely grasp their online presence and that of their competitors, a shift is needed beyond mere text and numerical data. By dissecting these visually-dominated exchanges, brands can unearth customer behaviors, preferences, and sentiments. This invaluable knowledge empowers them to make data-based decisions, propelling their businesses toward growth and prosperity.
With Dash Hudson's AI-Powered Social Listening tool, brands have the ability to unlock the full potential of social media marketing and gain a competitive edge that traditional social listening tools simply can't provide. So why wait? Try Dash Hudson's interactive demo today and experience the power of Social Listening for yourself. Don't miss out on this game-changing solution that can take your social media marketing to new heights.