The crypto market may be taking a year-long nap, but it still boasts a healthy global market cap at around US$1 trillion. This can be seen most evidently in the NFT industry. While NFT prices are lower than they were during their 2021 heyday, when artists such as Beeple and Pak made history by selling NFT artworks for US$69 million and US$91.8 million respectively, overall NFT sales volume in 2022 remained on par with 2021, a good sign for the future. Indeed, worldwide NFT revenue is projected to increase steadily by 22.82% CAGR between 2023 to 2027, and the total number of NFT users is expected to reach 64.5 million.
For the uninitiated, NFTs—which stands for non-fungible tokens—are unique digital tokens that represent ownership of digital assets. NFTs are most famous for being attached to digital artwork, but are increasingly being used to convey ownership of other kinds of assets, giving NFT holders different kinds of utility and value.
A new kind of NFT is now entering the scene, representing partial ownership of the trendsetting BIJOUX Ultra Lounge club located in Manila, the Philippines. A world-first use-case of Web3 technology being used for decentralized ownership of a F&B establishment, BIJOUX's NFTs will give their holders the unparalleled experience of owning a VIP club in the sunny Philippines, a country where the Web3 revolution is being fully embraced and amazingly over 30% of adults own at least one NFT.
BIJOUX Ultra Lounge is an elite Manila nightclub and fashion show hotspot partnered with Nicole Chen, Asia's most successful female DJ. A global name on the clubbing circuit, Nicole Chen has performed all around the world, including the prestigious Ultra Japan and Ultra Korea music festivals. Nicole supports a core team at BIJOUX Ultra Lounge that boasts a wealth of experience combining F&B sector and fashion expertise with specializations in NFT, Web3 and startup entrepreneurship.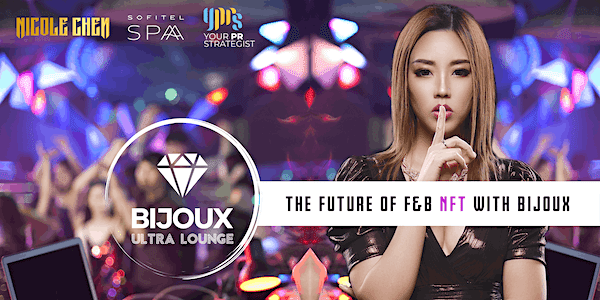 Developed with cutting-edge NFT technology, the BIJOUX NFTs will give holders the ability to monitor the ultra lounge in real time. Other more exciting benefits of club ownership will be explained in detail at BIJOUX's upcoming event in Singapore on March 24, 2023. BIJOUX has not yet publicly released full details about what specific ownership perks NFT holders will receive, and are giving the event attendees the first chance to hear the full pitch and purchase NFTs.
In addition to club ownership rights, BIJOUX NFTs will also grant holders a number of benefits when they visit the physical club in Manila, including: VIP access; discounts on booking, drinks and food; invitations to private events; free entry for guests and bottle storage; and airdrops from third-party partners. The limited quantity NFTs will be sold at two price tiers costing either US$100 or US$2,500 per NFT, giving both "Loungers" and high-rolling "Spenders" the exclusive opportunity to join a decentralized stakeholder economy and explore firsthand the exciting impact of Web3 on club culture.
Special offers will be made available to anyone who purchases an NFT at BIJOUX's event, being held on the evening of March 24 at So Spa, Sofitel Sentosa in Singapore. Following the NFTs' premiere presentation, DJ Nicole Chen will kick off the party with supporting acts by DJ Hiroshi and DJ Amy. More information about the BIJOUX Ultra Lounge event can be found on Eventbrite via the following link:
https://www.eventbrite.com/e/bijoux-the-future-of-fb-with-nft-tickets-580023414647