t turns out DC Comics, a major publisher of American Comics, is considering an NFT release. This was reported by the media affiliated with CoinPost The Block and Gizmodo.
DC Comics is a major pair of American comics with Marvel. He has produced popular characters such as Superman and Batman. It was suggested last week that DC Comics is considering joining the NFT. It was discovered after a leaked letter addressed to freelance artists by Jay Kogan, senior vice president of the company's legal department.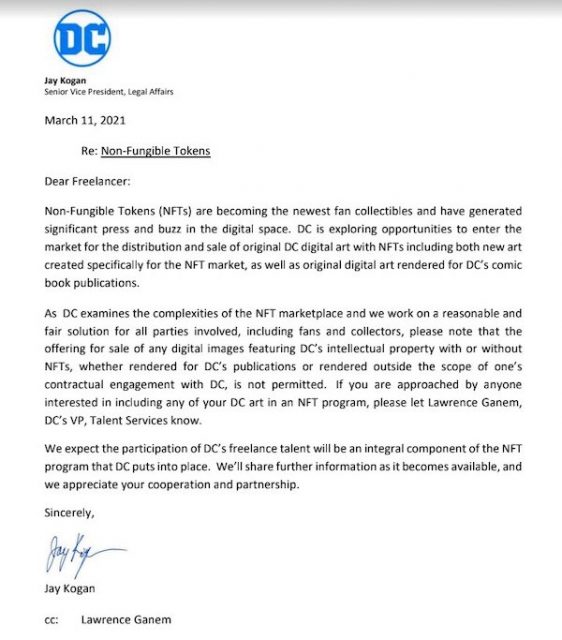 In the letter, he noted that NFTs are attracting a lot of attention, and DC also said: "We are looking for opportunities to enter the market (NFT) to sell and distribute digital art." He revealed that he is considering two types of art: art limited by the NFT marketplace and art published in past DC comics.
On the other hand, it is recommended that the sale of digital images using DC Comics intellectual property is not permitted for NFTs and those that do not. He also said that it should be noted that neither the images used for the company's publication nor the original images are allowed, and he displays the cautious attitude that characterizes major intellectual property owners.
DC Comics veteran Jose Delgo sold a $ 1.85 million NFT featuring Wonder Woman in early March, which has been a hot topic in some areas. This letter was likely a response to the Delgo NFT sale.
Of the total sales, Delgo donated approximately $ 30,000 to Girls Who Code, a nonprofit organization that provides programming training for women.
According to Google Trend, the number of NFT searches in Japan has skyrocketed since early February. On March 12, popular digital artist Beeple's NFT was sold at Christie's worldwide for $ 69.4 million and gained public attention.
---
NFT sales top 600 million US dollars
The trade in non-fungible tokens (NFT) is growing exponentially and more and more prominent people want a piece of the pie. At the same time, sales of tokens based on blockchain technology exceeded $ 600 million in sales for the first time in history – what happened this week? The NFT monitor.
NFT is booming and many cryptocurrencies associated with the novel tokens have gone through the roof in the past few weeks. The Flow (FLOW) , Enjin (ENJ) and Chiliz (CHZ) projects , which have grown between 500 and 1,000 percent since the beginning of 2021 alone , are particularly noteworthy .
But that's not all, the entire NFT sector was able to reach another milestone this week and according to cryptoslam.io the total turnover with non-fungible tokens now amounts to over 600 million US dollars.
At the moment, the NBA Top Shot project from Dapper Labs is dominating the sector. With a total trading volume of over $ 335 million, the Flow blockchain-based NFT project currently outperforms all other blockchains.
$ 2.5 million for a tweet
The hype about individual NFT collectibles continues – thanks also to Twitter boss Jack Dorsey. He came up with the idea of tokenize the first tweet ever on Twitter on the Ethereum blockchain . Dorsey has long been a great friend of cryptocurrencies and has demonstrated this time and again in the past through his commitment to Bitcoin.