In the fast-paced world of business, where time is money and efficiency is key, having a reliable and versatile meeting solution is essential. Enter CZUR StarryHub, a groundbreaking all-in-one device that is poised to revolutionize the way you conduct meetings. Say farewell to the complexities of commercial projectors and cumbersome setups, and say hello to a new era of seamless and productive meetings.
Cutting-Edge Technology, Unparalleled Features
CZUR StarryHub is not your ordinary meeting solution; it's a powerhouse of innovation packed with features designed to enhance your meeting experience.
Below are some remarkable and unmatched features of CZUR StarryHub:
Bid farewell to noisy projectors that disrupt your meetings. CZUR StarryHub operates in near silence, ensuring that your discussions are free from distractions. Its super quiet and low-heat design creates a comfortable meeting environment.
No more wrestling with tangled cables or waiting for technicians to set up your equipment. With CZUR StarryHub, there's no installation required, saving you valuable time. Simply plug it in, and you're ready to roll. Your ability to easily connect with your current IT infrastructure is made possible by this flexibility. Additionally, CZUR StarryHub can cast up to four screens at once, so it can accommodate the demands of both startups and enterprises, whether your meetings are in-person or online. Additionally, without the use of wires or complicated installations, it enables multiple team members to share their screens.
Seamless Wireless Screen Casting
One of CZUR StarryHub's standout features is its ability to wirelessly cast screens from up to four devices simultaneously. This allows for dynamic and engaging presentations, making it ideal for collaboration.
CZUR StarryHub's speaker is specially designed for human voice transmission with mid-frequency tuning. It ensures that every word is heard clearly, and background noise is minimized, delivering an exceptional audio experience.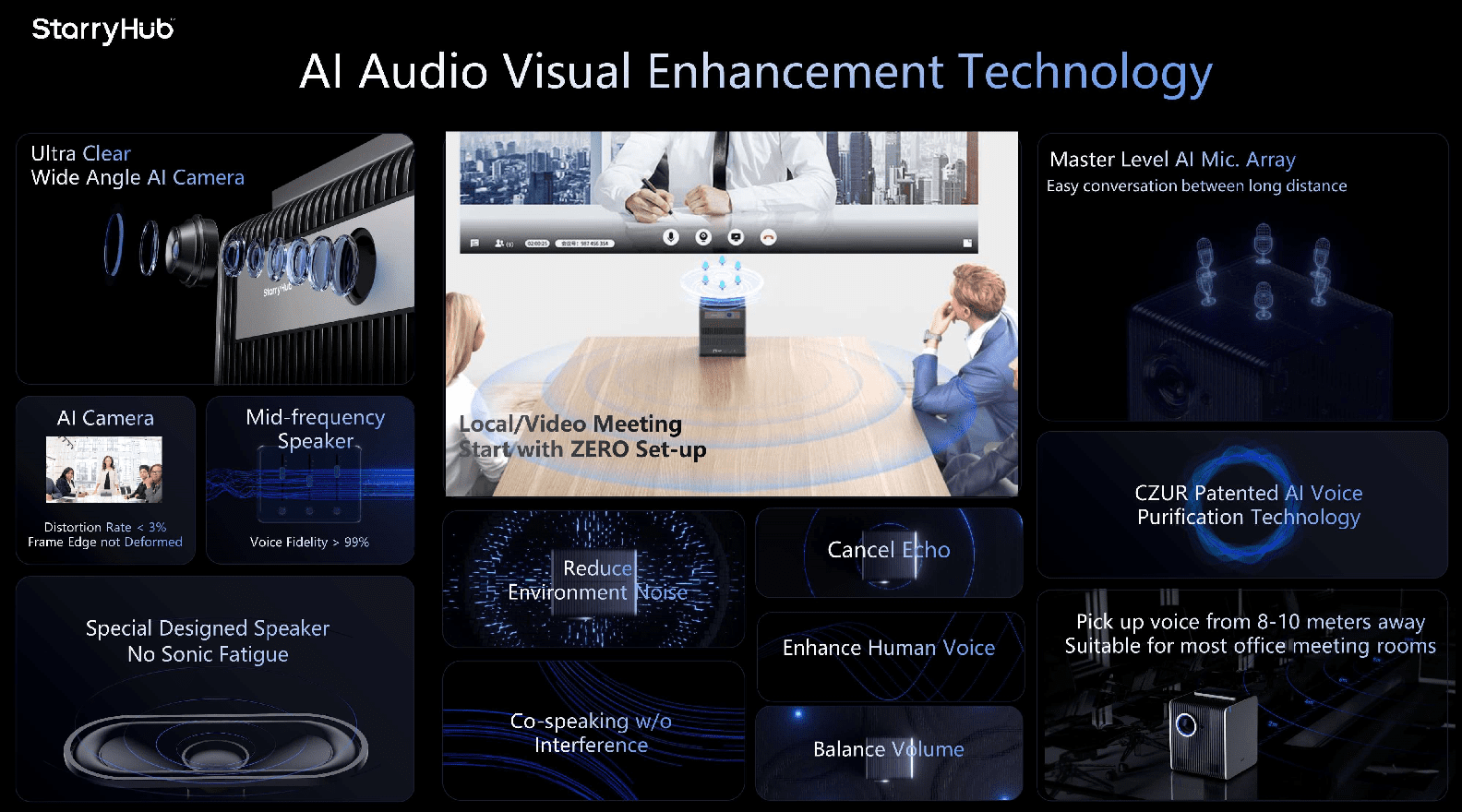 No more waiting around for your meeting equipment to start up. CZUR StarryHub wakes up in just 1 second, ensuring that your meetings begin promptly.
CZUR StarryHub incorporates TouchBoard technology, providing an interactive and intuitive interface for your meetings. Navigate through presentations, annotate documents, and interact effortlessly with the touch of a finger.
CZUR StarryHub boasts a long-life span light source, which means you won't have to worry about frequent replacements or maintenance. It's built to last, providing reliable performance for years to come.
Minimal Cables, Maximum Convenience
Gone are the days of a tangled web of wires. CZUR StarryHub requires only the minimum number of cables, reducing clutter and enhancing the overall aesthetics of your meeting space.
Instant On-Demand Meetings
With CZUR StarryHub, there's no need for elaborate setup procedures. It's a true all-in-one solution that's ready to use at a moment's notice, ensuring that your meetings start on time, every time.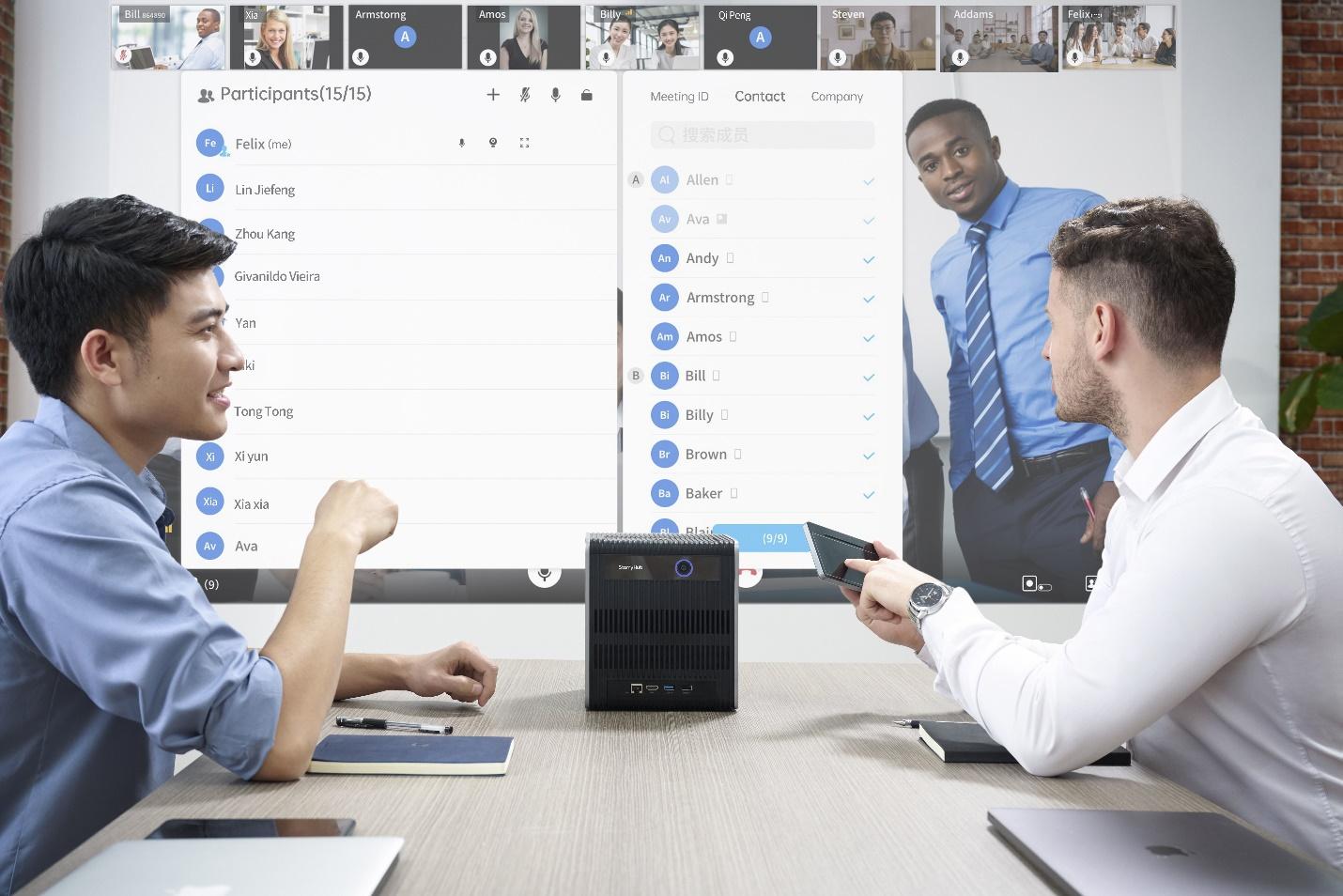 CZUR StarryHub's all-in-one Business Conference System design not only simplifies setup but also enhances stability. Say goodbye to technical glitches and interruptions; with CZUR StarryHub, your meetings will run smoothly.
CZUR Patented AI Technology
CZUR StarryHub is powered by CZUR's patented AI technology, which enhances human voice transmission and purification. This innovative technology takes your video meeting experience to new heights by ensuring that your voice is clear and free from distortion.
The Smart Choice for Any Setting
CZUR StarryHub is a versatile solution suitable for a wide range of meeting environments, whether you're a startup or a large corporation. Its flexibility in screen size, ranging from 80-120 inches, allows you to customize your meetings to fit your specific needs.
Cost-Effective and Portable
Despite its impressive array of features, CZUR StarryHub remains a cost-effective solution available at $1499 only. It eliminates the need for multiple meeting accessories, saving you both time and money. Furthermore, its lightweight and portable design, weighing just 3kg, means you can take your meetings anywhere with ease.
CZUR StarryHub is not just an alternative to conventional projectors; it's a complete reinvention of the meeting experience. Its cutting-edge technology, ease of use, and exceptional features make it a game-changer in the world of business meetings.
With CZUR StarryHub, you can conduct meetings that are efficient, engaging, and crystal-clear, whether they are held locally or remotely. Say goodbye to the complexities of traditional meeting setups and embrace the future of meetings with CZUR StarryHub – the ultimate all-in-one meeting solution. Elevate your meetings, save time, and make a lasting impression with CZUR StarryHub.
Transforming Meetings with Innovation 
CZUR StarryHub doesn't just stop at delivering exceptional audio and video quality; it redefines how you interact during meetings with its TouchBoard technology and CZUR StarryOS integration.
The TouchBoard feature enables effortless navigation and control, allowing you to seamlessly switch between presentation slides, annotate documents, and interact with meeting materials as if they were right in front of you. Combined with CZUR StarryOS, your meeting interactions become intuitive and fluid, making the entire experience more engaging and productive.
Superior Voice Clarity with Patented AI Technology
One of the standout features of CZUR StarryHub is its utilization of CZUR's patented AI technology for voice transmission and purification. This cutting-edge technology ensures that your meetings are free from distortions and background noise, providing a remarkable >99% sound/voice restoration rate. In the world of effective communication, every word matters, and CZUR StarryHub delivers each word from the other side with utmost clarity, thanks to its 10W speaker.
Conclusion: Elevate Your Meetings
In summary, CZUR StarryHub is a game-changer as a business conference solution. It's not just an alternative to conventional projectors; it's a comprehensive solution that combines cutting-edge technology with user-friendly design. Whether you're a startup looking to make a big impression or a corporation aiming to streamline communication, CZUR StarryHub promises to enhance communication efficiency, boost productivity, and redefine the way you conduct meetings.
Embrace the future of meetings with CZUR StarryHub – your all-in-one conferencing solution that's revolutionizing the way we meet and collaborate. Bid farewell to the past and usher in a new era of seamless, productive, and crystal-clear meetings with CZUR StarryHub by your side. Make your meetings count and let CZUR StarryHub take you there.
For more information and purchase, Contact: marketing@czur.com