A special reflector is among the many features of the new H5GT flashlight. The carefully designed reflector ensures that unlike a traditional reflector, when using multiple colors (White/Red/Green/Blue), the best possible range and output can be achieved from each LED color.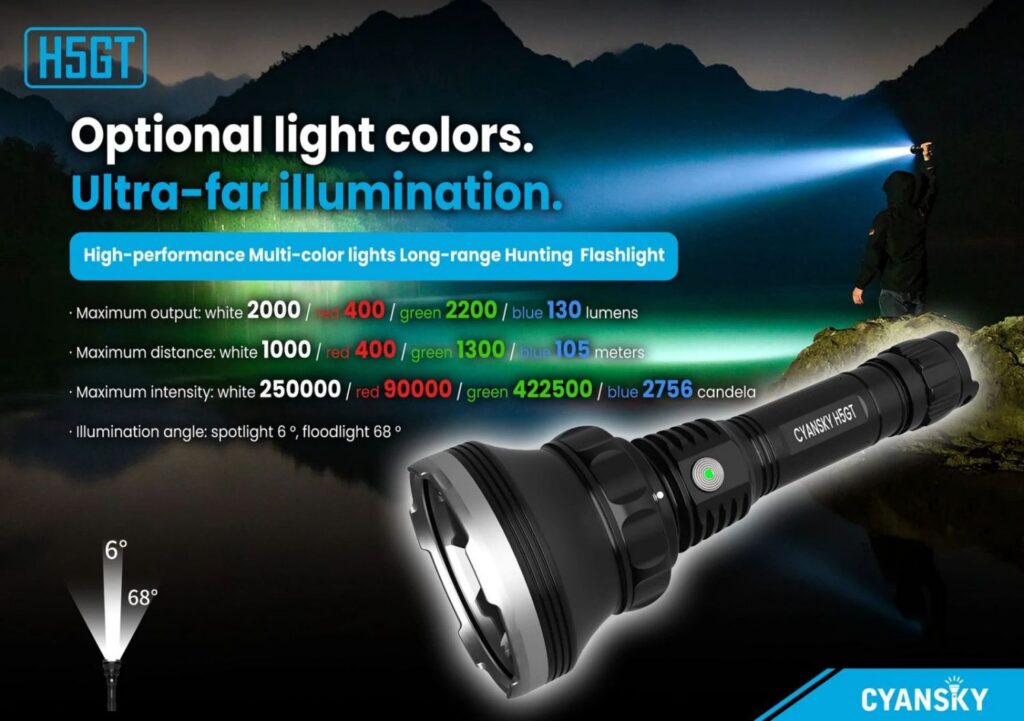 A combination of the powerful Luminus SFT 40 White LED is able to reach an impressive 2000 lumens in output, with a range of 1000 metres, with the red hitting 400 lumens, and around 600 metres distance. Green and Blue LEDs are also on offer, with the green being a popular hunting option with a quoted beam range of 1300 metres.
Selecting the LED color has never been easier, with the unique design rotating head. Simply grip and turn the head to pick the output and color you require.
The long beam distance makes the H5GT an impressive option for those looking for a hunting flashlight, with search and rescue/law enforcement and exploration being other possible uses for this powerful flashlight. A high capacity 5000mAh 21700 battery, ensures a long run time.
Fitted with strong dual gold plated springs, ensure corrosion resistance, and absorbs shock from weapon fire/recoil. Additional mounts are also available in the GM03 and GM09 gun mounts. The RS02 Remote Switch can also replace the standard tail cap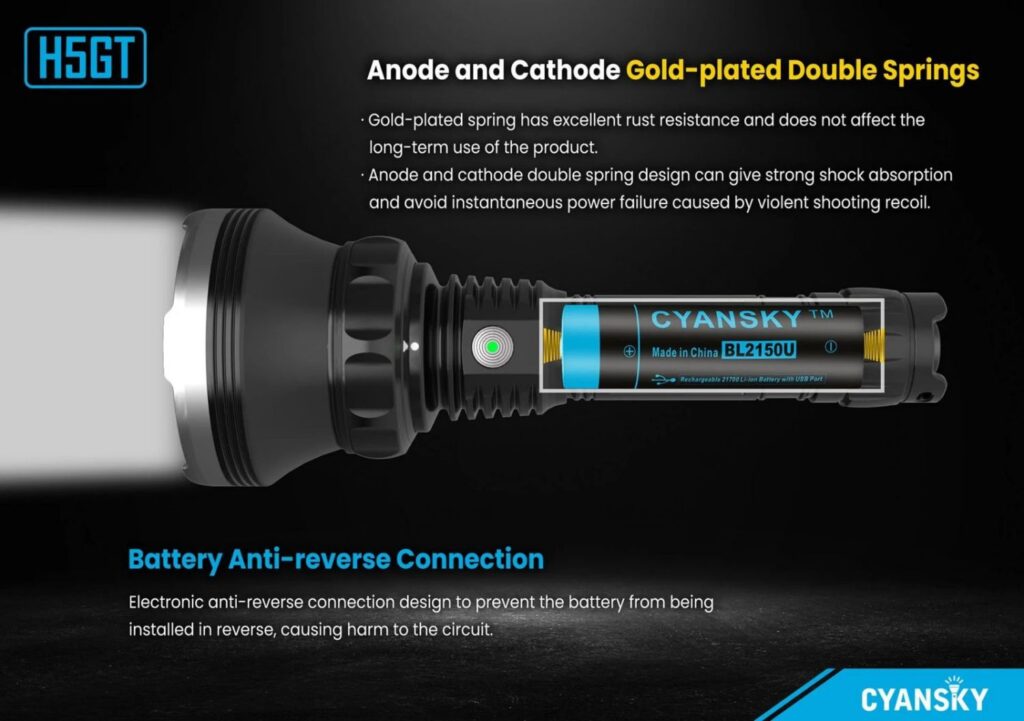 Unique Rotating Head and 4 LED colors
Being able to rotate the head allows the user to quickly select the desired LED and color
Turning the head 180 degrees clockwise in white light mode, lets you pick the red/green/blue outputs. Simply rotate counter clockwise (180 degrees), when in the color mode, to go back to the white LED output. A white marker lets you see where the head is set. 
A highly polished aluminum reflector, combined with a double coated tempered glass lens, achieves a high transmission of 98%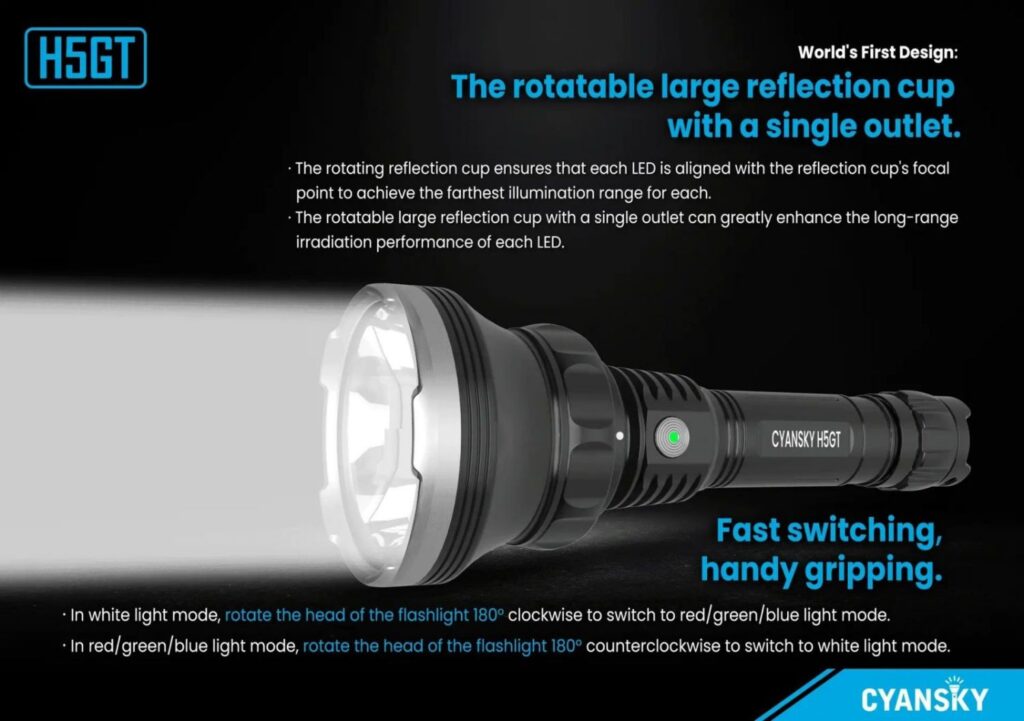 The luminus STF-40-W LED has 4 power levels 30, 150, 800, and 2000 lumens in Turbo mode, with a run time of up to 68 hours in the lowest level. A tight beam output gives a range from 135 up to 1000 metres.
Color LEDs are from the Luminus SFT-20 series. Each has 3 power levels
Red has an output of 30, 150, 400 lumens, with a quoted top range of 600 metres
Green goes from 200, 700, 2200 lumens with a highest throw of 1300 metres
Blue is more suitable for closer distances, 10, 50, 130 lumens and a throw of 105 metres
Output is via a constant current, with no flickering and a memory function saves the last mode when turned on.
High Quality Body, with multiple power options and a battery level check
The H5GT features a durable build using HA III Hard-Anodized aluminum, effective and resisting wear, and prolonging the life of the flashlight.
A tactical tail switch has been tested to 100,000 presses, and the flashlight is rated to IPX8. 2 Metres drop and water submersion. 
The side switch, not only allows the user to change the output levels quickly. It also integrates a battery level indicator. 4 levels are clearly shown in a combination of Green and Red static and flashing, in 25% increments. You will always know how much power is left in the cell.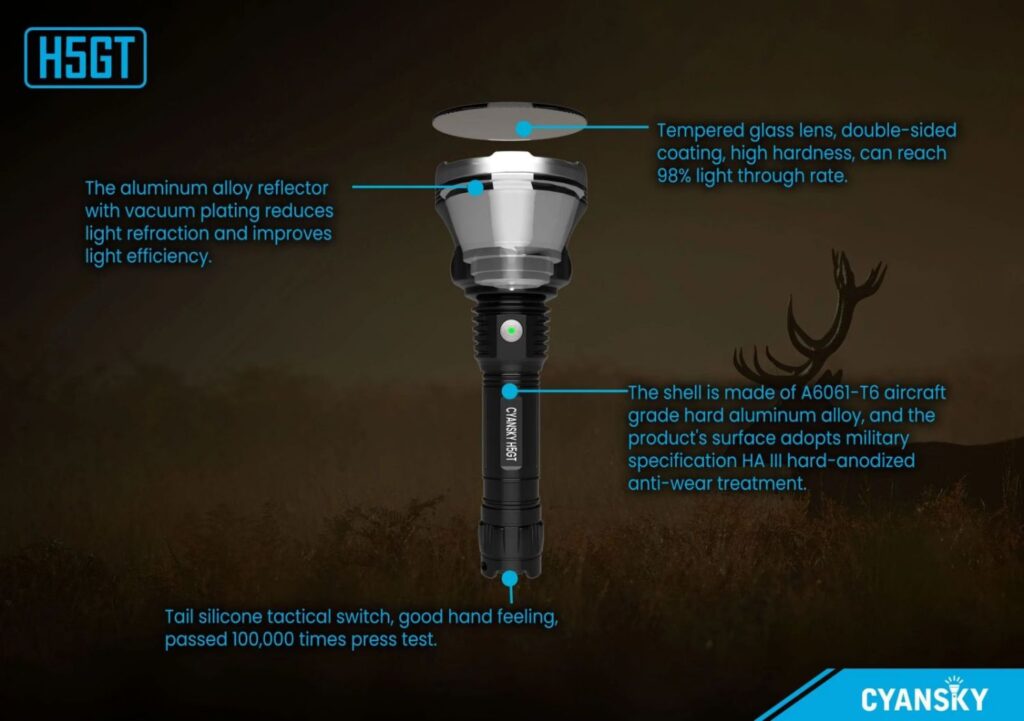 A supplied 21700 battery is charged via the supplied type C cable. Due to the dual spring design, you can also use flat top unprotected cells with the H5GT flashlight, and via an adapter, it is possible to use 18650 cells too. As expected the H5GT has reverse polarity protection built in.
Spare O rings, a tail cap cover and lanyard/holster are also provided. It's a complete package ready to go out of the box.
 CYANSKY H5GT Key Features
4 Color LED output, with a rotating head design for quick selection
White LED output up to 2000 lumens and 1000 metres
Green LED reaches 2200 lumens range of 1300 metres
4 power levels for White LED, 3 power levels for each of the Red/Green/Blue color modes
Tactical tail cap switch tested to 100,000 presses
Unique patented reflector for maximum range/output
IPX8 Rated. 2 metres drop and water resistance
High capacity 21700 battery (5000mAh) with type C charging port
Working temperature of -30 to 55 degrees Celsius
4 stage battery level check
Reverse polarity protection
5 year manufacturer warranty
Supports compatible weapon mounts and remote switch (add on items)