Being in fashion regarding nail designs is a very important aspect of your daily wear. Getting specific nails for the fall season keeps you on-trend while you are observing that specific season. The designs of nails rotate around the nail polish used, and the types of art used.
There are specific colors and artwork that, when used on nails, do reflect the fall season. As long as you are creative enough or the nail artist you get is experienced enough, you can always come up with a fall design for your next nail appointment. The following are fall nail designs you can have fun exploring for the season.
Alternating French Nails with Contrasting Tips
French tips are always attractive and classy, no matter the nail designs to be applied. If you love exploring different designs at go, you can choose to use contrasting tips of the polish colors of choice.
You can opt to combine some shades of brown for this specific design to come up with an amazing final look. It is the best option if you are looking forward to getting a fashion look and are on edge for the fall season.
You can use shades of brown, starting from the dark brown shades to the lightest, which include nude colors. People can wear the design with all kinds of skin and all sorts of outfits.
Gradient Nails
If you do not want to exactly commit to one single color, gradient nails are a suitable choice for you. The main feature of this design is the muted neutral gradient.
The design is classy and so easy to come up with. When getting this design, remember to use cool colors that represent spring.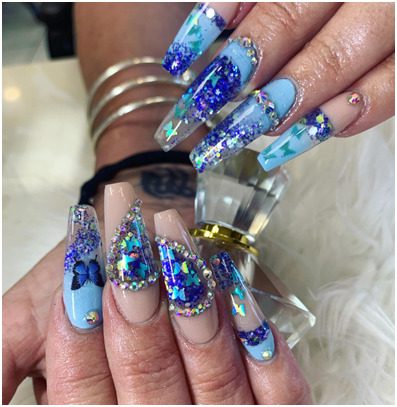 https://www.instagram.com/p/CS6A1zaMa51/
Milky White
Most people who go for white nail designs are usually looking for something classy but glossy at the same time. White is a skin-friendly color regardless of what the person's skin color is.
The milky white option, however, is more suitable when used on long nails. However, this does not mean it can't be used on other nail lengths. The length of your nails is a choice you make based on your needs and requirements.
The Milky white fall nails color trend may be hard to achieve on naturally weak and short nails. However, the nature of your nails does not have to worry you much because you can always use acrylic nails. This will help support the formulation of the desired shape and length.
Gradient Brown
It is the best option if you don't want to rock on entirely one shade of brown. You can design it creatively with several shades of brown.
To develop this design on your own, you can begin with the lightest shade of brown and gradually proceed up to the darkest shade of brown on the nail tips.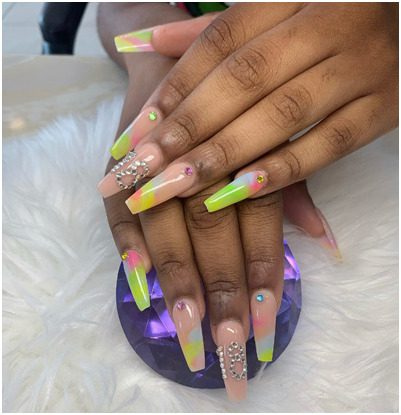 https://www.instagram.com/p/CSVoXXds6u1/
French Tips With a Pink Base
Using the classic French tips and blending it with a pink base is a great way to rock through the seasons. Using French tips makes your design look simple yet classy.
For better looks, you should go for the modern French tips design, using rounded white polished tips.  You should blend them with your favorite shade of translucent pink as the base coat.
Beautiful Berries
Just because they are called fall nails does not mean they have to be dark at all times. You can brighten things up with berry shades nails designs, which are perfect for the fall season.
Some bright colors, such as dark pinks, reds, and purples, are also good choices for fall nails. All dark color shades suitable for the fall season can be worn by any person, regardless of skin color.
Golden Nudes
Any golden nude color used on nails automatically represents the fall season. You can have fun experimenting with various shades of warm gold every time you go for a nail appointment.
You can spice up this design by blending the gold color with some nude tones. You can also alternate different nail designs with golden nudes on different nails.