The NFT sector of the crypto industry is exploding, with a particular focus on blockchain gaming. Dozens of games featuring NFT collectibles, characters, or in-game items are now emerging and offering gamers ownership of them, and even a method to earn money by using them, or even simply by playing the game.
One of the newest examples of this is CryptoTanks, which was inspired by a popular video game in the '90s, which is, sadly, mostly forgotten these days. Now, it is returning, and it is better than ever.
What is CryptoTanks?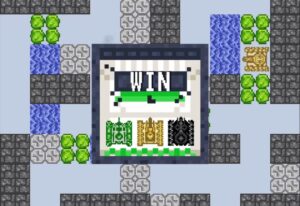 Everyone who has been playing video games in the '90s likely remembers everyone's favorite tank game, Battle City. The game was extremely popular at the time, allowing users to take control of a tank and navigate different levels, each with a maze constructed of breakable or unbreakable walls, and filled with patrolling enemies.
The goal was to destroy the enemies and take over their fort, while simultaneously protecting your own. Of course, as the gaming industry continued to evolve, many of these old classics ended up forgotten, which is a shame, as many were extremely fun.
However, a crypto project called CryptoTanks is now bringing the game — or at least, an advanced version of it — back from the past and with a twist — by introducing NFTs.
The project is basically a Play-to-Earn, NFT-based game that lets you collect and trade tanks, play the game with them, and earn money while doing so. 
How does the Game Work?
Let's start by saying that every NFT that the project has created is 100% usable in the game, and those who remember the old Battle City will also enjoy discovering and exploring new locations, completing new missions, obtaining new tanks, entering the battle mode, upgrading the tanks, and more.
Upgrading the tanks will, obviously, make them more powerful and durable, which will automatically make the NFT more valuable, and allow the user to sell it at a higher price. This allows gamers to build unstoppable teams of tanks for conquering enemies, with each tank having its own strengths and weaknesses.
The game has brought billions of possible combinations, so there is truly no limit to different possibilities, and all that players need to do is experiment and unlock them. 
The game will have four main modes — battle areas, team vs team, random team, and money battles. As soon as they purchase an NFT tank, they will be able to join the game and start playing, upgrading, and conquering enemies. However, owning a tank — either buying it or renting it from another player — and downloading the project's app for Android, Mac, or Windows is a must in order to access the game.
Why Play CryptoTanks?
While CryptoTanks definitely sounds quite fun and is very addicting — just like the original Battle City — there are some practical reasons to get engaged with this game.
One thing we did not mention until now is that the project has its native cryptocurrency, known as the $TANK token. Apart from $TANK token, there are also STARS tokens, which can be used on the platform's website to purchase tanks that can then be used in the game.
$TANK token will allow users to:
Earn payments from every battle

Earn a passive income from renting tanks

Earn a passive income through staking or liquidity providing

Make a profit through trading

Increase their wealth through HODLing
Meanwhile, $TANK tokens will be earned for every game that users play, and for every battle that they have won within the game. $TANK tokens can also be earned by renting your tank to another user, through staking of existing $TANK tokens, or they can be obtained through an exchange.
Meanwhile, the NFTs themselves are likely to become more and more vulnerable as more people start to engage with the game, so there are definitely plenty of reasons why one should consider giving this game a chance.
The token will become available for traders, investors, and players in November 2021, which is when CryptoTanks' token sale is going to take place. For more information, as well as details on how to join the token sale, keep a close eye on the project's social networks, including Discord, Twitter, Telegram.