What Is CrowdStreet?
Founded by Tore Steen and Darren Powderly, CrowdStreet is a real estate marketplace with headquarters in Austin, Texas. Since its inception in 2014, CrowdStreet, through its investors, has funded a record 709 deals, with almost a quarter already realized. CrowdStreet was born as an alternative way for investors to diversify their investments – outside of public equities – in what is now known as real estate crowdfunding.
CrowdStreet offers diverse investment opportunities, including all real estate segments and risk profiles. However, CrowdStreet can be somewhat restrictive because it is only available for accredited investors and has a minimum investment of $25,000. When you become a CrowdStreet investor, you will gain immediate access to expertly made diversified real estate portfolios, as well as custom-made, personalized portfolios with your long-term goals in mind.
In this quick CrowdStreet summary, I will go over all the best features of this platform. If you want to read a more in-depth analysis, check out our full CrowdStreet review.
Pros & Cons of CrowdStreet
Pros
Diverse investment opportunities
As an investor, you won't pay commissions
Access to expertly made diversified portfolios
Comprehensive educational resources
Detailed data on all past and current holdings
Regular cash distributions (monthly or quarterly)
Cons
Available to accredited investors only
High minimum investment ($25,000)
CrowdStreet Marketplace
From the CrowdStreet Marketplace, you will have access to the basic information of all the offerings, including location, property type, investment profile, investment period, and minimum investment. For most properties, the minimum investment is $25,000, but some may have higher minimums.
Keep in mind that to access more detailed information on all offerings, you will need to sign up with CrowdStreet. From the marketplace, you can also access old, closed offerings to get an idea of what you can expect in terms of returns. If the $25,000 minimum investment is too high for you right now, or you're looking to invest in real estate as a non-accredited investor, RealtyMogul may be for you.
Investment Opportunities
CrowdStreet offers three very distinct investing options; the minimum investment for each is set at $25,000. Depending on the type of investor you are – and your risk profile – one investment may make more sense than another. Here's the breakdown and our recommendations:
Diversified Funds are the best option for beginners looking to gain exposure to the real estate markets safely. These funds have the same minimum investment as Individual Deals; the main difference is that these are comprised of a premade blend of segment-diversified real estate properties.
If you are a more experienced investor, you may want to look into Individual Deals. Individual Deals are highly curated, highly specialized investments that focus on a single real estate segment (residential, commercial, or industrial). These have the potential for higher profits, but you give up on diversification.
Finally, Tailored Portfolios. Similar to funds, Tailored Portfolios are comprised of multiple real estate properties. Unlike funds, Tailored Portfolios are built from the ground up with your personal goals in mind. Before you get your Tailored Portfolio, you have to complete a questionnaire about your financial goals.
Keep in mind CrowdStreet is only available for accredited investors – if you're looking for an alternative open to all investors, we recommend checking out our YieldStreet vs. CrowdStreet review.
CrowdStreet Historical Returns
Since its inception in 2014, CrowdStreet has invested $3.8 billion in more than 709 deals. The returns you can expect from your investment will largely depend on your risk profile – safer investments are suitable for a stable income but aren't likely to grow your wealth in the long term. CrowdStreet – and most real estate investing platforms – differentiate risk profiles into four groups: core, core-plus, value-add, and opportunistic.
Core investments are the safest and more stable, while opportunistic and value add are long-term propositions. The targeted IRR for value-add and opportunistic deals is usually around 25%, and the target holds five years or more. Keep in mind that the targeted IRR considers that you stick to the 5-year timeframe – if you can't stick to it, these types of investments may not be for you.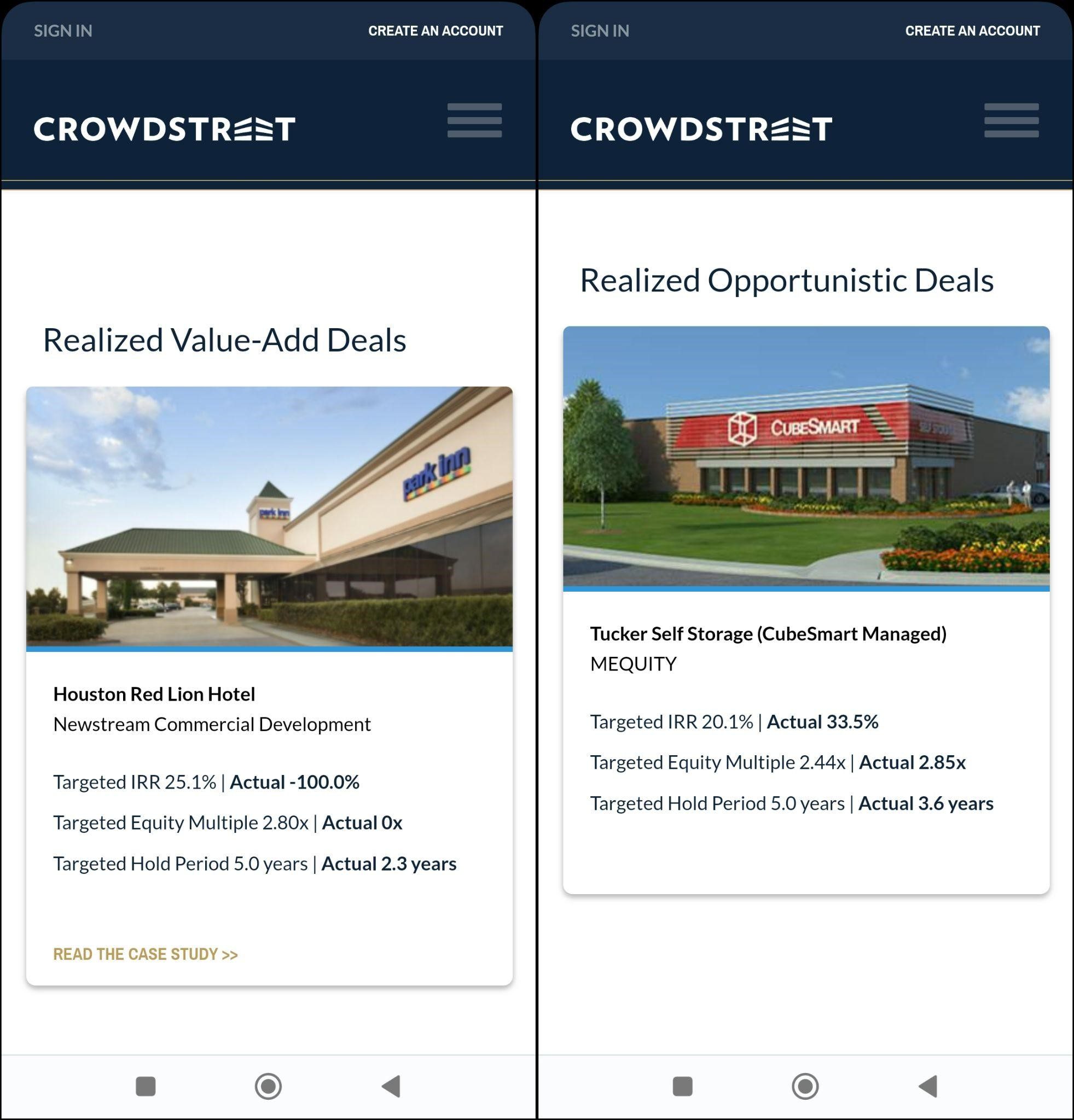 CrowdStreet Fees
CrowdStreet doesn't charge fees for signing up or investing in any listed investment opportunities. Instead, CrowdStreet earns revenue by charging sponsors fees to have their assets listed.
Some of the fees sponsors are obligated to pay to include technology & servicing fees. Keep in mind that sponsors may offload some of these fees onto investors. You can access all the information about the underlying real estate project – including the fees – from the marketplace after you create an account.
Investor Commission Fee: Free
Technology Fee: Charged to the sponsor
Servicing Fee: Charged to the sponsor
Signing-Up For CrowdStreet
CrowdStreet has very steep requirements for investors to participate. For starters, CrowdStreet is only available for accredited investors that are also US citizens (or permanent residents) and have a social security number. The sign-up process is very quick and won't take more than a couple of minutes:
Visit CrowdStreet's website
Open the menu on the top right
Click Join CrowdStreet
If you use this link to sign up, you will gain immediate access to all the data sheets of each investment so you can start researching the projects that better fit your long-term goals.