Since its valuation of $880 million in 2010, crowdfunding has come a long way. According to Massolution crowdfunding report, the global crowdfunding industry grew impressively in 2014—expanded by 167 percent to reach $16.2 billion.  In 2015, the industry raised more than double and reached to $34.4 billion. Spread across many types of funding models including donation, reward, lending, and equity, crowdfunding would reach $90 billion by 2020, according to the World Bank.
The graphs below will give you the general overview of the growth of crowdfunding industry in the world.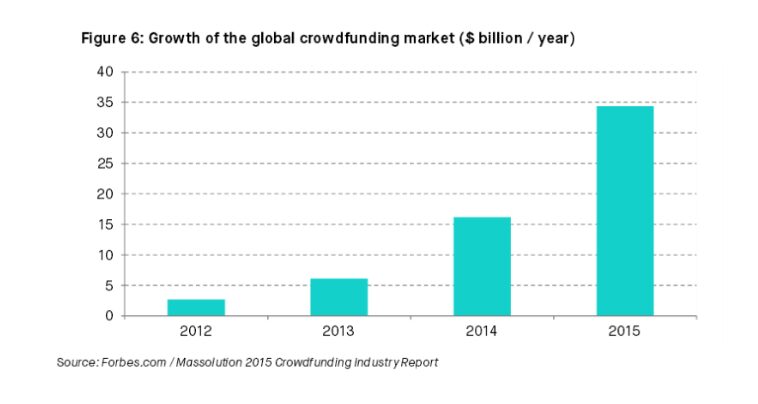 In comparison, the global VC activity is declining. A new report from KPMG about venture funding landscape shows that 2016 was a challenging year for VC investment. Global activity declined by almost 25 % in 2016 as compared to the same period in 2015, with 13,665 deals collectively raising a sum of about US$127.4 billion. In 2015, there were 17,992 global VC investments with a total value of about US$141 billion, according to KPMG.
In the US, between April 2015 and April last year, there was a 30 percent year-over-year decline in deployed venture capital. Deal volume dropped by 22 percent over the same period. VCs dedicated $11.3 billion toward 960 deals in the fourth quarter of 2015, a 32 percent decline in value and 16 percent drop in volume compared with third quarter of 2015. During the first quarter of 2016, venture capital funding for U.S. start-ups reduced almost by 25% to $13.9 billion.
In Europe, Venture capital investment fell sharply in the third quarter of 2016. Preliminary data from Pitchbook in July last year showed that VC investment in European start-ups fell by over a third in the 2nd quarter, compared to the same period in 2015. According to a report by Dow Jones VentureSource, European companies raised €2.1bn from VC funds with 464 deals in the third quarter of 2016, a 32% fall in the amount raised from the previous quarter, and 39% lower compared with the same period in 2015.
Lastly, the VC investment in early stage growth companies in India last year witnessed a significant drop. According to Venture Intelligence, VC firms made 405 investments in India worth $1.4 billion in 2016 compared to 512 deals worth $2 billion in 2015, a 21% drop in volume terms and 27% drop in value terms.
At the closing panel of the Crowd Invest Summit, a broad range of crowdfunding experts such as Silvia Davi and Katherine J. Blair unanimously agreed that the crowdfunding market will expand throughout 2017. On the other hand, Grabow predicts that, overall, venture funding will continue to decrease. According to data from Silicon Valley Bank (SVB), VC fundraising should hit about $25 billion, which is 38 percent lower than in 2016.
Competition between venture capital firms and crowdfunding platforms is fierce. In terms of funding for smaller companies, crowdfunding has already overtaken the venture capital industry. Nowadays there are over 1,400 crowdfunding platforms active globally, and this number is expected to increase.