Wondershare Fimora X is one of the most popular video editing mac tools in the world at the moment, with millions of people across the globe leveraging its features to create amazing content for their audience. The software application also remains one of the biggest products from Wondershare Technology, as the software development company continues in the pursuit of helping as many people as possible to bring out their creativity using the latest technology solutions. The product has evolved over the years, as Wondershare seeks to create solutions to meet the growing and diverse needs of users. In a related development, the attributes of Filmora have come under strong scrutiny in recent times, with experienced video editing professionals highlighting its features, pros, and cons.
"If you're just starting out with video editing, or just want a simple program that works, Wondershare Filmora might be what you're looking for. It has the essential tools, and anyone can learn to use it easily."
Video content has become more popular over the years, with more businesses, individuals, and other categories of creators looking to leverage its effects to pass the desired message. Research has revealed that videos are more effective in relaying messages to an audience. Consequently, there has been an increase in the demand for video content creation, with the market growing in leaps and bounds. In a related development, the services of video content professionals have increased in demand. Unfortunately, many of the service providers either charge exorbitantly or fail to deliver as claimed. However, the Wondershare team seeks to change this narrative, a move that led to the creation of Wondershare Filmora X and several versions of the video editing software.
What Is Wondershare Filmora?
Wondershare Filmora X was initially launched as a video editing software application to meet the needs of content creators worldwide. The video editor comes with a wide range of features that stand it out from other similar applications on the market. The attributes of the software ensure that anyone, irrespective of their level of expertise and knowledge, can easily create professional, captivating videos without spending long hours in front of the computer or breaking the bank to pay service providers.
Wondershare has also released a couple of versions of the software application, with the addition of more exciting features to take the video creation experience to a whole new level. The user-friendly software application comes with features designed to help users to save time and effort, with tools such as keyframing and motion tracking enabling users to create more with relatively less effort. Filmora also has audio ducking, color match, keyboard shortcut, video effects, split screen, green screen, color grading, and speed control features.
Features of Wondershare Filmora X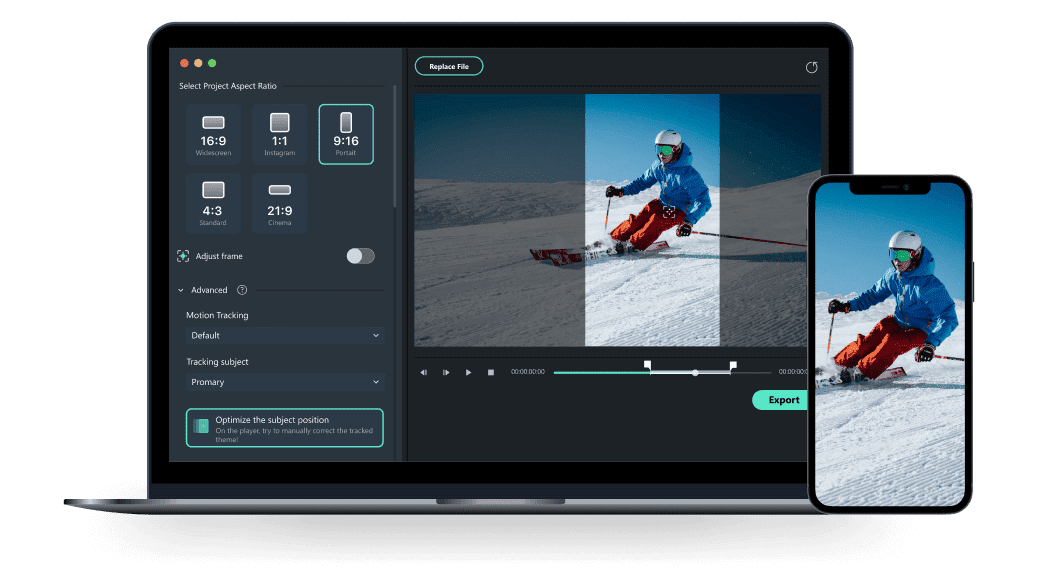 The Wondershare Filmora X offers a plethora of features that have endeared it to tons of people across the globe, helping them to trigger their creativity and discover the power of storytelling. With reports showing that over 77 million people in more than 150 countries worldwide have already used the software for different purposes, one can hardly dispute the increasing popularity of the tool. Some features of Wondershare Filmora X as assessed in recent times are briefly highlighted as follows:
Motion Tracking

: the feature allows users to easily attach an element to a moving object in the video with auto motion tracking.

Keyframing

: the 

keyframing mac

 eases the process of customizing animated videos by allowing users to add keyframes to change the position, rotation, scale, and opacity of a clip.

Audio Ducking

: the feature enables content creators to quickly fade their music to ensure that the dialogue stands out.

New UI and switch dark/light mode:

 Wondershare Filmora X also allows users to switch between light and dark mode for all-day editing comfort.

Auto Reframe:

 the feature is a highly advanced technology that automatically detects and crops a focal point in any video.

New Split Screen Templates:

 Filmora Mac has refreshed its set of templates to help users easily customize animation mac. The latest update includes split-screen templates in different proportions ideal for social media platforms such as Instagram or Facebook.

HEVC Codec Support for Instant Cutter Tool:

 the HEVC support remains one of the commonest video formats supported by iOS devices, including iPhone and iPad, with the latest version of Filmora Mac V10.2 now providing a lossless cut for videos in this format.

Direct Import from Photos Library

: Filmora Mac V10.2 provides a faster solution to import media files from Photos.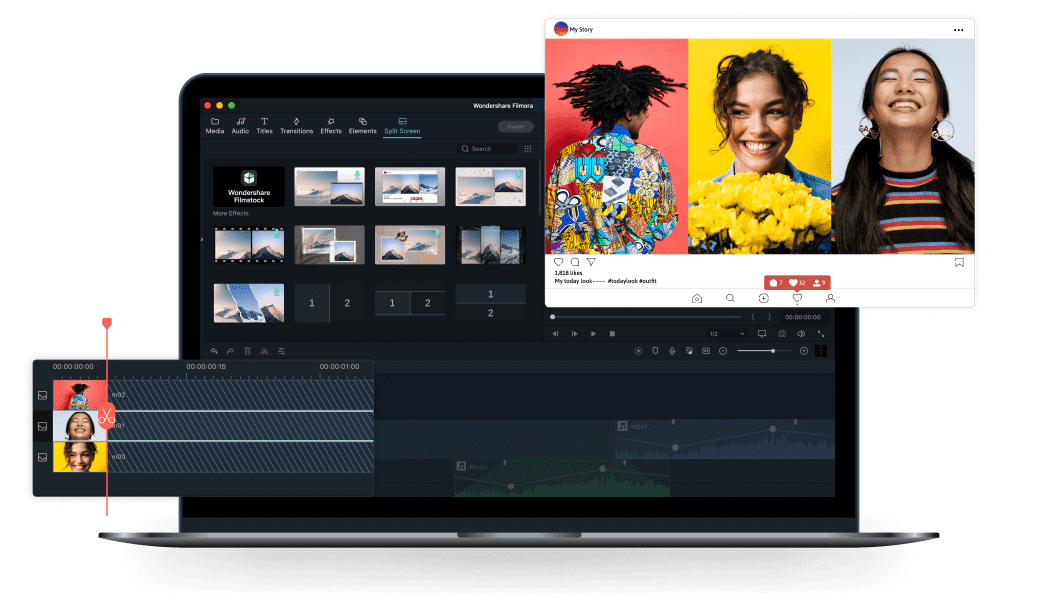 In addition to the features highlighted above, Filmora Mac V10.2 also allows users to edit and cut videos, as well as video trimming/cutting/splitting mac in quick easy steps. The software offers several cool effects, with the Effects Shop: Filmstock), Greenscreen, Split-Screen, to help users make more attractive and creative videos.
Some of the features that have been made available for Mac users on Filmora are Auto Reframe, M1 chip &amp, touch bar support, and direct import from the photos library. The formats are also made to be compatible with Windows and Mac devices, including macOS 11 and Apple M1 ARM-based processor.
Pros of Wondershare Filmora for Mac
The features of the video editing software have helped to carve a niche for the tool in the market and have been described by many as the best thing since sliced bread. Some of the advantages of the video editor that have made it one of the most sought-after tools are briefly highlighted as follows:
User-friendly interface:

 the tool has an intuitive drag-and-drop interface that allows users to easily navigate through its features and tools to create their desired video without spending long hours in front of their computers.

Tons of Customizable templates

: the video editor offers users several templates to ease the process of creating videos. The templates can be easily customized to meet the desires of the content creator.

Video editing tutorial:

 there is also a 

video editing tutorial

 that puts users through the process of using the tool for the creation of professional videos.

Versatility:

 the tons of features of the app and compatibility with several devices as well as the multiple output formats make Filmora an ideal video creation companion. The tool can be used for videos of different purposes, including ads, tutorials for students, as well as webinars.

24/7 Support:

 Wondershare also offers support to users, with informative blog posts and a community of experienced video editors from all walks of life. There is also a support center that provides answers to questions and inquiries as well as registration code recovery.

Relative affordability:

 Wondershare Filmora Mac V10.2 is relatively affordable, considering the features available to users, especially in comparison with other similar tools in the industry.
Cons of Wondershare Filmora
The complaints about Wondershare Filmora Mac V10.2 have been far and in between, with the tons of reviews across different platforms, including social media, further substantiating this claim. With more than 600 thousand followers across different platforms, the major drawback that can be identified by users is the tons of features that make video creation and animation fast and easy, without requiring creators to break a sweat.
Wondershare Filmora Mac V10.2 – Conclusion
Wondershare Filmora Mac V10.2 has seemingly come to disrupt the video creation market, with the features creating a unique experience for users. Like any other software application, it has features that stand it out as well as tools that might not necessarily appeal to all categories of users. However, based on the unbiased assessment of the tool, Wondershare Filmora Mac V10.2 will make for a good investment for all categories of video content creators, including individuals and businesses across different industries.
Regardless of the position of the prospective user based on reviews on the internet, it is important to literally Do Your Own Research (DYOR) before signing up for the tool. Thankfully, there is a free trial that allows potential users to have a feel of the Wondershare Filmora Mac V10.2 before going all in. This will help save the perceived stress that comes with trying to figure out the ins and outs of a new tool, even as the software is particularly designed to be as user-friendly as possible.
All in all, the Wondershare Filmora Mac V10.2 is an amazing tool that every video content creator should have in their arsenal. With Wondershare constantly making updates to the tool, one can expect more from the tool.
For more information about Wondershare Filmora and the latest updates on the video editing software, please visit – https://filmora.wondershare.com/video-editor/. Wondershare can also be found across social media, including YouTube, Facebook, Instagram, and Twitter.
About Wondershare
Wondershare was founded in 2003 and has grown to become a global leader in software development and a pioneer in digital creativity. With powerful technology, the company provides convenient and straightforward solutions, making Wondershare the trusted name by millions of people in more than 150 countries worldwide.