Gary Bernstein is the CEO of CoTrader, an innovative blockchain platform built to revolutionize the global investment funds industry and to help you manage your funds with ease.
1) Please tell us your name and about yourself?
My name is Gary Bernstein. I've been tracking blockchain since 2011, and am a crypto & ICO investor myself. I began working on CoTrader in 2017, when I invented and architected CoTrader's use of privacy preserving smart contract to perform the combination of functionality I saw as critical to a successful cotrading marketplace. I'm a serial entrepreneur who's held top technical and executive roles in several ventures. I have over 20 years of software development experience, from applications on real-time operating systems to algo-trading cryptos and digital assets. Computer Science, University of California, Santa Barbara.
2) What is CoTrader?
CoTrader aims to disrupt the $85 trillion global investment funds industry with transparency and asset control powered by blockchain. CoTrader enables the best investors to manage your funds. Unlike competing platforms, CoTrader offers cryptographically proven ROIs, privacy, and full control over your assets. CoTrader will support cryptos, ICOs, stocks, options, as it can tokenize entire exchanges.
3) What are the Major Features and Services provided by CoTrader?
CoTrader's major features are a blockchain platform and marketplace for investment funds to service investors. Ie, fund producers to service fund consumers. Because CoTrader is all smart-contracts driven, it can support the onchain swapping of ICO rights, or ICO futures, that are tokens that are sent to funds at some point in the future, after entering an ICO. Not only will CoTrader be the world's first working and truly decentralized investment funds platform, but also the world's first ICO futures trading marketplace, on the blockchain.
4) Is CoTrader Platform working and available to use?
Yes! CoTrader's MVP is live on the Rinkby testnet even before it's ICO, which is rare. Maybe ICO companies never produce a product. Visit the website for more information: https://demo.cotrader.com/
5) How does the token work and what is the value?
The token is used for staking in funds. About 5% of the fund size needs to be held in COT. The token also helps to shield the trading strategy of fund manager. DAO voting power is proportional to COT amount held. Platform profits are used to buy-back COT and burn unused tokens. The rest would go to a DAO to progress the platform.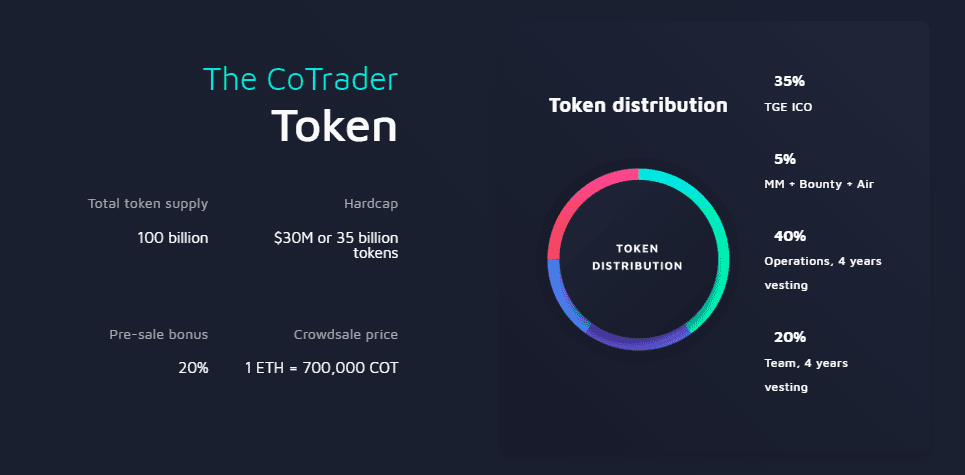 6) How and why will CoTrader platform profit Investors?
Profits from platform fees can be very high. Exchanges such as Binance trade more than $10B/day, and charge about 0.1% of all trades. CoTrader, as a funds platform, is more than an exchange for new asset classes such as ICO futures. It's profits are used to buy-back COT tokens, which are then burned, or sold and used to progress the platform.
7) Does CoTrader support all cryptos, and stocks, options, and other derivatives?
Yes. This FAQ is on the website: Yes! The CoTrader protocol supports all tradable assets whatsoever by automatically tokenizing all assets traded on any exchanges using our smart escrows and master accounts. CoTrader thus supports cryptos, stocks, shorts, options, derivatives and more.
8) What is next on the CoTrader roadmap?
CoTrader will be launching it's platform for the upcoming ICO in July. It'll be a real working product to solve a major problems – the complexities of investing and investment management.
9) Could you tell us about your team and customer support?
Yes, we have a team with a lot of experience building similar software and businesses, and our customer support is top notch. We're always available to discuss any issues and stay very close to our customers to best understand their needs.
10) How Safe is the CoTrader ecosystem, would you like to talk about your legal and security measures?
The CoTrader ecosystem is extremely safe as the code will be fully audited also by the entire community. There is no place for a hacker to attack any data we store for users, because we don't store any such data. CoTrader is not a custodian of funds. CoTraders always control their own assets. Fund managers are only able to make trades for them. In the beginning, these trades are limited to ERC20 major tokens. Fund managers are highly incentivized to earn CoTraders as much as possible, as this multiplies their own earnings.
11) Do you have more information for our readers?
Readers can checkout our site cotrader.com, come talk to us in t.me/cotrader and listen for announcements in t.me/cotraders and twitter.com/cotrader_com
Our sale is about to start and the first buyers get the biggest bonuses and make sure they're not left out of the sale.