Living in Florida means facing severe weather events such as storms, hurricanes, high winds, and heavy rains. These extreme conditions can cause significant damage to your roof, leading to water leaks, mold growth, and other problems that require immediate attention. The only solution to such a situation is to effect emergency roof tarping to shield the property from further damage and protect inhabitants and contents. That's where Roof Tarp Now comes in – to provide cost-effective solutions to ensure your safety and peace of mind.
Roof Tarp Now: Your Ultimate Emergency Tarp Service Near Me
Roof Tarp Now is a renowned emergency tarping company founded by Pavel Morozov, a property management and roof repair specialist with extensive experience in roofing renovations and repairs, and in residential property construction. The company is committed to offering high-quality roof repair services at affordable rates to residents in Florida, particularly in Northeast Florida and Jacksonville, who are susceptible to severe weather events. The team comprises trained and experienced professionals, and they are always on call to provide service for residential and commercial properties. As a roofing leak repair company with shingle test tools, drones, and a fleet of trucks, Roof Tarp Now is fully equipped to handle leaks on all types of roofs.
Emergency Roof Tarping: The Most Cost-Effective Way to Provide Short-Term Protection
The longer you leave a leaking roof, the more disastrous the consequences may be. Failure to contact emergency roof tarping can result in irreversible damage to the roof structure, such that a complete replacement may be necessary. With prices skyrocketing over the past few years, the cost of a roof replacement in the US could be up to $10 000 or even more, depending on the size and type of roof you may have. Emergency roof tarp services are the most cost-effective way to provide short-term protection from leaking roofing. Roof Tarp Now is the Jacksonville based emergency roof tarping company that delivers on quality and speed and is the ultimate emergency tarp service near me for clients residing in the area.
Emergency Roof Tarp Service Near Me: Roof Tarp Now Has You Covered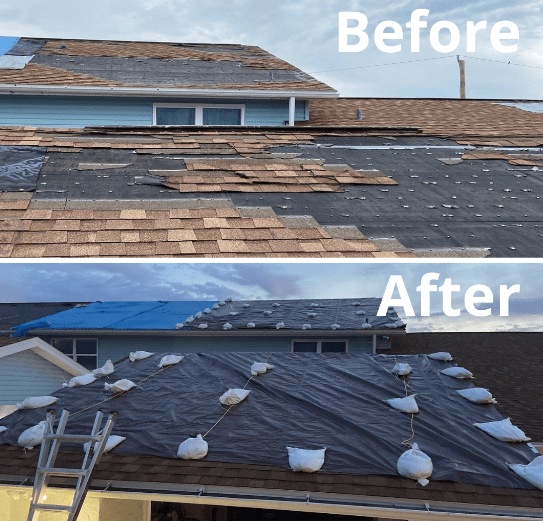 So, what's the cost to tarp a roof? Roof Tarp Now provides its valued customers with a free leak inspection, a comprehensive roof report for $99, and a roof repair service for $250. During unforeseeable property roofing emergencies, the company responds within the hour to provide inspection, maintenance, and roof repair services as soon as possible. Using the company's emergency tarp roofs, a temporary roofing solution is guaranteed to last long, protecting people, infrastructure, and interiors from further damage and securing the area's safety. The company also works on commercial properties, condos, townhomes, and apartments in North-East Florida.
Roof Tarp Installers Near Me: Contact Roof Tarp Now for All Your Roofing Needs
"We would highly recommend contacting Roof Tarp Now for a no-obligation free leak inspection. Any degree of roof leak in a home, apartment, condo, townhouse, or commercial property should be addressed right away" advises Pavel Morozov, the CEO of Roof Tarp Now. "At Roof Tarp Now, every action we take is designed to transform what can be an overwhelming and unsafe situation into a convenient, lasting, and secure fix."
Don't wait until it's too late! Roof Tarp Now is the ideal choice for anyone looking for reliable and affordable emergency roof tarping services in Florida. Contact Pavel Morozov on (904) 414-4153 or send an email to pavel@rtnjax.com for more details. Also, follow Roof Tarp Now on Instagram @rtnjax for updates.