10th April 2019, Singapore, Singapore – Singapore's COSS Exchange has seen its daily trading volume increase by almost threefold, since launching its new and improved engine and platform. With its extensive overhaul out of the way, COSS exchange has now shifted its focus to its COSS Fee Token, CFT for short.
Like the BNB (Binance Coin), the CFT is a trading token exclusive to the COSS.IO platform, arguably a more tangible use case than most cryptocurrencies in the current markets. Traders can get a 25% discount off trading fees when using CFT as an alternative, as opposed to paying in the native tokens of the trading pairs. This is good news for market makers, institutional accounts and frequent traders of the platform. Other use cases of CFT such as ICO participation, community voting and others will be added in the future.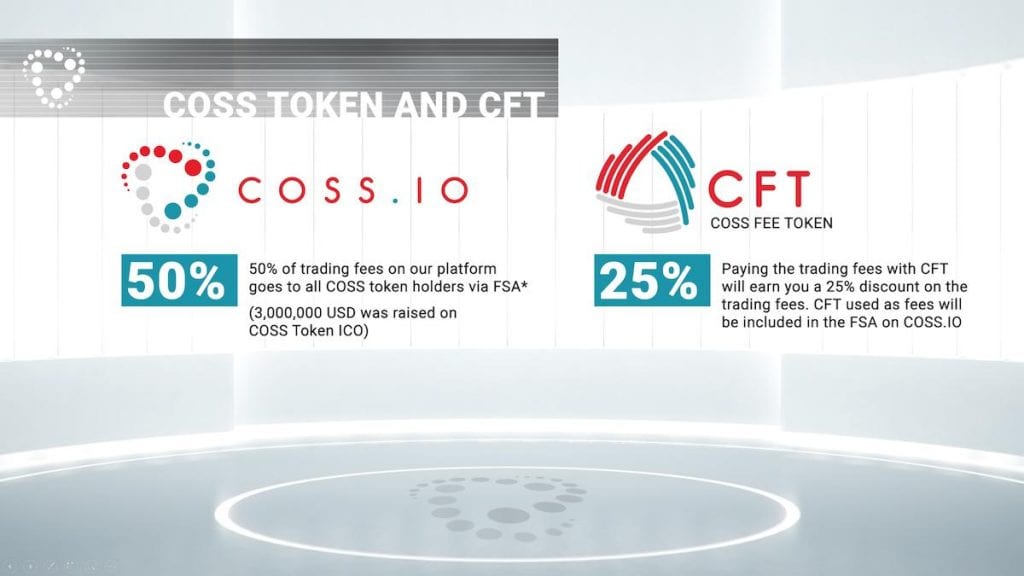 To sweeten the deal, CFT used as trading fees will be included in the FSA (Fee Split Allocation), a popular feature of the COSS platform, where 50% of total trading fees on the COSS platform is distributed via smart contract to all token holders. This allows them to passively accumulate value by simply holding COSS tokens. COSS also offers dust conversion and FSA conversion (coming soon) to CFT.
Of a total supply of 240 million tokens, half of that number, 120 million, will be available for sale. The remainder will be set aside for the COSS Affiliate Program, promos, airdrops, cross platform partnerships and also a reserve pool for bonuses and burning.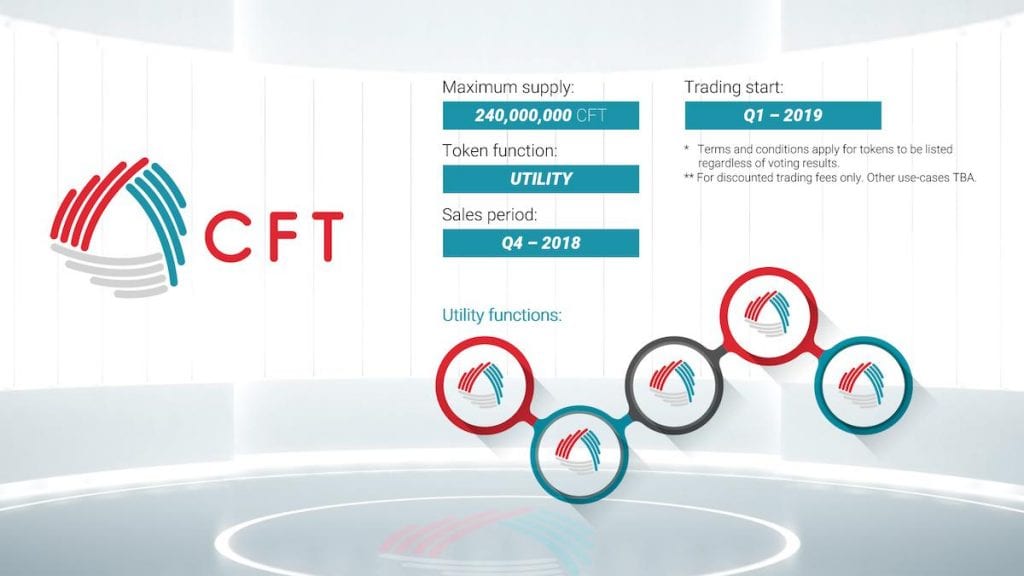 With Zeppelin's burn function built into the token's smart contract to schedule periodic coin burns, the total CFT supply will be adjusted automatically. The coin burn is fixed at 1M CFT tokens every month until the maximum supply is halved. This transparent burn model ensures an increase in the value of CFT that are held by its users.
To kick off the CFT token, COSS is currently running a huge trading promo. This promo includes trading of all pairs listed on the platform unlike previous promotions where trading was specified to a certain pair. The prize pool is an attractive 1.1M CFT tokens.
For those who missed out on BNB which has been a winning strategy since its introduction to the market more than a year-and-a-half ago, CFT offers an opportunity to reap similar benefits. Interested individuals/parties can contact info+CFT@coss.io for more details.
About COSS.IO
COSS stands for Crypto-One-Stop-Solution and represents a platform which encompasses all features of a digital economical system based on cryptocurrency. The COSS system consists of an exchange, an e-wallet, a platform for ICO launches and promotional trading campaigns, a fiat gateway, a market cap widget, a marketplace and more. The COSS platform unifies all transactional aspects that are usually managed by means of FIAT money, and offers multiple cryptocurrency-related services in one place. The list of potential features of the platform can be infinitely extended, and will continue growing as the platform evolves. Visit COSS.IO