You could increase your reach, attract more clients, and establish a remarkable digital space for your company or brand by owning and operating a strong web presence. Your website represents your online presence where consumers can contact you, conduct business, and learn more about your goods and services.
One of the most crucial things to think about is total stability and security, whether you run an online store, a blogging platform, or a service-based company. This covers the safety of all the information you could gather from your website, the safety of all your files, reliable operation – everything that provides a hassle-free and smooth service for your website users. With VPS Hosting Server or virtual private server, hosting, you can put your website on a virtual yet private server that houses all the data and files it needs to function properly. 
Although shared, virtual private servers have superior levels of security because no other users can access your website's resources. A virtual private server has several benefits, especially for websites that experience moderate traffic.  Although the security of a virtual private server is unquestionably great, you must evaluate the benefits and drawbacks of VPS hosting before selecting the best VPS hosting package for your website.
In this article, we'll examine virtual private server hosting in detail.
Explanation of VPS Hosting Server
Virtual Private Server is referred to as VPS. In its simplest form, a virtual private server is an isolated sector of a server with all the functionality of a full server. The operating system (OS), applications, resources, and configurations that come with a virtual server framework facilitates are all distinctive. There can be several VPS accounts on each server.
The foundation of VPS hosting is virtualization, as the names indicate. This technique allows for the "splitting up" and distribution of complete servers among many users.
The advantages of being able to establish and configure their area as if it were entirely theirs are shared by all virtual servers even though they share a common physical server. They get a lot of freedom from this as well as an extra layer of privacy for a lot less money than a dedicated server would require.
Pros Of VPS Hosting Server
Cost-Effective
Especially in comparison to Dedicated Hosting, which requires a physical server to be used rather than a virtual one as with VPS, it is less expensive and more cost-effective in the medium to long term.
Customized
With root access provided by VPS hosting, you can add scripts and software to make it more suited to your requirements.
Safety
When compared to shared hosting, virtual private servers have much-improved security, giving you more security and lowering security concerns.
Consistency
Due to the private structure of the server, fluctuations or surges experienced by other users have no bearing on your website, enhancing its functionality and reliability.
Management
With full root access provided by VPS hosting, you have greater control over the administration as to how your server resources are distributed.
Cons of VPS Hosting Server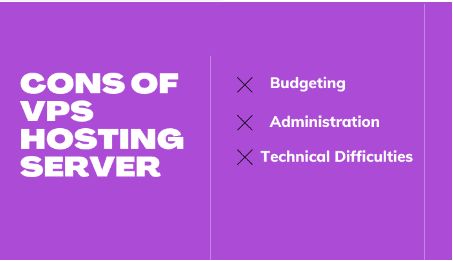 Budgeting
VPS hosting could cost significantly more than shared hosting if you're just beginning or just have a tight budget. However, shared hosting might not be able to provide consistent functionality when your website traffic is moderate to huge.
Administration
Self-management of VPS Hosting calls for more advanced technical knowledge. However, managed VPS hosting Server is always an option.
Technical Difficulties
The right configurations should be made if you intend to administer your VPS Hosting; otherwise, your website could be at a stronger security risk.
Things to Know Before Buying VPS Hosting Server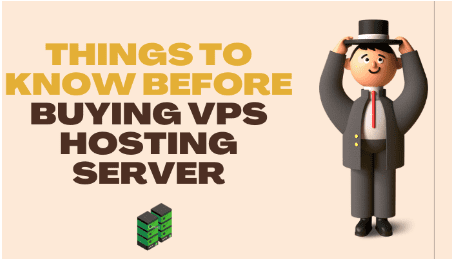 The advantages of switching from shared hosting to a Virtual server have made it one of the most often used hosting options for small and medium organizations. But because VPS isn't simply an improved version, there are different features to look for while looking for a VPS hosting package. We'll go through some of the crucial considerations you should make in this section.
Managed Hosting
Shared hosting is effectively renting out resources on a physical server to several other customers. The server is managed on behalf of all clients by the service provider because no one client has exclusive access to it. In the case of a Cheap VPS hosting server, as you are the primary user of the virtual server, you could be required to operate it yourself, which might be technically difficult. But, if you choose a VPS that includes managed to host service, your service provider will handle the management responsibilities that you were used to have done for you—or perhaps you weren't even aware they were being done—with your shared hosting plan.
High-Performance Equipment
Your server performance will be extraordinary after switching to a VPS, which is far better than traditional shared hosting. However, it's not logical to conclude everything is great. Verify that your host's equipment is of the finest quality to make sure you're getting the quickest and most dependable performance. Look for the most recent Intel Xeon CPUs, fast memory, enterprise-class SSD drives, and fast RAID controllers. Every one of your programs will operate better because of SSD storage's higher speed compared to traditional HDD drives.
Free Installation
It might be challenging and time-consuming to set up a VPS for individuals with little technical skills. Selecting a service provider who will set up your VPS for you would speed up implementation and eliminate the unavoidable problems. In certain cases, they'll even perform this for nothing.
HIGH Bandwidth
VPS is a popular choice among businesses because of its performance, storage capacity, and reliability, which make them a good solution for running huge websites like e-commerce platforms. But to create more traffic and manage more client transactions, you'll need much more bandwidth in addition to a better server. Make sure your VPS agreement doesn't restrict your bandwidth or cost you extra if you go over a specific amount because doing so could restrict the expansion of your company. 
24/7 Technical Assistance
All businesses occasionally experience IT problems, whether they involve setting up new software, configuring the server, or responding to a security alert. Any issue that arises must be resolved quickly for businesses, particularly when it comes to mission-critical systems where downtime is not an option. Because of this, you should make sure that the VPS service you select provides knowledgeable, responsive support every single day. In this manner, regardless of the problem's nature and irrespective of the time of day or week, a qualified representative of the tech staff will be available to assist you in solving it.
Panel of controls
The proper control panel could make managing your server, websites, and any other programs you use on your KVM VPS much simpler. Although there are various control panels, particularly generic ones, Plesk and cPanel, two market leaders of which you could already be aware from shared hosting, are the most helpful and well-supported. Installing programs, configuring your firewall, adding websites and emails, and applying security procedures are all made much easier by these control panels. Find a Web hosting company that also offers such control panels but also has a specialist team that is qualified to help customers in using them.
Cost
Be aware of the exact VPS resources you require for your website before searching for the host with the best pricing because every penny counts. Additionally, look for a web server that provides a money-back guarantee. In this manner, you can evaluate the KVM VPS's functionality and quality, and if it doesn't fit your requirements, you can discontinue the subscription.
Conclusion
You could have a good idea of the kind of hosting service you want for your website now you've learned everything there is to know about VPS hosting, including all of the benefits and drawbacks it offers.
Cheap VPS hosting Server is unquestionably your best choice if your website experiences moderate traffic. Choosing a hosting provider will be the next step after deciding on the style of hosting. By delivering more storage, better performance, and more computer power than shared hosting, VPS hosting benefits organizations.
After reading this post, perhaps you have a better idea of what to look for in a VPS hosting provider, including managed hosting, elevated hardware, free installation, unlimited bandwidth, 24/7 tech assistance, and a selection of control panels.