Nobody has the time or money to experiment with a software outsourcing firm. Furthermore, there are hundreds of software outsourcing firms to choose from, each with its own set of pricing and service quality standards. Today, we've put up a list that can assist you in selecting the appropriate software outsourcing company. Once you compare the different companies on these standards, you can be confident that you've made the best decision for your business.
1) Check the Company Portfolio
Do you want to know if the company has the caliber to create the software you need? Request the company to provide you with a portfolio of their previous projects. Good software outsourcing companies will be able to do this without any hesitation. Sure enough, you'll be able to tell the company's skill level by looking at their portfolio. The company should also have a good understanding of your project and provide you with a detailed proposal.
Suppose it's a new company with no previous projects to show. In that case, you can check the backgrounds of the core team members to see if they have any relevant experience. It's essential to look for a company with a good development process and experienced developers.
2) Define Your Requirements
When looking for software outsourcing firms, it's critical to know your specific requirements. This step is vital as different companies offer various services; hence, you need to identify which ones fit your business model best. Ensure you have all your requirements specified in detail before approaching any company. It would help if you clearly understood what functionality the software must provide and what processes it will automate within your organization. Doing so will save you time and make it easier to find a company that's the best match for your project.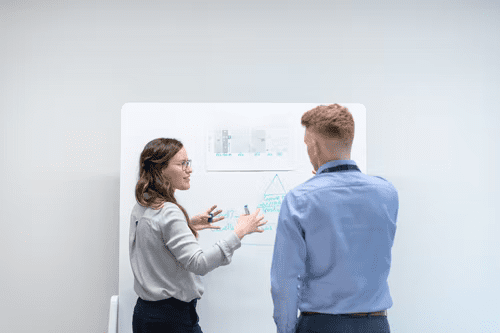 Only when you know the requirements can you start looking for proposals from different companies. The proposal should outline the company's development methodology, team structure, and the tools and technologies they will use. Furthermore, it should also include a cost estimate and project timeline.
3) Pricing Structure
When choosing a software outsourcing firm, one crucial criterion you must consider is its pricing structure. Depending on your budget and project requirements, you can opt for an hourly rate or a fixed price. It's also essential to get quotes from multiple companies and compare their rates. Make sure you understand what's included in the quote and whether there are any hidden costs. 
Hourly rates are more flexible as they allow you to scale up or down the resources according to your needs. Suppose you want to increase or decrease the number of developers working on your project; in that case, you can do so without any worries about breaking the bank. On the other hand, a fixed price is ideal when you have a limited budget and want to avoid any cost overruns. It would be best if you also asked the company what their payment terms are. You don't want to be stuck with a firm that asks for full payment upfront before starting work on the project.
4) Communication
Since you'll be working with the company remotely, communication is of utmost importance. The company should have excellent written and spoken English skills. Furthermore, they should also be available during your work hours to contact them when needed quickly. It would help if you also considered the time difference between your location and the company's to ensure there are no disruptions in communication.
When it comes to project management, the company should use a tool that you're familiar with, such as JIRA or Trello. Doing so will make it easier for you to keep track of the project's progress and communicate any changes that need to be made.
5) Location
The company's location is another factor to consider when choosing a software outsourcing firm. If the company is based in a country with a stable political situation, it's more likely to have a good infrastructure and workforce. Furthermore, living in such countries is usually lower, which means you can get more value for your money.
Some companies outsource their projects to countries with unstable governments or high crime rates to save on costs. However, this can often lead to project delays or even complete failure if the situation in the country deteriorates. Hence, it's best to avoid companies based in such countries.
6) Discuss The Project Timeline
It would help if you had a clear understanding of how long the project will take and when it will be completed. This discussion should happen during the initial stages when you set expectations with the team. Make sure you're both on the same page regarding the timeline and milestones for the project completion. Doing so will prevent any surprises or delays later on.
Everything has a deadline, and your project is no different. The company you choose should be able to deliver the project on time so that you can start using it as soon as possible. You should know their turnaround time for similar projects and whether they have a good track record of meeting deadlines. Often, when they already have a lot of projects on their plate, the quality of work suffers. Hence, you must be sure that the company can commit to your project and deliver it on time without compromising quality.
7) References And Reviews
Finally, you should ask the company for references from their past clients. Once you have the references, reach out to those clients and ask about their experience working with the company. This will give you an idea of the quality of their work and whether they can meet deadlines. Furthermore, it will also help you assess their communication and project management skills.
Make sure you contact the references provided by the company and ask them about their experience working with the firm. If possible, try to contact references in a similar industry as yours to get more relevant information. Find out if they were satisfied with the quality of work, communication, and overall experience. It would also be helpful to read reviews of the company online to get an unbiased opinion.
Choosing the right software outsourcing company is crucial to the success of your project. By considering the factors mentioned above, you can narrow down your options and select a company that's best suited for your needs. Keep in mind that this is a long-term relationship, so it's important to take your time and make the right decision.