CourMed is a healthcare solutions company offering enterprise software and an innovative concierge delivery service for healthcare products and services. While there was no shortage of new innovations in on-demand healthcare startups that popped up during the pandemic, CourMed launched years before COVID-19 and is now leading the way in healthcare delivery – backed by Microsoft and Google. Founder and CEO Derrick L. Miles shares more details with us in this exclusive interview with TechBullion.
Please tell us a little more about yourself?
Derrick L. Miles. I'm the Founder/CEO of CourMed, an enterprise software company that facilitates the innovative concierge delivery of healthcare products and services. Before CourMed, I was a healthcare executive for 15+ years at academic medical centers. Then, at the age of 31, I got the opportunity to become CEO of a specialty hospital next to our academic medical center. It was a scary experience that ended up being the best experience of my former corporate career.
What is CourMed, who is it for, and what inspired you to start the business?
As a former healthcare executive, I had the opportunity to experience concierge medicine at its finest and am certain that more people would enjoy the benefits of it. The lion's share of our customers today are 50+ years of age and affluent. However, now that we have learned how to provide a 5-STAR concierge healthcare delivery experience, we are opening up CourMed to the masses in select gateway cities. Think of CourMed as the software that powers the delivery of healthcare products and services to your home or corporate office. If you currently leave the house for prescriptions, vitamins/supplements, vaccines, IV vitamin therapy, etc., now you don't have to anymore. CourMed brings healthcare products and services to you; you can even get your COVID-19 vaccine in the comfort of your own living room.
Could you give us a walkthrough of the specific healthcare products and services you provide?
Our largest book of business today is the crowdsourced delivery of prescriptions, but we also deliver vitamins/supplements, CBD Oil, Immunonutrition drinks, PPE, and more. We learned via the Microsoft for Startups accelerator how to create partnerships to expand our service offerings. Due to the pandemic, we began delivering COVID-19 vaccines to homes and employees at corporations as they returned to work. We are really excited about today's recent pilots for the home delivery of monoclonal antibody infusion therapies for the treatment of COVID-19 infections. 
We also license our software to healthcare providers (pharmacies, independent physician networks, hospitals, etc.) who want to own the patient experience end-to-end.
How big is the global Telehealth market? Is this the future of healthcare?
The telehealth market is expected to grow to $559B by 2027. CourMed saw this coming and implemented telehealth into the platform in 2018 with little adoption — until the pandemic forced healthcare providers to adopt the technology. Telehealth is the future, and any platform that allows patients to stay in the comfort of their home to receive healthcare products and services is here to stay.
CourMed launched before COVID-19 but is now leading the way in healthcare delivery, tell us more about this and how you achieved this success?
Unfortunately, healthcare tends to be 10 years behind the innovation curve of other industries. While we saw crowdsourced delivery platforms like Uber, Lyft, Doordash, and Postmates becoming popular, healthcare wasn't in this space. CourMed used its board of healthcare experts in patient care, sales, operations, and law to strategically map out a strategy to launch our healthcare delivery platform. We innovated by utilizing crowdsourced drivers, knowing that the experience would lead to significant adoption from providers and patients.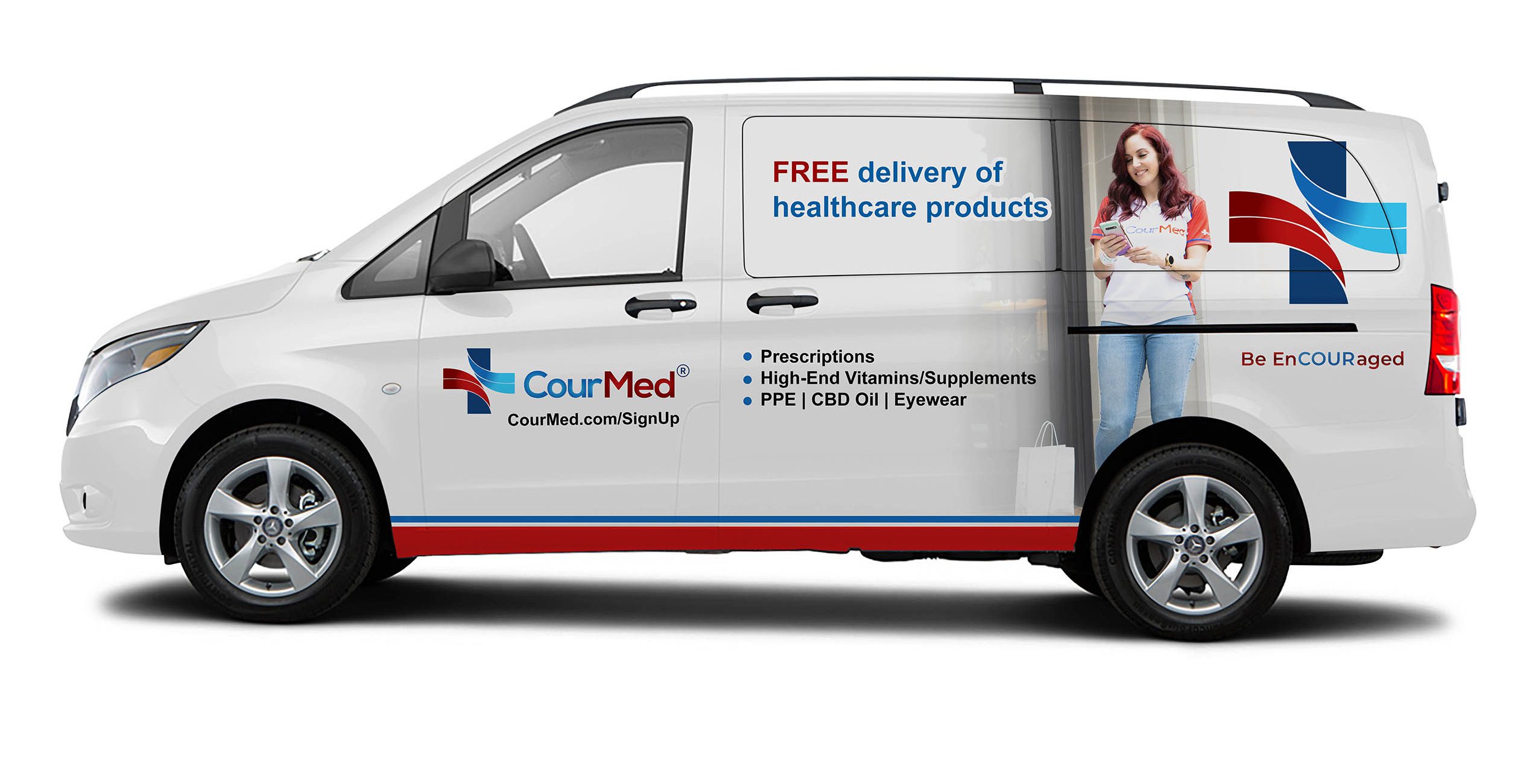 Plus, multiple leaders at Microsoft taught us how to utilize partnerships to grow our service offerings. As a result, today, 99.5% of patients rate their delivery from CourMed as 5-STAR, and we are closer to developing an end-to-end concierge healthcare platform that more people can experience without being healthcare executives.
CourMed is now offering COVID-19 vaccine delivery, which patients can request using the CourMed app. Tell us more about this and how it works?
We utilize the CourMed software in partnership with community pharmacies and nurses to allow them to schedule an appointment, deliver the vaccine and administer it in people's homes. It's a similar process for the home delivery of monoclonal antibody infusion therapy, IV vitamin therapy, and other in-demand services.
CourMed software allows community pharmacies to provide services in homes and hospitals. How does this work?
We know that hospitals struggle with patient satisfaction scores, and community pharmacies struggle with growing their patient volume. Therefore, we have utilized our software platform with 99.5% 5-STAR delivery reviews that improve patient satisfaction scores for hospitals that lead to more new patients for local community pharmacies. As a first mover in this space, I can't go into the details, but the response to this solution has been very well received from large hospital networks and scores of community pharmacies.
CourMed was a recipient of the inaugural Google for Startups Black Founders Fund. What does this mean for you?
Receiving the non-dilutive investment capital from Google gave us more validation that there is a future for healthcare products and services. We utilized those funds to enter the South Florida market, which is heavy with 50+ years of age and affluent individuals. In addition to the cash, Google has also provided complimentary Google Ads spend between $60-$120k to market our services.
What is currently on your roadmap? Do you have more available opportunities for investors and partners at CourMed?
Our current roadmap includes constant innovation and utilizing partnerships to grow services on our platform. For example, we may have a concierge micro-hospital in our services vertical one day. Google started as a search engine, Microsoft started as office productivity software, and both companies have morphed into behemoths. CourMed started as a prescription delivery service, but we are much more today. We have the possibility of morphing into something much greater exclusively in the healthcare space is our desire.
CourMed is currently negotiating a Seed round investment of $5M, presently being led by a firm in Miami, FL. However, if the deal doesn't close, we would be actively looking for smart money investors who could also help us grow and provide capital.
Any other information you would like to share with our readers today?
The reason that CourMed exists is to encourage others. We realize that life has many moving pieces and that there is at least one area of your life where you need a word of encouragement. Therefore, we put discreet messages of encouragement on delivery labels that go to patient homes, every SMS text message distributed to a customer's cell phone, and every payment to a member of the CourMed team to enCOURage them.
For more information, visit the website: CourMed.com