CipherTrace recently reported in its Spring 2020 Cryptocurrency Anti-Money Laundering and Crime Report that cybercriminals made off with nearly USD 1.4 Billion in the first 5 months of 2020. This is key data on crypto crimes and trends that will impact regulations for virtual asset service providers (VASPs) and other financial institutions. 
With 74 per-cent of bitcoin payments between exchanges being cross border, the report has highlighted the pressing need for global anti-money laundering (AML) standards. The high numbers of cross-border transactions have called attention to the need for meting out fitting cross-border controls that ensure AML and counter-terrorism financing (CTF) compliance. 
Warning that cybercriminals are "working to undermine KYC (Know-Your-Customer) processes in the remote environment," FinCEN's Director Kenneth Blanco has beseeched virtual currency businesses to remain vigilant against attacks that target their onboarding and authentication processes."
This follows the global FATF Travel rule by the Financial Action Task Force which places restrictions on virtual currency transactions, whereby those above a certain amount need to be accompanied by identifying information.
Protecting the Interests of All Stakeholders
Blockchain technology service provider ChainUP's CEO and founder, Zhong Gengfa believes that "tightening measures are good for the industry" in the long run.  
"Regulations are absolutely necessary to protect the interests of all stakeholders in this space," he adds. "As digital tokens gain mainstream momentum and adoption, this is how we gain market confidence."
ChainUP is headquartered in Singapore with branches in Beijing, Hong Kong and Tokyo and has previously launched compliance solutions in both Singapore and Japan for crypto exchanges.
With Bplus and BitSG Labs, ChainUP released Singapore's first legally compliant crypto exchange solution that satisfied the Monetary Authority of Singapore (MAS) requirements.
ChainUp customizes development systems on exchanges, ensuring that they conform to the various AML and KYC (know-your-customer) standards. These include fund storage and withdrawals, among other requirements. 
Aware that compliance and especially license applications can be a costly and challenging process, ChainUP aspires to be the "one-stop shop" for compliance service solutions, reducing costs and implementing all-around efficiency in compliance processing.
Well-established as a whitelabel crypto exchange solutions provider in the blockchain industry, ChainUP has been servicing more than three hundred exchanges worldwide. It offers spot trading and derivative trading systems as well as liquidity and wallet solutions. Very importantly, ChainUP offers security risk control systems providing 100% coverage. They conduct comprehensive risk management of the system and are backed by over thirty security technology guarantees. 
According to the CipherTrace report, 2020 is set to be the 2nd highest in crypto theft, hacking and fraud (see graph below).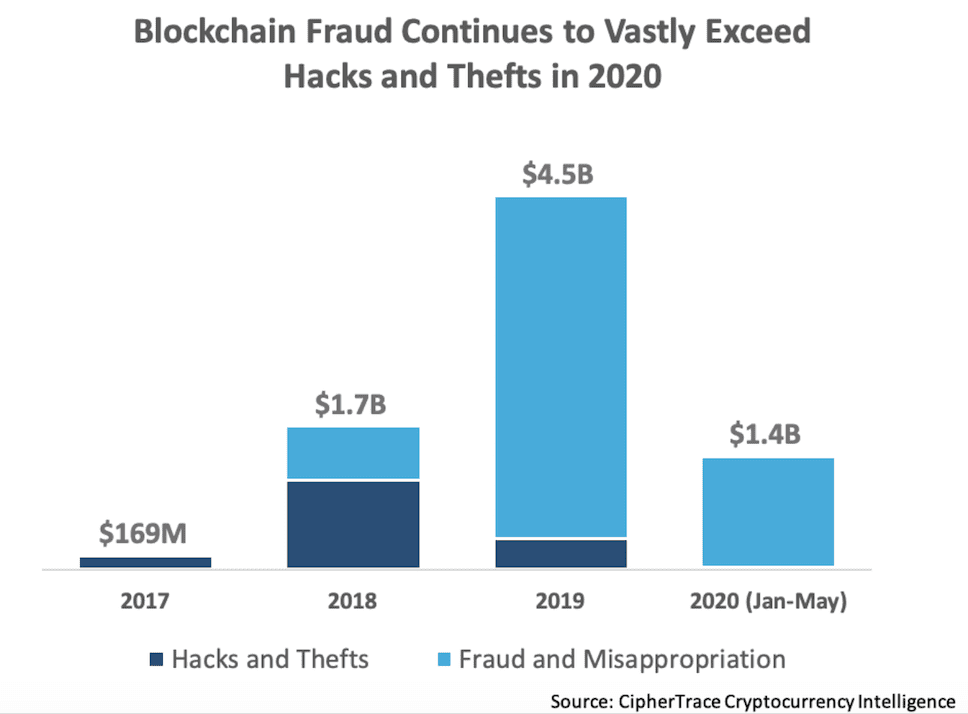 The recent Twitter hack which also involved bitcoin scamming attempts managed to involve globally influential personalities such as Bill Gates, Elon Musk, Joe Biden, Kanye West and crypto luminaries such as Binance's CEO Changpeng Zhao (CZ) amongst others. In the World Blockchain Summit Asia 2020 hours after the hack, CZ called upon the whole crypto industry to be vigilant. Since "not a lot of money" was stolen at the recent attempt, CZ said it was a good opportunity to treat the hack as a "good wakeup call for the whole industry to be more vigilant when it [came] to security."