The composability of blockchain applications is one of the key elements of its potential. Cometh, an innovative blockchain game that combines NFTs with DeFi features, continues to make strides in this direction. It recently announced the inclusion of Aave amTokens to its own decentralized exchange, ComethSwap. 
Players are now able to deposit funds into an Aave Polygon market,receive amToken interest bearing tokens and stake them into ComethSwap for additional rewards. The market consists of 40 Pools with up to 500% APYs. Cometh will also offer $360,000 in weekly rewards and further details have been shared by the team. All this is possible within Cometh's scalable and efficient L2 solution based on Polygon.
Cometh's inclusion of Aaeve interest bearing tokens comes as Polygon promotes its L2 DeFi Summer program #DeFiforAll. The popular scaling solution has allocated more than $40 million in USD for rewards on Aaeve's Polygon markets. As an ecosystem partner, Cometh has destined 20,000 $MUST tokens to the markets' growth as well. 
In the same fashion, Cometh has announced that users can now buy crypto with credit cards directly on Polygon Layer2 with ComethSwap:

"Allowing anyone to buy crypto with credit cards is a huge progress for the whole ecosystem. It allows users to purchase crypto with fiat currencies and have the freedom to trade as much as they want at no cost while remaining custodian of their funds. This is the beauty of decentralized (ie. non-custodial) exchanges on Ethereum Layer2 (ie. fast & low-cost). Widening the access to those services is a gateway to mainstream crypto adoption, which Cometh aims to pave the way for," said Nathan Sexer, an Advisor at Cometh.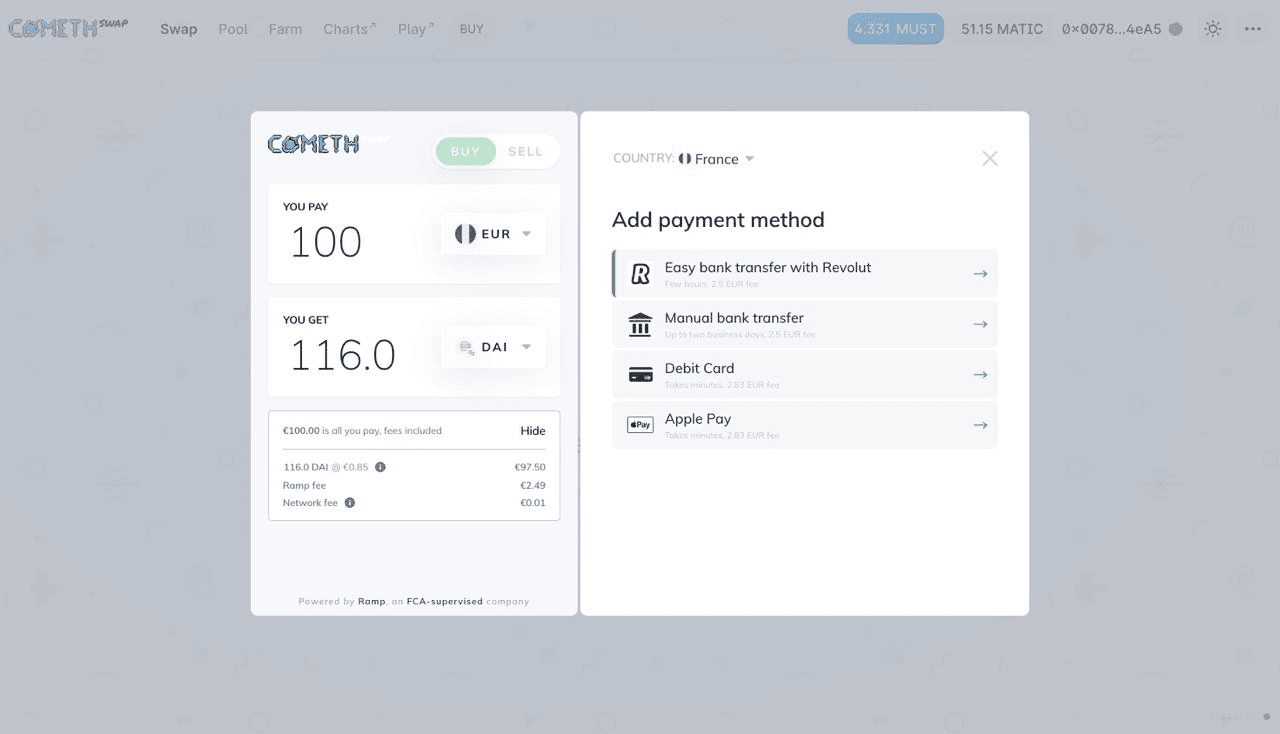 The integration is also part of Cometh's expanding list of liquidity mining partnerships. These include recent collaborations with Pickle Finance, a service for yield farmers, and Alchemix, a synthetic token platform. Other recent developments include ComethSwap's recent launch and the release of ComethRental and ComethDocs.
As the first game based on yield-generating NFTs, these DeFi features are essential to its interactive gameplay. On Cometh, players own collectible spaceships that are used to mine asteroids for ERC20 tokens. These same items produce yields for its owners in the form of the game's native $MUST token. Cometh has integrated all these features into a fun strategy game that brings players into its own natively digital economy.