Now that we've gotten into the habit, it's time to get down to business. That implies having a dedicated area in your house that aids you in achieving your goals.
But take a deep breath before you start stressing out about interior decorating!
These colorful home office ideas will take the stress out of the process and help you get down to business. So relax, take some notes, and get inspired to create your perfect workspace in Malaysia. Who knows, maybe these ideas will even inspire you to tackle your next project with gusto.
Add Pops of Color With Accessories & Furniture
One of the easiest ways to add color to your home office is with accessories and furniture. And no, that doesn't mean you need to go out and buy a whole new set of furniture!
According to Desky, the color of your desk, decor, and walls can have a big impact on your productivity! If you're looking for colors that will energize you, try yellow or orange. For a more calming effect, go with blue or green.
Of course, you don't have to stick to one color. You can always mix and match to create your perfect home office.
Look for pieces that can easily be swapped out or added in, too. A colorful rug, some fun patterned throw pillows, or even a brightly-hued lamp can make a big impact. And don't forget about storage!
Adding colorful baskets or boxes is an easy way to add both function and style to your space. Plus, it's a great way to incorporate some of your favorite colors into the room without going overboard.
Create a Comfortable Space Where You Can Relax Between Tasks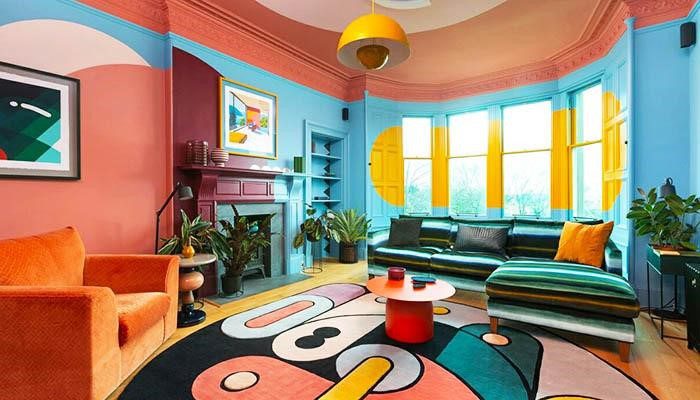 No home office is complete without a comfortable place to sit and relax. And while you might be tempted to just use your regular living room furniture, it's worth investing in some pieces that are specifically for your home office.
A sit-stand desk is a great option if you want to be able to switch up your posture throughout the day. And if you're going to be spending long hours in your home office, then make sure you have a comfortable chair that provides good back support.
Paint the Walls for a Dose of Positive Energy
One of the best things about having a home office is that you can personalize it however you want. So if you have a favorite color, why not paint the walls in that hue?
Not only will it add some personality to your space, but it can also help boost your mood and energy levels. And if you really want to make a statement, consider painting one wall in your favorite color and the rest of the walls in a complementary shade.
Hang Inspiring Artwork That Makes You Happy
Your home office should be a space where you feel inspired and motivated to work. And one of the best ways to achieve that is by hanging artwork that makes you happy.
Choose pieces that reflect your personal style and make you feel good when you look at them. Whether it's a few family photos or a piece of art from your favorite artist, make sure the pieces you choose bring you joy.
Improve Air Quality & Add Natural Beauty With Plants
Looking good, plants can also help improve the air quality in your home office. And if you're going to be spending long hours working in your space, then that's definitely something you want!
Choose plants that are known for their air-purifying properties, or go for something with a little more personality, like a vibrant succulent. Just make sure you pick a spot that gets enough light and remember to water them regularly.
Wrapping Up
Making your area enjoyable, colorful, and distinctive is one approach to doing it. These ideas will inspire you to make some improvements that will not only help you work more effectively but will also make you feel fantastic in Malaysia. Get started on colorful home office ideas today!