In this interview, we sit down and talk to Colin Helm, the CEO and Founder of CaesarVerse.io and Bldng Blck Studios. Having launched his first startup while studying entrepreneurship at the University of Colorado Boulder, he has held marketing positions at numerous startups. These include two Techstars backed companies in DeFiner, a decentralized lending platform, and Poliloop, a biotech specializing in the disposal of plastic waste.  
Colin brings a passion for history and a competitive gaming background to the team and manages business operations at Bldng Blck Studios. The company was founded with an emphasis on combining the two passions to create immersive historical environments that educate gamers through engaging and captivating gameplay within a historically accurate setting.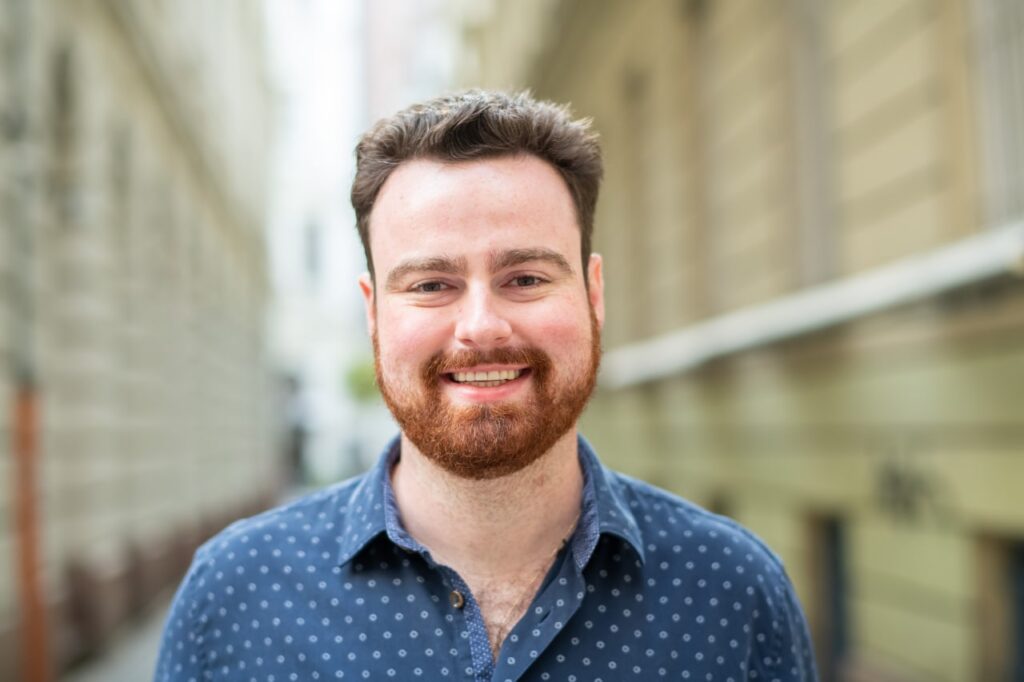 What exactly is the CaesarVerse Project?
CaesarVerse is an open world free-to-play Roman era game that will also incorporate real time strategy elements. Players can take part in a gladiatorial combat within an arena and will also be able to engage in cooperative legionary combat upon full release. Higher ranked players can command other players through familiar strategy mechanics while also taking part in the fight itself.
The open world encourages exploration and trading with different civilizations. This exploration is not only fun but also educational. Our goal is to educate passively so the player has an enjoyable experience but also a productive one. 
As a Web3 game, it also features in-game NFT assets and additional components. The CaesarVerse project is mainly focused on education as players can have a truly immersive experience for a fun learning process. 
What is the inspiration behind CaesarVerse?
The main inspiration behind CaesarVerse is educational. I have a passion for the Roman era as does my co-founder, Max Foody. There are no Web2 or Web3 games that provide a reasonable level of cultural engagement.
VR features could potentially be incorporated so that university students (such as history majors) can have an authentic learning experience. The map is built on the real world with accurate figures, events, items, and buildings. The beauty of a metaverse is that it allows the user to live in any conceivable world they desire. Many projects are building futuristic, space experiences. I want to live in the past. Rome has always been a love of mine and I want everyone to experience such a grand society that still has a lasting influence on today. Why read about history if you can live history?
The Metaverse could pump $1.4 trillion a year into Asia's GDP according to CNBC. Do you think the metaverse is a big part of the US economy nowadays? What do you think about the future of this part of the industry?
As of now, we are still very much at the early adopter stage and widespread adoption will follow in the coming years. I believe that metaverses will be widely adopted when they provide adequate value to users through seamless integrations with everyday life. Gen Z is the most connected generation yet and these trends will accelerate as the general population becomes familiar and comfortable with blockchain, VR, and AR. By 2040, I anticipate that this will be a substantial part of not just the Tech sector, but the U.S. economy as well.
What are the major selling points of CaesarVerse?
It's free-to-play and caters to an underserved market of classical era gamers. While there are plenty of sci-fi and fantasy games in Web3, there are few (if any) that are focused on the Roman era. The fact that it is mainly education focused is a huge advantage over other games that are purely profit-driven. 
We aim to provide a fun platform for research and exploration in a specific time period, that also has a rewards system in place. The majority of Web3 games are focused almost exclusively on profits, and people visit them purely for financial incentives. If the game provides value and is enjoyable, you will be rewarded. Our focus is to provide education and entertainment first and foremost. 
I've noticed that there is a large section of the Web3 community that are also passionate about history, and we believe we can cater to their needs with an authentic and immersive experience. We also are trying to appeal to those who are traditional gamers or are simply history enthusiasts.  
The FTX collapse is the most discussed topic these days – Star Atlas CEO issued the letter to the community. Do you think other GameFi projects will be affected by the crush and the bear market? What are your predictions?
I think everyone will be impacted to some extent due to the magnitude of FTX's sudden implosion. From what I've read, Star Atlas still has a significant runway and potential investors if needed. The GameFi industry as a whole will certainly survive the current conditions, just as conventional gaming did in the 2007-2008 financial crisis. Gaming provides entertainment at a reasonable price and when consumers look to cut costs, gaming is a popular alternative. 
How will CaesarVerse be marketed and distributed?
The mint is coming up this January where players can purchase a Genesis NFT that will serve as their avatar. However, CaesarVerse is free-to-play and users can take part without an NFT. This is unlike other games which require a steep upfront investment. We will likely incorporate airdrops, as this is an effective means to increase awareness for a new Metaverse project while also providing value to our supporters. 
In terms of mainstream adoption, Epic Games allows the release of blockchain games, so this is a potential avenue of approach. First we are looking to build an organic base of enthusiasts who love the time period and are genuinely interested. We will use social media channels and Web3 media outlets to gain exposure and reach these audiences.  
Where do you see CaesarVerse in future?
A core aim is to have the CaesarVerse be viewed as the default Web3 platform where people go to learn about classical antiquity and the Pax Romana. We want to make it as real, immersive, and enjoyable as possible through VR. It should be a platform that hobbyists and university students could rely on for its level of accuracy as well as its enjoyable and rewarding gameplay. However, Rome wasn't built in a day and we need to build it step by step.  
It will also be an enjoyable open world game that players like to play, without an interest in the educational components. We want to build a world where one can live history rather than read about it. Just like learning a language, immersion is the best method. The CaesarVerse will one day allow everyone to roam Rome and explore, experience serving in the legions, and to examine Roman society like never before. 
What other metaverses and games do inspire you and why?
I have always been a big fan of Star Atlas. I think they have a great concept and the graphics are truly AAA. It is great to see Web3 projects push the envelope not just for Web3, but for gaming as a whole.