Perth, Australia 05. April 2018. Coinnup is a blockchain based fintech and e-commerce platform. The ICO pre-sale will begin on April 23 (1:00 AM, Sydney, AEDT), through September 26 (11:59 PM, Sydney, AEDT)!
This project has a great potential to bring a revolutionary change in the current payment systems, cryptocurrency still hasn't come out of its 'asset-like' image. Till today, we cannot buy daily groceries, perform mobile top-up or e-commerce transactions using our coins.
Also, B2B transitions take up to 2-5 business days to get processed. Bank transfers, card payments are the lengthy process and even not immune to fraud, disputes, and chargebacks.
Therefore, Coinnup team have designed and developed the ultimate crypto-exchange platform that offers daily trading using:
Fiat Central, Portfolio Management, Smart Exchange, Coin Rankings, ICO Launchpad, Instant Withdrawals & Universal Wallet with a single security key.
Store, Spand and Send! Amazing, right?
The Coinnup team consists of financial experts, marketers, innovators, developers, designers, and economists. This project is based on extensive research into everyday user business needs. Our all-in-one solution goes beyond just cryptocurrency-to-fiat, trading, deposits/withdrawals, and wallets. This model allows scalability to grow and anticipate the needs of all users.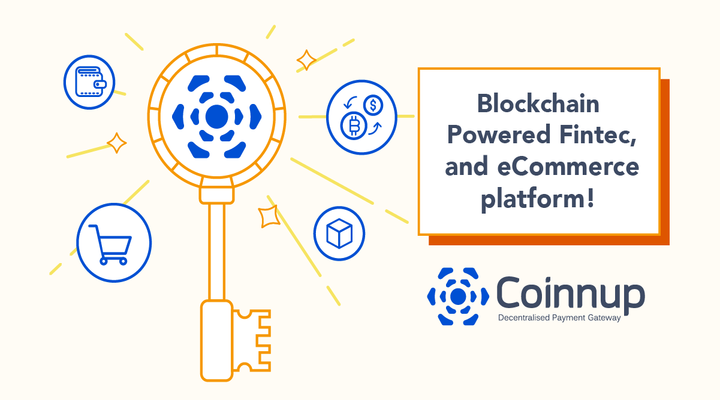 Some of Coinnup's amazing features:
Coinnup POS Network that facilitates a one-tap purchase of cryptocurrencies at any agent location or POS franchise.
Shop online as much as offline! Buy cryptocurrency from your local grocery store, or you can buy groceries with cryptocurrency across the globe! Either you make a choice between shopping online or more traditionally, Coinnup made it wide, fast and easy for you.
Exchange. Addition to the standard exchange features, trade directly from your desktop or mobile wallet. Set alerts & stay protected from an overnight market crash. The exchange is just one of many components that Coinnup is preparing right now. Therefore security is center of everything they do.
Send or receive payments, freelancing salaries or any other use. No matter which part of the world you live in, Coinnup borderless account will be a painless solution.
Buy and sell or withdraw in seconds. Cryptocurrency holders will be required to connect bank account, credit card or debit card only once, Coinnup SmartLink will guarantee instant buying, selling or withdrawals to the selected and available method.
One wallet that has it all! Hold all your coins and ERC20 on desktop or mobile wallet, adding any holdings to the wallet on the desktop will automatically sync with other wallets. Starting with BTC, BCH, ETH, LTC, NEO and pairing ERC20 Coinnup aim to reach 200+ pairs within one year of launch.
Overall, this platform will provide all-in-one solutions for B2B, B2C, everyday transactions, investors, and traders.
Coinnup is ideal for those who are ready to step up and taste the future in the nearest present.
After the ICO, Coinnup will strive to become the only blockchain based e-commerce platform you'll ever need.
NOTE TO THE EDITORS
For information or questions, please contact:
Marko Pajic, email: marko@coinnup.com