Crypto isn't a very good source of passive income, really. It's pretty volatile, unpredictable, and prone to fraud. Despite this, it's possible to invest into a cryptocurrency that currently undergoes a period of stable growth, but not as fast as before, such times have largely passed. Right now, you have to be vigilant and careful and monitor all the different possibilities.
Current Situation
Passive income implies the ability to receive small (or big) amounts of profit continuously. It usually happens because a certain asset keeps increasing its value on the market, but it's not likely in the crypto market at the time. There is, however, a good, relatively new way to do that.
CoinDepo is one of the leading financial services provider for digital assets in the market. There aren't many such establishments online. At least not all of them offer a similar set of services and have a strong reputation in the market. In addition to crypto loans, CoinDepo allows people to earn interest on the digital assets they have deposited on this platform, making it basically a savings bank for crypto.
They provide interest for the same reason why banks provide interest – you entrust your money to them, and they get to use that money for lending and for their investments. Their investments usually pan out, and they have income sources of other sorts, meaning that your money won't just run dry. That being said, bank rates are an order of magnitude lower than those of CoinDepo.
Stablecoins on CoinDepo
Stablecoins are cryptocurrencies by nature in everything besides their price. The value of such coins is tied directly to one of the fiat currencies that the coin represents. For instance, USDT is the stablecoin for USD, meaning that the worth of the former is always pegged to that of the latter.
The USDT and USDC stablecoins are by far the most popular of the bunch and among the most popular cryptocurrencies in general. Other such coins also exist, in particular for EUR and GBP, but they are not widely used and are not supported on CoinDepo. Instead, CoinDepo supports the most popular stablecoins such as USDT, USDC, and DAI.
The way this works on CoinDepo is that you deposit a certain amount of stablecoins into the platform after purchasing them with any of the major fiat currencies on any crypto exchange. Once you deposit stablecoins into your CoinDepo Interest Accounts, you immediately start earning compound interest on your stablecoin savings.
When it's time to withdraw your reasonably boosted savings, you'll be able to withdraw your stablecoins and exchange them back for regular fiat money. There aren't any downsides to this because there won't be any value discrepancy between these two types of money. At the same time, you'll be able to deposit and withdraw them more comfortably.
Going for stablecoins is a lot more profitable than going for regular cryptocurrencies. Going for longer compound interest periods is even better. For example, if you choose to pay out daily in crypto, you will receive 12% per annum on your Bitcoin or Ethereum savings, while for stablecoins, the daily payout rate will be 18% per annum.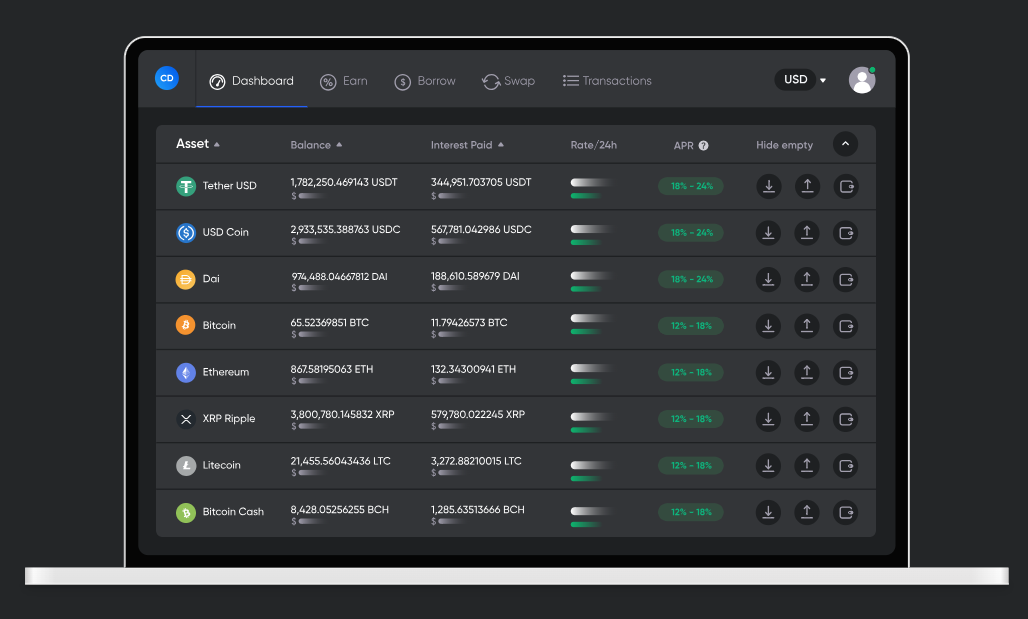 CoinDepo Interest Accounts
The two key features of this platform are providing crypto loans and interest on digital assets. These are basically the two services you'll find here, and they actually work well together.
Main Features of CoinDepo
Loans can be provided to any user based on deposited funds to this platform. You can basically borrow a certain amount of stablecoins or cryptocurrencies of choice, but not more than 50% of what you have stored on CoinDepo. It may not be much, but you can go nuts with this money, and there will be no margin calls. Your deposited money, meanwhile, will be held as collateral.
It's not that bad that you can't withdraw these collateralized funds. While they stay there, they actually perform the other important function – accumulating interest.
Interest, in this context, is compound interest on your stored assets that keeps adding up daily, weekly, monthly, quarterly, semi-annually, or yearly. This is up to 18% per annum for regular cryptocurrencies and up to 24% per annum for stablecoins. The rate is annual, which means that with the effect of compound interest, you can get even more than 18% or 24% at the end of the annual period, depending on the payout frequency.
Loans vs. Interest
If you were to put the regular crypto assets, like Bitcoin or Ethereum, you'll be able to accumulate an annual 18% interest rate on them. With stablecoins, you get a whopping 24% of additional money just like that. You don't even have to wait a year, because there are daily, weekly, monthly, quarterly or semi-annually payout plans.
The daily plan has the 18% rate for stablecoins, which means that you will earn even more than 18% per annum at the end of the annual period, taking into account the effect of compound interest, except you'll receive this amount piecemeal every day. If you pick less frequent periods, you'll be able to collect increasingly bigger winnings at the end of the same annual period.
If you aren't a big fan of long-term investments, you can instead borrow some money from them. Thanks to the interest rate your money receives, you don't have to pay any interest on the borrowed funds. It's essentially deducted from the interest rate you receive on the deposited funds. That's why these two features work so well together.
However, speaking of stablecoins, how exactly does this system work?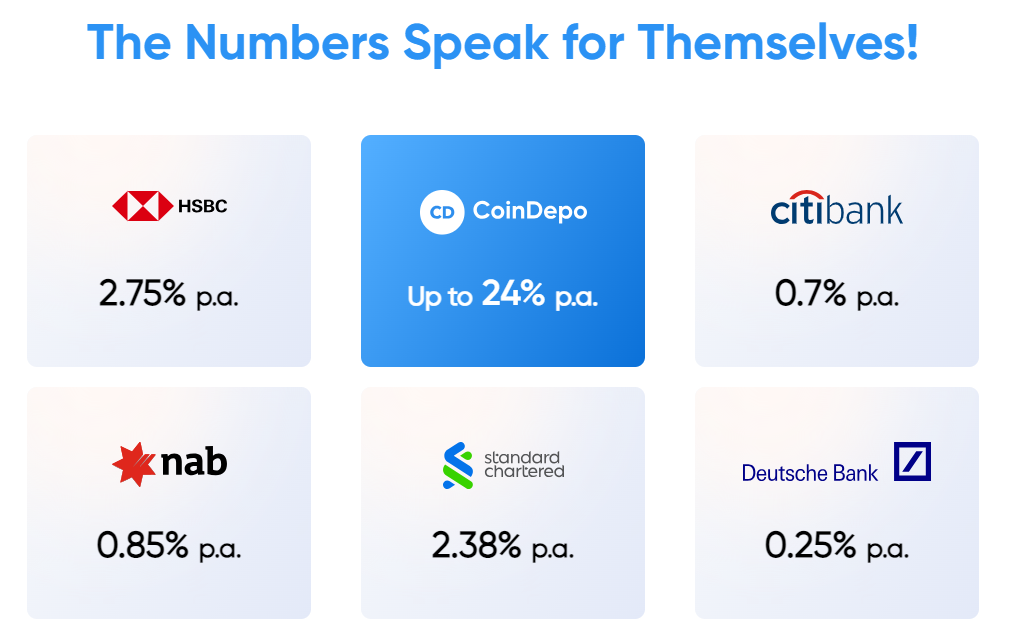 How to Gain Interest on CoinDepo
It's now possible to not just buy stablecoins using USD, EUR, GBP, but also INR (Indian Rupee). There are plenty of crypto exchanges in India that offer such services, so it's a great opportunity for this country. To gain interest using one of the stablecoins, you have to follow these simple steps:
   

Register a CoinDepo Account.

   

Deposit some stablecoins using the solution of choice. USDT, USDC, and DAI are available.

   

If you changed your mind and decided to go for regular cryptocurrencies, you can deposit BTC, ETH, XRP, LTC, or BCH.

   

Select the payout plan and hold your digital assets for as long as you want.

When the time comes, withdraw funds to any external crypto wallet of your choice.
Summary
It's all relatively straightforward, and CoinDepo can generally be trusted. Today it is one of the most profitable establishments on the market. It has a decent reputation and there haven't been major controversies surrounding this company. In short, you can expect them to pay your interest. However, that's similar to the actual banks.