Bitcoin price wavers at the 50% retracement level at $46,849 as underlying momentum continues to weaken. On the other hand CLVA also lost some momentum while climbing back to 2$ and have failed to retest the level and got consolidated at 1.5$ only. 
Moreover, the rally hasn't ended yet. As CLVA again tested its bottom at 0.3$ it is predicted that it should recover fast upto 1$ or 1.4$ again to test the broken support levels.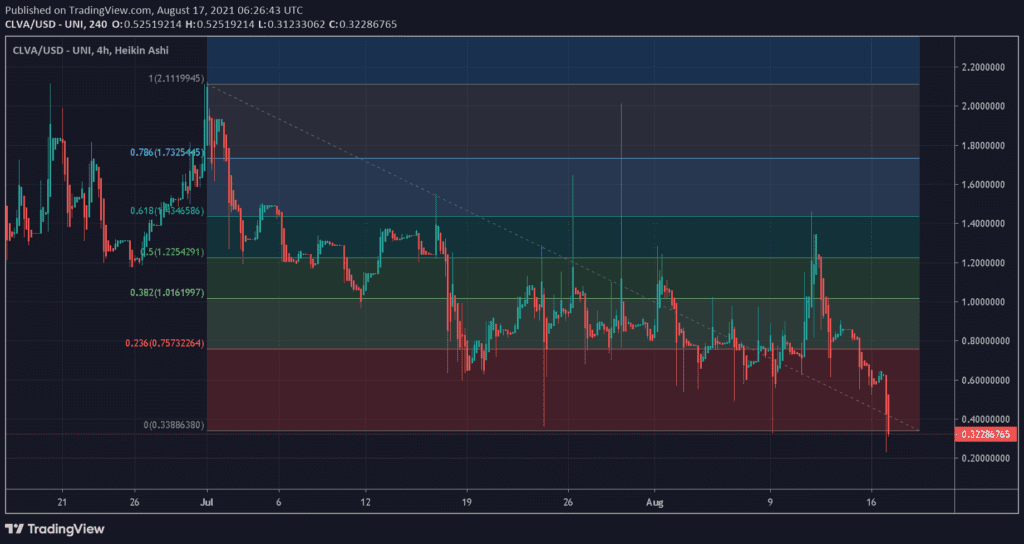 As per fibonacci retracement theory, CLVA is once again testing its new bottom and easily recovering to upto 1.4$ which is 50% retracement level of this fall. More over the coin still have lot of holders who have staked their CLVA to earn passive income.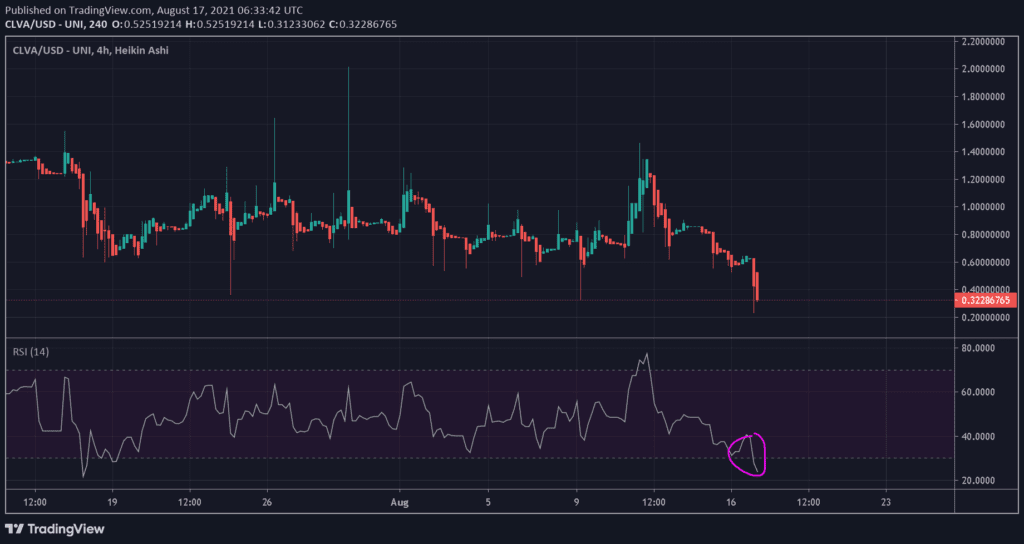 RSI is in an oversold zone as of now, making it an extremely good opportunity for retail whales to buy in some CLVA coins and could benefit from the recovery soon. Moreover, if you closely look at the above chart, the CLVA price falled due to RSI losing momentum and buying power in the market, hence making it enter the overbought zone resulting in a quick decline.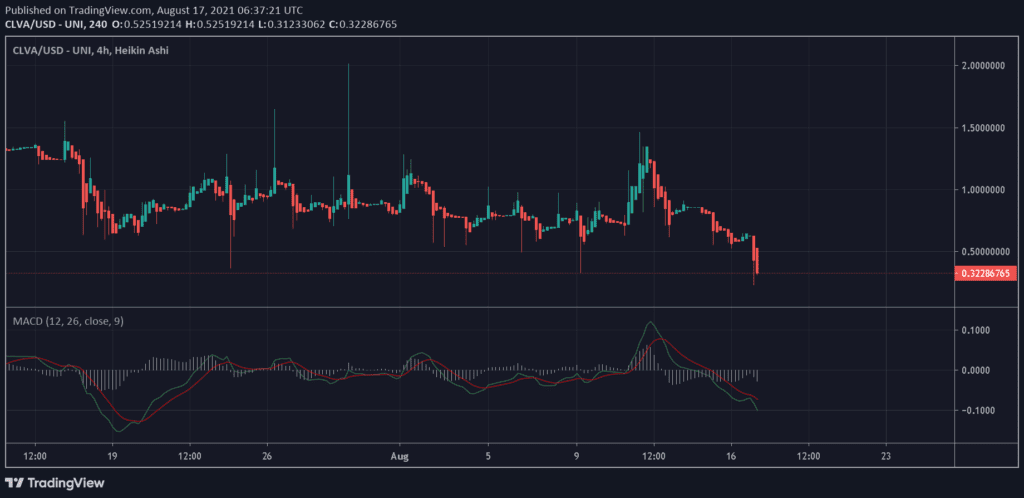 MACD once again bearish at the moment, but as per the support area re-test theory and fibonacci retracement theory the MACD will turn bullish very soon, hence will be a bullish movement for CLVA.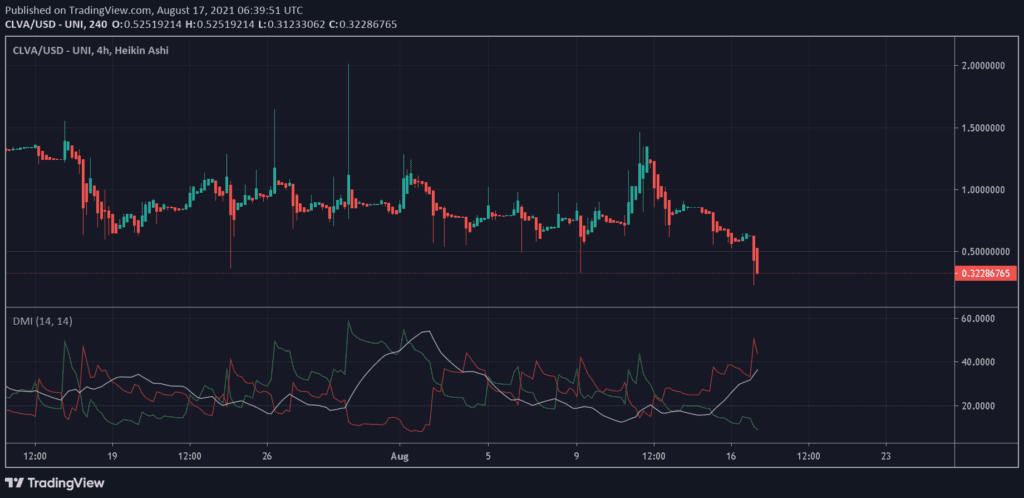 Another great deviation can be seen in the DMI ADX trading setup. As per the charts above, DI+ is lower than that of DI- at the moment. Hence a clear bearish at the moment. But as the ADX (white line) in DMI starts losing the momentum and come down below 30 or 25 mark the CLVA might again prepare for a decent bull moment which may push the price upto 1.5$ to 2$ as well.
Clever Defi Resistance and Support Levels (24 hours)
Classic
R3 : $1.06829
R2 : $0.86792
R1 : $0.60493
Pivot : $0.40456
S1 : $0.14157
S2 : $-0.05879900
S3 : $-0.32179000
Fibonacci
R3 : $0.86792
R2 : $0.69092
R1 : $0.58156
Pivot : $0.40456
S1 : $0.22756
S2 : $0.11820
S3 : $-0.05879900
Camarilla
R3 : $0.46937
R2 : $0.42689
R1 : $0.38442
Pivot : $0.40456
S1 : $0.29947
S2 : $0.25699
S3 : $0.21452
What is there for Next Month? CLVA Forecast for Sept 2021
According to Digital Coin Price, the CLVA price may go upto the 2.59$ mark in SEPT 2021. Which will be a 300% change from the current price of CLVA.
What is CLEVER DEFI (CLVA)?
CLEVER is a DEFI (Decentralized Finance) Protocol that distributes AUTOMATIC INTEREST PAYMENTS to all CLVA Token Holders on a pre-programmed routine cycle schedule over 888 fortnightly cycles taking exactly 34.15 years to complete.
Up to 11% Compound interest PAID FORTNIGHTLY with guaranteed automatic payments for all CLVA Token holders
Think of CLEVER as the digital smart way to STORE YOUR WEALTH which pays a significantly greater interest rate compared to a now outdated everyday bank account paying little to no interest.
Read More https://techbullion.com/clever-clva-coin-price-prediction-why-it-is-a-good-to-invest-and-hold-for-a-long-term/