Whether it's your computer or your mobile phone, as long as you use it, new data will be generated continuously. Your storage space is limited, and you will run out one day. This problem has been puzzling us until the emergence of cloud storage. Therefore, cloud storage is very important to everyone. We can upload photos or videos from mobile phones to the cloud, which not only frees up enough storage space for us, but also enables image or video sharing through the sharing function of cloud storage. 
You may feel that cloud storage is unsafe because your data is stored on a third-party server. In fact, there is no need to worry, because cloud service providers have special technical teams to protect your data security. Cloud storage also provides automatic backup function. We often delete some data by mistake. Now we don't need to worry. We can easily retrieve the deleted data through the backup function of cloud storage. Today's article mainly introduces some of the best cloud storage applications and services. After reading it, I believe you will easily find the free cloud storage that suits you. 
The best cloud storage applications we recommend are:
TeraBox

Degoo

Mega

iDrive

Google Drive
Now, let's discuss all these in detail.
Best Cloud Storage – Top 1. TeraBox
TeraBox is the best cloud storage because it is the only cloud storage on the market that offers 1 TB of cloud storage free. You only need to create an account, and you will get free storage space without any conditions. You can use this free storage space as you like and can store 400,000 photos, 2,500 movies, or 6.5 million documents without paying a penny. The most satisfying thing is that it can always keep your storage space abundant.
Terabox is comprehensive and stands out in all cloud storage applications. First, he can easily share large files with others. The users can transfer files up to 20 GB at a very high speed. It is excellent for sharing files with others, and surprisingly, TeraBox offers password protection and a validity period for the files and links you share with others. It keeps your data secure.
TeraBox has wide compatibility because it is available in three versions. It is available for smartphones, computers (Windows, Linux, macOS), and internet browsers (web-based cloud storage). Therefore, users can easily access their files anywhere they want.
How to Download TeraBox App
Downloading TeraBox is pretty easy.
Step 1: If you are using an Android device, you can download it from the Play Store. iPhone users can download it from the App Store.
Step 2: After that, you can open the application and create a new account. Now, you can use cloud storage as you like.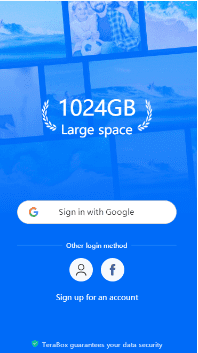 How to Download TeraBox for PC
Step 1: If you want to download TeraBox for PC or laptop, go to the official website and download the application for free.
Step 2: Select the version of TeraBox according to your OS (Windows, macOS, and Linux) and download it.
Step 3: Install the application on your PC and create a new account to enjoy the features.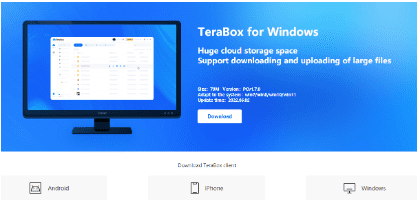 How to Login TeraBox Online
If you don't want to download the application on your device, you can also directly login TeraBox through an internet browser.
Step 1: Open any internet browser.
Step 2: Login TeraBox. You can log in to TeraBox using your social account.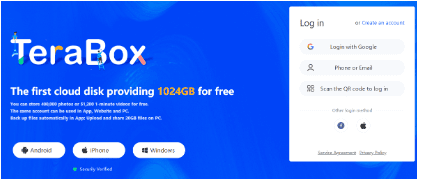 Best Cloud Storage – Top 2. Degoo
Degoo is lacking pretty heavily in its feature set since the Windows desktop app stopped being supported and everything moved over to the web app. This would have been fine — if the web app was any good.
Degoo's free plan has a 100GB storage limit, but you can refer a friend to receive 5 GB of extra storage space, up to 500GB. I realized that on the free plan, you can only upload 500 files at one time (with a file size limit of 512 MB). So if your folder has over 500 files, you'll have to upload them in stages. As a free cloud storage, Degoo's free storage space is far lower than that of other cloud storage applications.
The Ultimate plan comes in at $9.99 a month and includes a big jump in storage space, as you can now store up to 10TB of files. You also get Degoo's photo storage maximizer, which lets you upload high-quality versions of your photos to the cloud while keeping compressed versions on your device.
Degoo's 500 GB plan is just over half the price of Icedrive's 1TB plan. The 10TB plan is also competitive when compared to the $17.99 Icedrive charges for 5TB. 
You can delete files without worrying too much. Like most other cloud backup services, Degoo keeps deleted files for 30 days in a separate tab. However, there isn't any file versioning.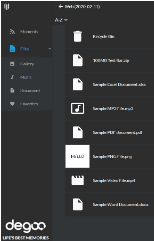 Best Cloud Storage – Top 3. Mega
MEGA is an accessible zero-knowledge cloud storage provider to deliver user-controlled end-to-end encryption. The product design is governed by the principle of not letting our no-compromise end-to-end encryption get in the way of usability.
Mega's free account generously offers 20GB of storage. For more storage and features, individual users can choose from four Pro accounts – Pro Lite (400GB, $5.95/month), Pro I (2TB, $11.92/month), Pro II (8TB, $23.85/month), and Pro III (16TB, $35.78/month). For each Pro plan, you'll save some money if you choose to be billed yearly instead of monthly.
Unless you plan on continually jumping through hoops to earn additional storage and transfer, your best bet is to treat the Individual plan as offering 15 GB of free storage. While 15 GB free storage is certainly not bad, the marketing of 50GB feels kind of like a bait and switch deal.

You can run MEGA on:
Windows XP (with SP3 installed); Server 2003 or higher; Windows Vista; Windows 7 and higher

macOS 10.9 and higher

Linux (Debian, Ubuntu, RedHat, Fedora, CentOS, Debian, OpenSUSE, Mint, and others) 
You can find the MEGA app for: 
Android

iOS

Windows Phone
Best Cloud Storage – Top 4. iDrive
Personal plans come in 5TB and 10TB forms, and Team plans are available for anywhere between five and 100 users, offering 1TB per person. Larger companies will benefit from the Business plan, offering as little as 250GB or as much as 50TB per person, with an unlimited number of users.
IDrive can provide us with 5 GB of free cloud storage. If you want to get more storage space, you need to pay for it. 5TB of storage space costs US $4.97 per month. Of course, if you buy more, there will be a discount. This will be purchased according to our actual needs.
PROS
Easy setup

Unlimited devices per account

Disk image backup

Bulk uploads and restores via mail

Fast upload speeds in testing

Excellent mobile app
CONS
Only basic sharing options

Storage isn't unlimited

Files in synced folder slow to upload in testing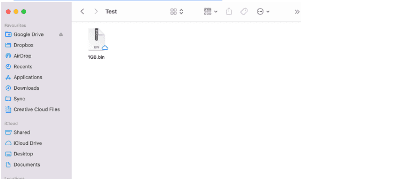 Best Cloud Storage – Top 5. Google Drive
It doesn't cost anything to sign up for a Google account and start using Google Drive. For free, you get 15GB of storage space, which is generous compared with what you get for free with other storage services.
Google One's Basic plan increases your space to 100GB and costs $1.99 per month or $19.99 per year. You get the bonus photo-editing tools we just mentioned in the Google Photos mobile app, as well as support via phone and text chat.
PROS
Google Workspace integration

Plenty of third-party apps

Excellent for collaboration

Lots of free storage

Full-featured free plan

Top-notch security
CONS
No password-protection for shared files

Mobile apps could do more; multiple apps required for all related functions

Some privacy concerns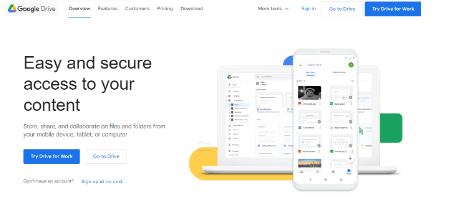 Conclusion
Free cloud storage is a service we all need. The storage space provided by our devices cannot store more and more files. We all need to store files in the cloud for backup or sharing. We have shared some excellent cloud storage services that users can try. We have discussed the pros, cons, and features of all so that you can pick the best one for your needs. 
TeraBox is undoubtedly the best cloud storage as it offers 1 TB of free cloud storage. You can download TeraBox for free and create a new account within a few clicks. Download it today and enjoy its outstanding features.