Since the beginning of August 2021, the whole market is getting more adoption resulting in pump in the prices of some of the underrated coins along with popular ones like BTC, ETH, LTC, XRM, XLM, UNI, CAKE etc.
Whereas the Defi coins are still struggling to see a bull rally and gain back the momentum they had in March and April. Coins like Midas Protocol and even TRONPAD are facing serious fall in the price of up to 40-50% in the last 24 hours. But the coins like CLVA with strong fundamentals and community support are still holding the support line and retaining the price.
What does ADX with DI+ & DI- Say about the momentum and Price movement?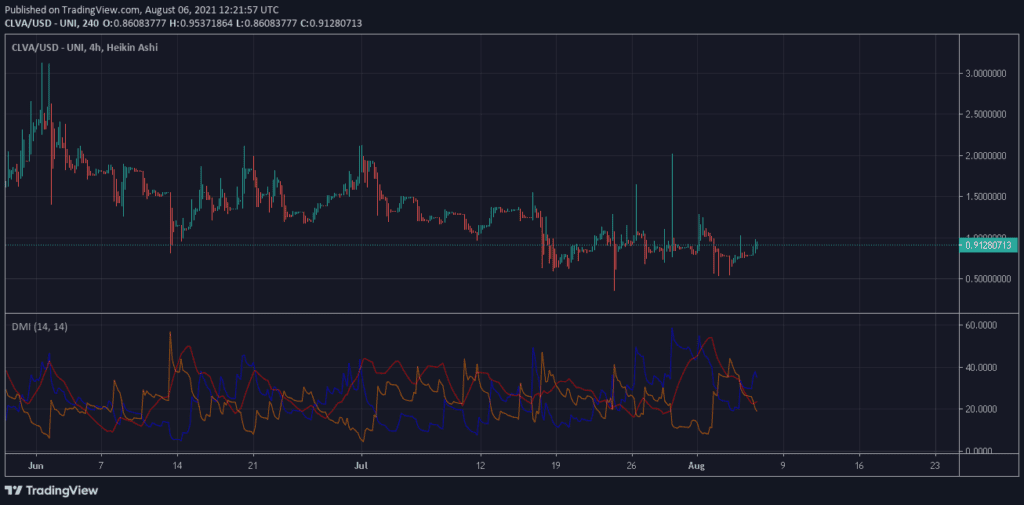 Falling ADX indicates the sidewise trend as of now, which means right now would not be the right time to scalp or swing trade with CLVA tokens. However, DI+ & DI- are bearish at the moment meaning if you are looking to short term returns then making a small entry at this moment will be beneficial as CLVA is holding its support very strong at the moment.
The Accumulative Swing Index is at 20, meaning that it might be a potentially right time to make a small swing.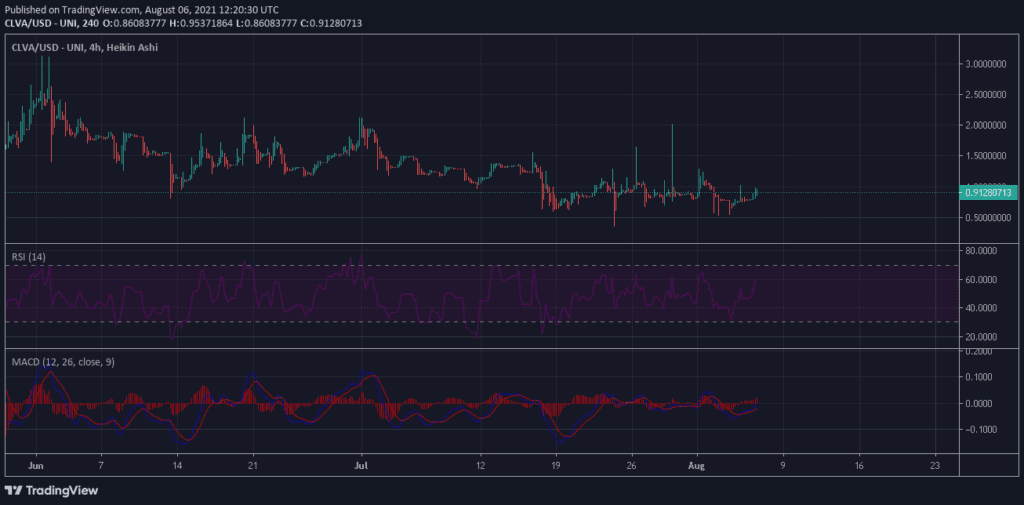 RSI is nearly above the oversold zone could again a sign or signal of bull indicator at the moment, whereas MACD also shows that the CLVA is turning into a small bull (buy) area. The turning of MACD in buy signal may make CLVA reach or give a wick at 1.5$ to 1.8$ mark price which is around 2X to 2.5X from current price.
Clever Defi Resistance and Support Levels (24 hours)
Classic
R3 : $1.03371
R2 : $0.95959
R1 : $0.90496
Pivot : $0.83084
S1 : $0.77621
S2 : $0.70209
S3 : $0.64747
Fibonacci
R3 : $0.95959
R2 : $0.91041
R1 : $0.88002
Pivot : $0.83084
S1 : $0.78166
S2 : $0.75127
S3 : $0.70209
Camarilla
R3 : $0.88573
R2 : $0.87393
R1 : $0.86212
Pivot : $0.83084
S1 : $0.83852
S2 : $0.82672
S3 : $0.81492
What is CLEVER DEFI (CLVA)?
CLEVER is a DEFI (Decentralized Finance) Protocol that distributes AUTOMATIC INTEREST PAYMENTS to all CLVA Token Holders on a pre-programmed routine cycle schedule over 888 fortnightly cycles taking exactly 34.15 years to complete.
Up to 11% Compound interest PAID FORTNIGHTLY with guaranteed automatic payments for all CLVA Token holders
Think of CLEVER as the digital smart way to STORE YOUR WEALTH which pays a significantly greater interest rate compared to a now outdated everyday bank account paying little to no interest.