In the past few days, CLVA is gaining great momentum as it climbs back and touches the upper band of BB (which is a good sign), however, due to a sudden spike in the market some sell-off or distribution may happen. In the long term, CLVA is still in a very good position and can give you great returns of up to 2X to 10X from the current market price.
CMF is above 0 marks could be another reason for the price hike. Though CLVA is currently just not reacting to the overall market hype. As BTC is fall down from 49,000$ mark to 47,000$, the CLVA have proved to be not depended on BTC and the supporter are ready to hold it for a longer term.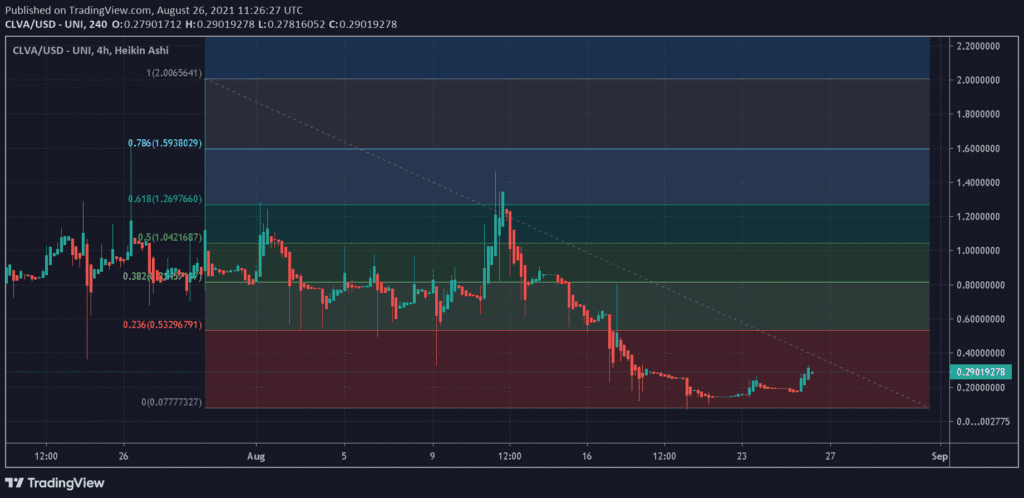 According to Fibonacci Retracement theory, CLVA looks to be at its bottom once again, and here is where most of the re-entries or buying are happening as of now. Which will make CLVA jump back to $1 mark from 20 cents in no time.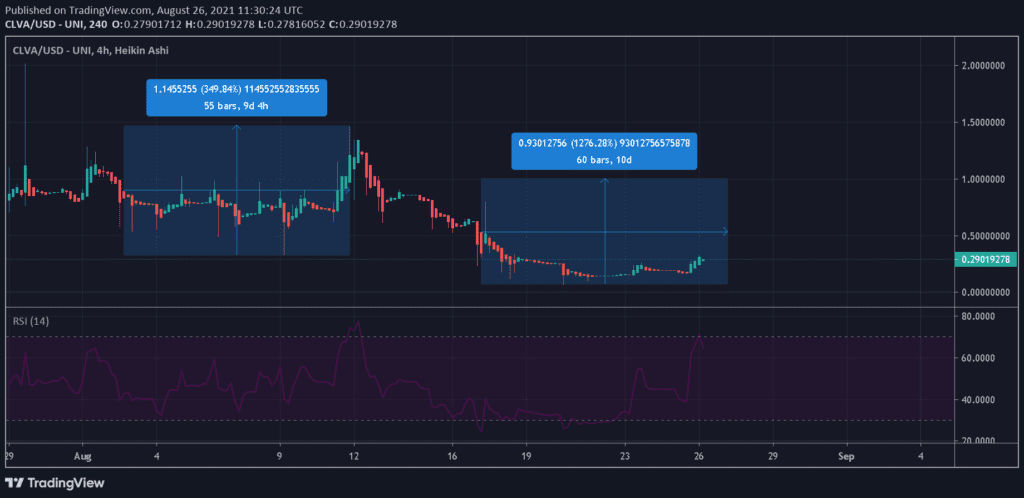 As stated above, RSI is slightly coming back from the overbought zone, meaning that the buyer still see value in the CLVA token, hence after this small sell-off it may jump back.
A similar thing can be seen in the previous day's charts too, hence it could retrace the same pattern and gain back the momentum to achieve 1$ very soon.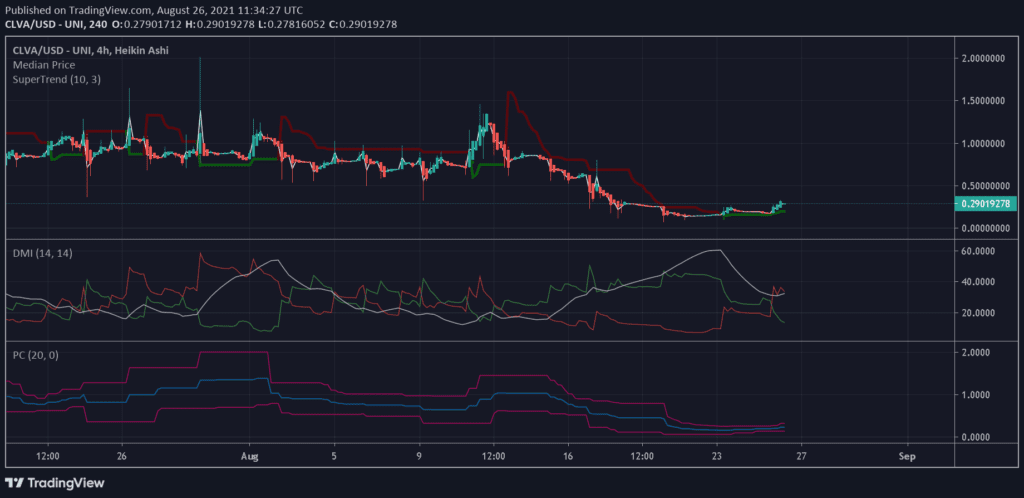 Supertrend has given a bullish signal, though the price channel is narrow which is again giving a good sign to the beginning of the bull market for CLVA. In DMI, the ADX is in a very good position and showing a strong momentum as it is slightly above the 35 point. DI+ and DI- is been negative due to sell off in sudden price increase (called distribution), but as the medium price is also in a good position so far, CLVA does not fall from this point.
Clever Defi Resistance and Support Levels (24 hours)
Classic
R3 : $0.66432
R2 : $0.54632
R1 : $0.40936
Pivot : $0.29136
S1 : $0.15441
S2 : $0.03640
S3 : $-0.10055200
Fibonacci
R3 : $0.54632
R2 : $0.44892
R1 : $0.38875
Pivot : $0.29136
S1 : $0.19397
S2 : $0.13380
S3 : $0.03640
Camarilla
R3 : $0.34254
R2 : $0.31917
R1 : $0.29579
Pivot : $0.29136
S1 : $0.24905
S2 : $0.22568
S3 : $0.20231
What is CLEVER DEFI (CLVA)?
CLEVER is a DEFI (Decentralized Finance) Protocol that distributes AUTOMATIC INTEREST PAYMENTS to all CLVA Token Holders on a pre-programmed routine cycle schedule over 888 fortnightly cycles taking exactly 34.15 years to complete.
Up to 11% Compound interest PAID FORTNIGHTLY with guaranteed automatic payments for all CLVA Token holders
Think of CLEVER as the digital smart way to STORE YOUR WEALTH which pays a significantly greater interest rate compared to a now outdated everyday bank account paying little to no interest.