Bitcoin price closed yesterday up 11.98%, the largest daily return since February 8 when it broke out from a multi-week cup base. Ethereum price continues to hover below the 50-day simple moving average (SMA) with no convincing price action to forecast a better outlook for the smart contracts giant. XRP price cultivates no price traction after triggering a bullish hammer candlestick pattern.
CLVA also awaits for a 100% growth rally towards the $3 mark.
CLVA Price Forecast: Technical Analysis
EMA 10 cross below EMA 20 gives a bearish sentiment in 4hour chart but as CLVA hold a super strong resistance at 1.5$-1.8$ hence forms a demand zone to make entries for day traders.
Potentially, it can rally upto 100% from current price i.e 1.5$ to 3$ mark. As this happened already, this could happen again easily.
Other Crypto Experts like Coin Arbitrage Bot states " In the next 3 years, the highest level Clever Defi price could reach is 26.1805 USD", "According to our calculations, at the end of 2022 we expect the Clever Defi price would be around 7.23621 USD while it could easily end up at price levels 11.7082 USD at the end of 2023 " they added in their report.
EMA 50 is the strongest resistance which is stopping CLVA to have a bull rally again. Though it has great potential, strong community and support, it still might need strong influential news or announcements to gear up again.
Clever Defi Resistance and Support Levels (24 hours) for day trading
Classic
R3 : $1.96334
R2 : $1.83667
R1 : $1.71334
Pivot : $1.58667
S1 : $1.46334
S2 : $1.33667
S3 : $1.21334
Fibonacci
R3 : $1.83667
R2 : $1.74117
R1 : $1.68217
Pivot : $1.58667
S1 : $1.49117
S2 : $1.43217
S3 : $1.33667
Camarilla
R3 : $1.65875
R2 : $1.63583
R1 : $1.61292
Pivot : $1.58667
S1 : $1.56708
S2 : $1.54417
S3 : $1.52125
It may re-test it 14th may price
According to some experts, CLVA may re-test its 14th May price i.e. 4$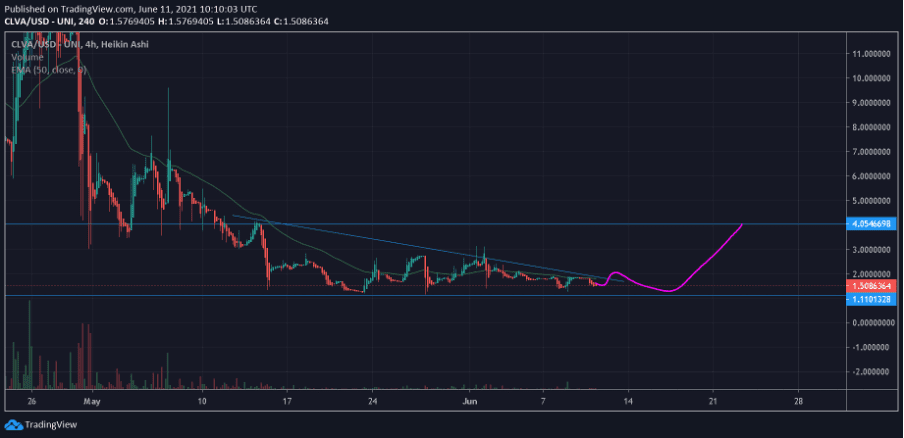 Reason will be a 50% retracement from 7th May day high or 100% retracement from 14th May day high.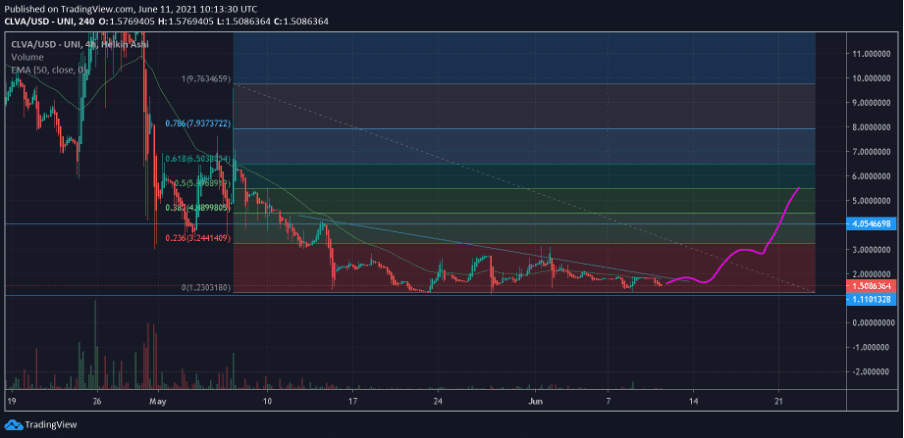 As shown in the chart above, 50% retracement could be the next possible price action to happen with CLVA coin.
What is CLEVER DEFI (CLVA)?
CLEVER is a DEFI (Decentralized Finance) Protocol which distributes AUTOMATIC INTEREST PAYMENTS to all CLVA Token Holders on a pre-programmed routine cycle schedule over 888 fortnightly cycles taking exactly 34.15 years to complete.
Up to 11% Compound interest PAID FORTNIGHTLY with guaranteed automatic payments for all CLVA Token holders
Think of CLEVER as the digital smart way to STORE YOUR WEALTH which pays a significantly greater interest rate compared to a now outdated everyday bank account paying little to no interest.
FAQs
What will the Clever DeFi Price be tomorrow?
Our analysis predicts that the Clever DeFi Price can be upto $2.65 USD by tomorrow i.e 14th June 2021
What will be the price of Clever DeFi (CLVA) after a year (2022)?
Upto $11.20
In 1 year from now what will 1 Clever DeFi be worth?
The price of 1 Clever DeFi (CLVA) can roughly be upto $11.20 USD in 1 years time a 5X nearly from the current Clever DeFi price.