Clever (CLVA) price bullish run accelerated today as investors remained optimistic about cryptocurrencies. The CLVA price surged above $1, rising to the highest level since May. As a result, the coin has jumped by more than 42% from its lowest level in July.
Let's check out what does the technical analysis says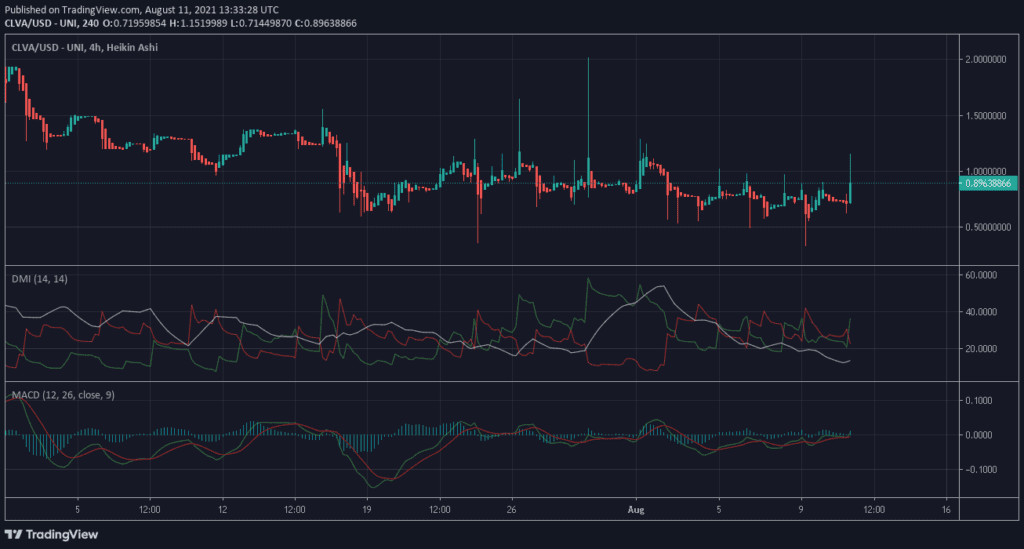 ADX is a bit low at the moment stating that there will not be much movement in the price in coming hours, but as DI+ looks super bullish here, there are extremely great chances to have a further bull market ahead towards 2$ and beyond.
MACD is still giving a bullish sentiment at the moment, meaning a potentially buying happening by whales and retail investors too. Recently, more liquidity has been added to UNISWAP.
Bollinger Band is also bullish at the moment, which might mean that the CLVA may experience a small drop in the price by upto 5%-10%, but that will be recovered shortly as CLVA holds a major support at 0.6-0.8$ mark.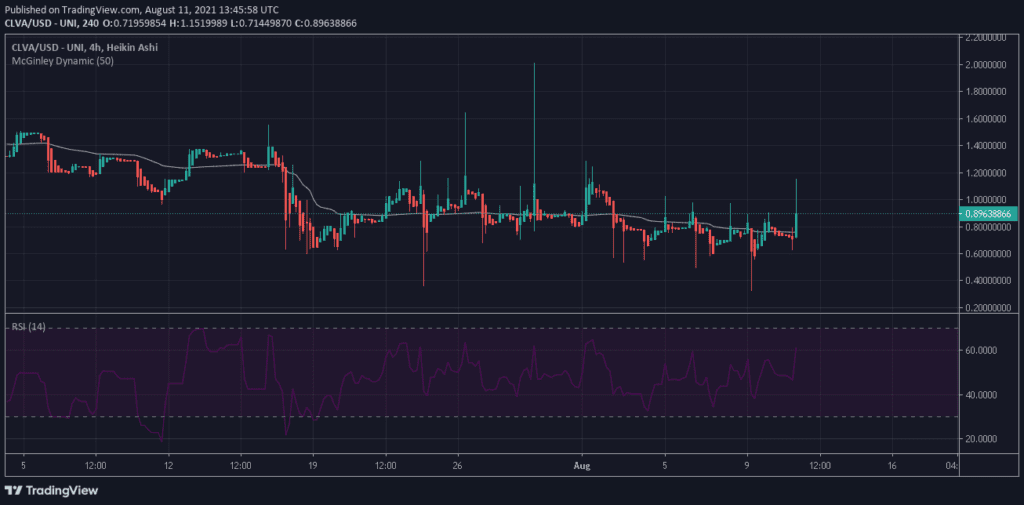 The very recent candle closed just above the McGinley Dynamic (50) again confirming the bullish market for CLVA on a short or a long term basis. Whereas the RSI is nearly 60+ meaning the price will have the momentum to gain more on the positive side but soon it may enter the OVERBOUGHT zone resulting in quick selling off and profit booking by retail investors or day traders.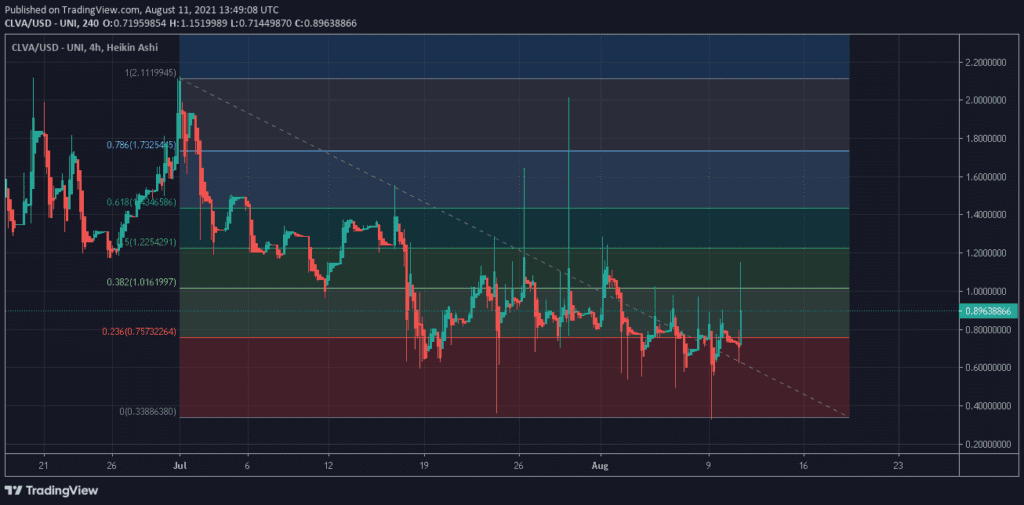 If you follow fibonacci retracement theory, as per 4hour chart 50% retracement is the healthiest and most profitable retracement which CLVA is experiencing right now. 50% retracement means the price will surely reach near the mark 1.2$ to 2$.
Clever Defi Resistance and Support Levels (24 hours)
Classic
R3 : $1.52762
R2 : $1.28881
R1 : $1.14940
Pivot : $0.91059
S1 : $0.77118
S2 : $0.53237
S3 : $0.39296
Fibonacci
R3 : $1.28881
R2 : $1.14433
R1 : $1.05507
Pivot : $0.91059
S1 : $0.76611
S2 : $0.67685
S3 : $0.53237
Camarilla
R3 : $1.11401
R2 : $1.07934
R1 : $1.04467
Pivot : $0.91059
S1 : $0.97533
S2 : $0.94066
S3 : $0.90599
What is there for this month? CLVA Forecast for August 2021
According to Digital Coin Price, the CLVA price may go upto the 1.59$-2.8$ mark in AUG 2021. Which will be a 50%-80% change from the current price of CLVA i.e 1.02$
What is CLEVER DEFI (CLVA)?
CLEVER is a DEFI (Decentralized Finance) Protocol that distributes AUTOMATIC INTEREST PAYMENTS to all CLVA Token Holders on a pre-programmed routine cycle schedule over 888 fortnightly cycles taking exactly 34.15 years to complete.
Up to 11% Compound interest PAID FORTNIGHTLY with guaranteed automatic payments for all CLVA Token holders
Think of CLEVER as the digital smart way to STORE YOUR WEALTH which pays a significantly greater interest rate compared to a now outdated everyday bank account paying little to no interest.