CLVA has shown great support by the community by maintaining its support level of 0.15$ in this bear market. The whole market is now moving upwards, ETH, BTC and ADA have shown a massive growth in the past 24 hours. This growth was because of ADA's mainnet event yesterday resulting in 15% growth in a single day.
Lets see a detailed technical analysis of CLVA, at what levels it can reach in the coming days.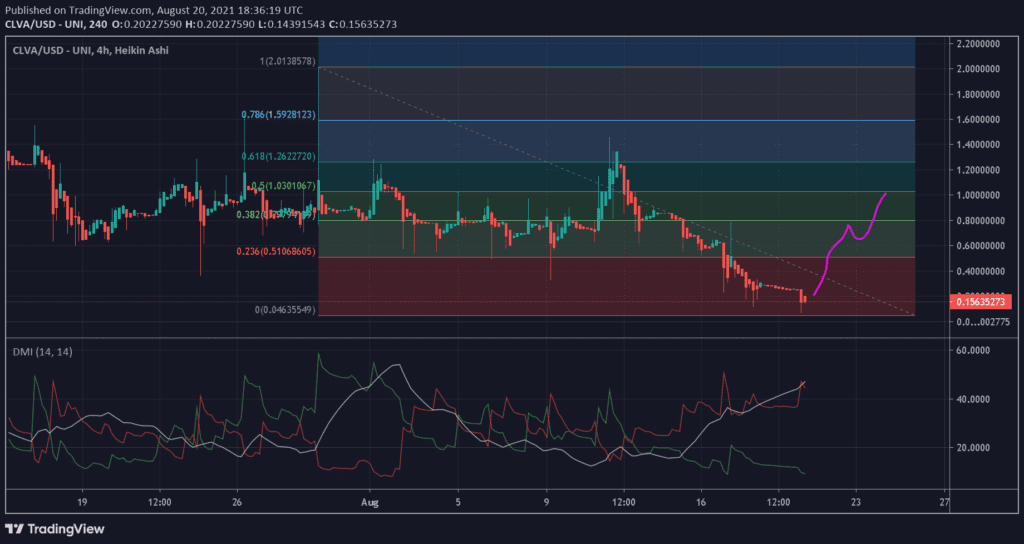 The Fibonnaci retracement says that CLVA soon will recover to $1 mark as shown in the charts above. The DMI indicator states that the ADX is high at the moment which means there will be movement in the market of CLVA at this point of time. This movement could be bullish or bearish both. To understand this movement one can look at the DI+ and DI- which is bearish at the moment. Hence there are technically chances of dropping of price, but as CLVA is holding its support with a massive amount of token holders and staking wallets, it will not fall more from this point.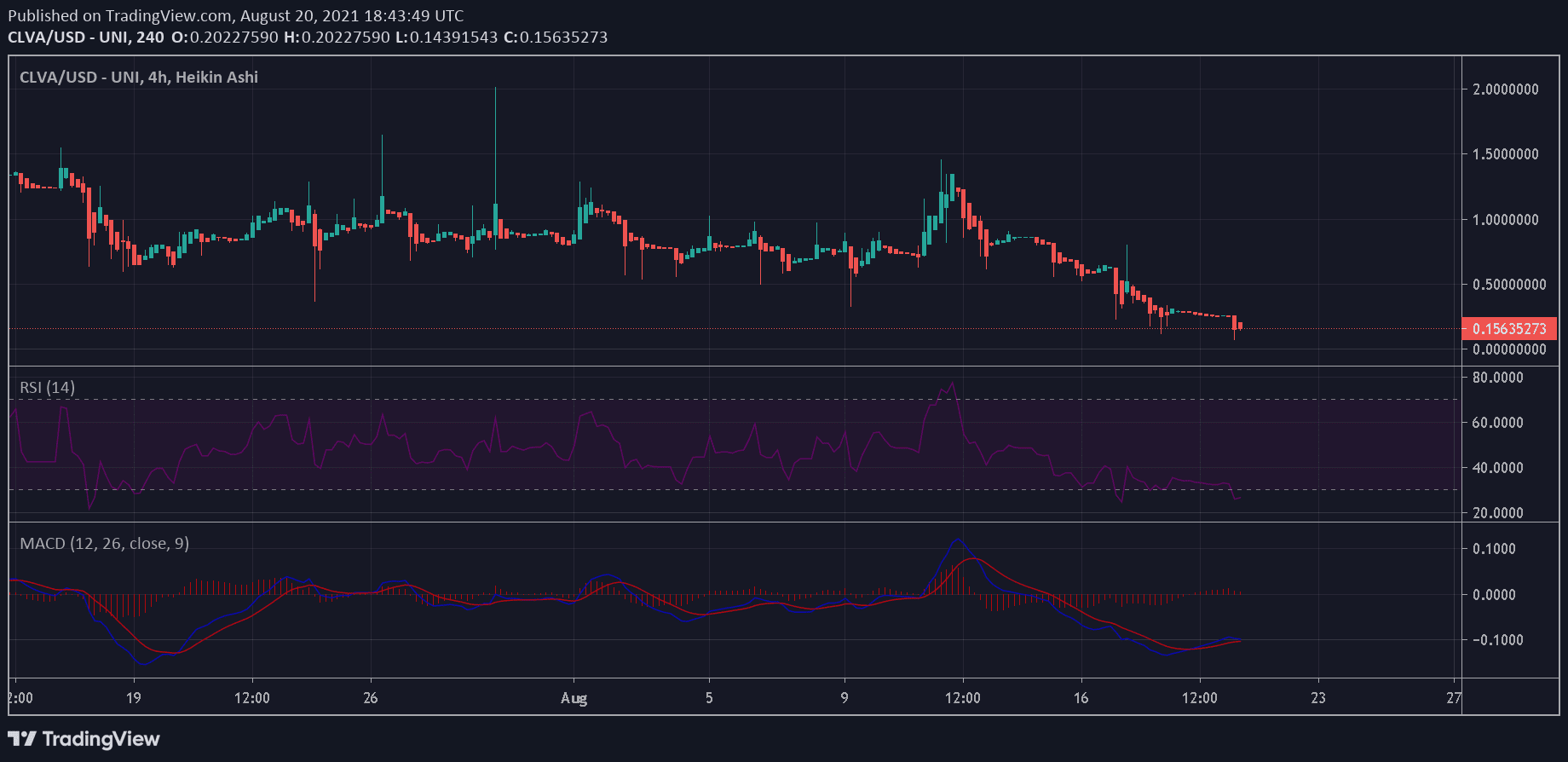 The MACD and RSI look promising to move upwards at the movement. As per the charts above, the MACD is going to turn bullish when the blue line crosses above the red one. RSI indicates that there is no strength in the market,meaning that the price is not likely to fall more. As the RSI is in oversold zone at the moment, the price will recover shortly with a quick pull back.
The Chaikin Money Flow and BB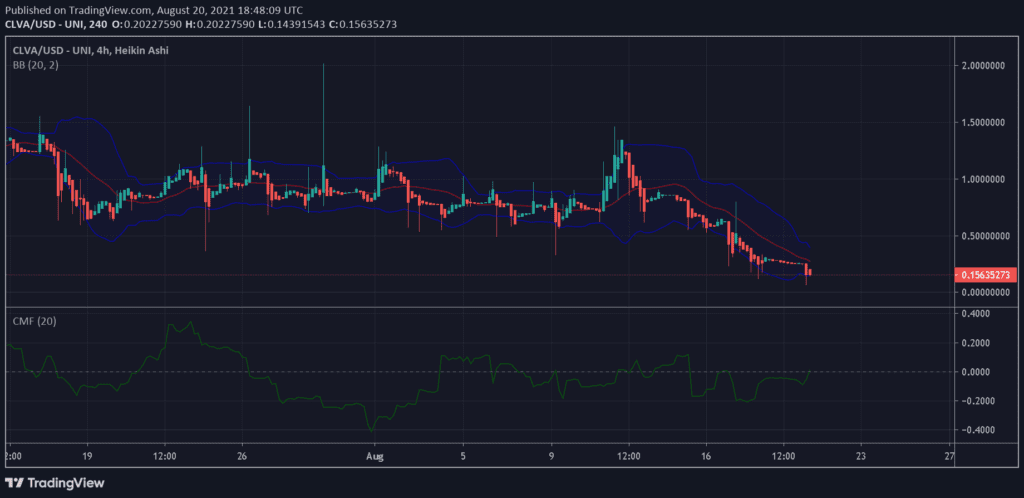 The Chaikin Money flow is near the level "0", which indicates that the price will pump soon to regain its position to $1. This shows the flow of money and when it is above the zero point, the price always goes upwards. Whereas BB is bearish at the moment, as soon as you see a green candle above or at the RED line in the BB (as shown in the charts above) the price will soon pump and retrace to Fib Retracement of 50%.
Clever Defi Resistance and Support Levels (24 hours)
Classic
R3 : $0.45093
R2 : $0.36054
R1 : $0.26279
Pivot : $0.17240
S1 : $0.07466
S2 : $-0.01573700
S3 : $-0.11348200
Fibonacci
R3 : $0.36054
R2 : $0.28867
R1 : $0.24427
Pivot : $0.17240
S1 : $0.10053
S2 : $0.05613
S3 : $-0.01573700
Camarilla
R3 : $0.21678
R2 : $0.19954
R1 : $0.18229
Pivot : $0.17240
S1 : $0.14780
S2 : $0.13055
S3 : $0.11331
What is there for Next Month? CLVA Forecast for Sept 2021
According to Digital Coin Price, the CLVA price may go upto the 2.59$ mark in SEPT 2021. Which will be a 300% change from the current price of CLVA.
What is CLEVER DEFI (CLVA)?
CLEVER is a DEFI (Decentralized Finance) Protocol that distributes AUTOMATIC INTEREST PAYMENTS to all CLVA Token Holders on a pre-programmed routine cycle schedule over 888 fortnightly cycles taking exactly 34.15 years to complete.
Up to 11% Compound interest PAID FORTNIGHTLY with guaranteed automatic payments for all CLVA Token holders
Think of CLEVER as the digital smart way to STORE YOUR WEALTH which pays a significantly greater interest rate compared to a now outdated everyday bank account paying little to no interest.