According to an article by Forbes "Bitcoin Could Be Left In The Dust By Ethereum In 2021" resulting in establishing a strong sentiment for programmable currencies and Defi token. It is now inappropriate to say that crypto currencies aren't backed by anything or Defi does not have any future. Tokens like CLVA built in ERC20 is a reputable and recognized Defi token in the crypto ecosystem with a huge community and high ROI for the holders.
Let's take a look at Technical Analysis of CLVA token along with some price action movement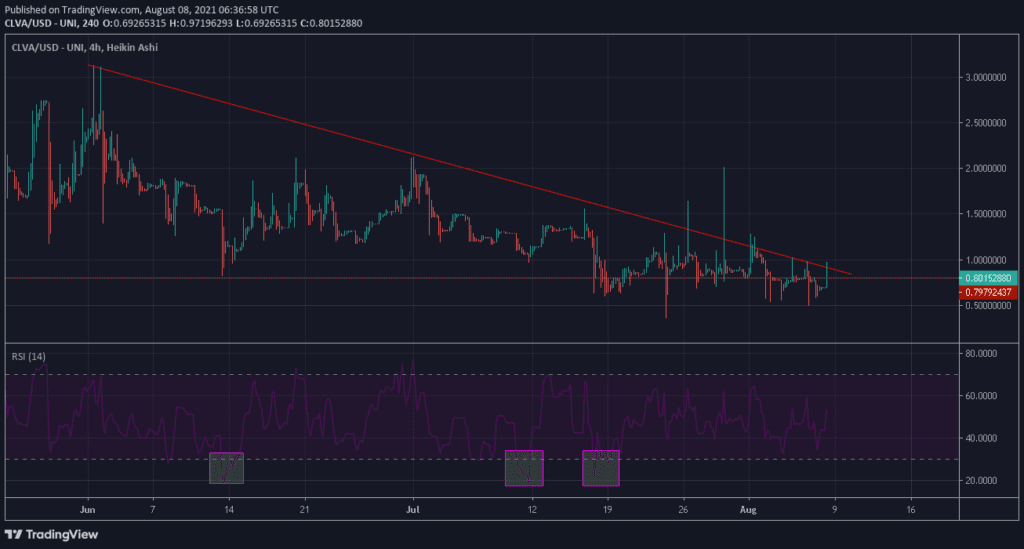 Though CLVA has been forming a descending triangle since June now, strongly holding the support lines gives it an edge over holding power in the community. Anything above the diagonal trend line might be a definite area to the start of a rally. But the question is will CLVA be able to reach 8$ mark this year?
RSI is aggressively entering the oversold zone (losing momentum) as soon as the price of CLVA reaches its support level, which means that the market or holders are not ready yet to sell CLVA tokens which claims to have more buy momentum in the market. You can trade CLVA via UniSwap here.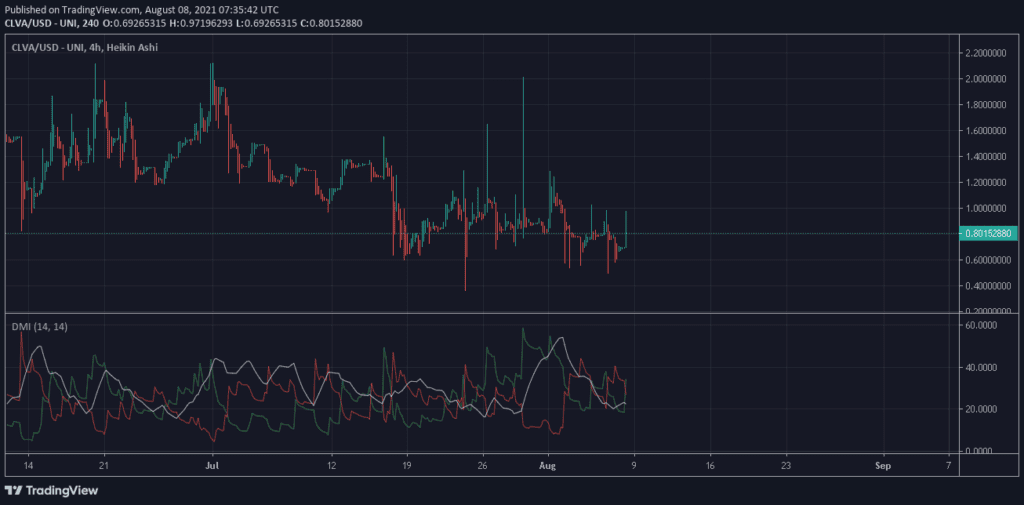 As of now the ADX is pretty low, this behavior indicates that the market might not have much movements as of now. Anything above 20-30 mark in ADX you may see a quick movement in the market, it could be bears or bulls but surely the price will be moving in one of the directions.
To check in which direction the price will move like Will it go upwards to check its resistance? Or Will go down towards the support again? This can be determined by the DI+ and DI- intersections. As in the above chart you may see that the DI+ (green) is crossing above DI-(red), which gives a spike in the price.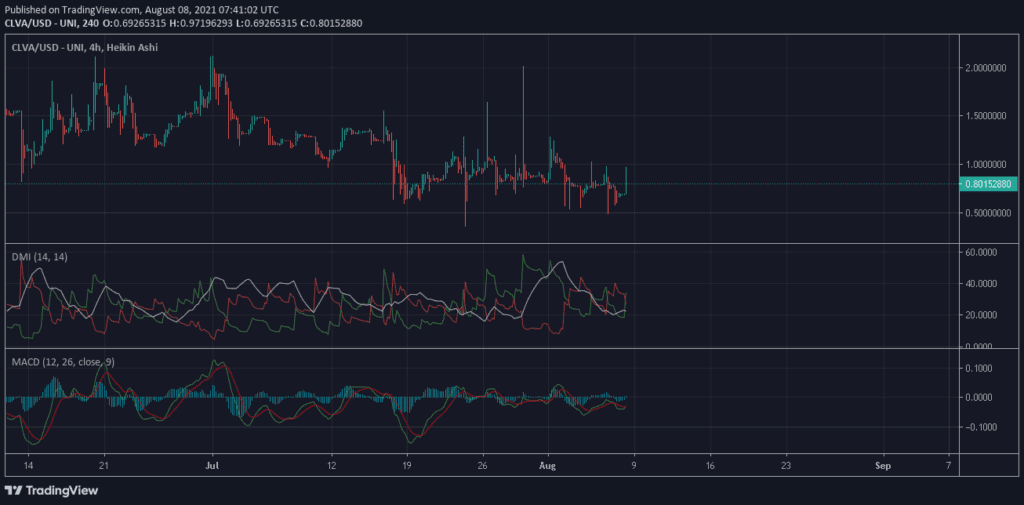 You can ensure ADX and DI movement by using MACD as a supporting technical indicator. As shown above the ADX confirms to have an increase in price in the next few candles, whereas MACD also seems to be entering in a bullish mode very soon. Combining these two indicators may help you in taking the best trade decision for you.
Clever Defi Resistance and Support Levels (24 hours)
Classic
R3 : $1.18691
R2 : $1.03612
R1 : $0.89229
Pivot : $0.74150
S1 : $0.59766
S2 : $0.44688
S3 : $0.30304
Fibonacci
R3 : $1.03612
R2 : $0.92358
R1 : $0.85405
Pivot : $0.74150
S1 : $0.62895
S2 : $0.55942
S3 : $0.44688
Camarilla
R3 : $0.82946
R2 : $0.80245
R1 : $0.77544
Pivot : $0.74150
S1 : $0.72143
S2 : $0.69442
S3 : $0.66741
What is CLEVER DEFI (CLVA)?
CLEVER is a DEFI (Decentralized Finance) Protocol that distributes AUTOMATIC INTEREST PAYMENTS to all CLVA Token Holders on a pre-programmed routine cycle schedule over 888 fortnightly cycles taking exactly 34.15 years to complete.
Up to 11% Compound interest PAID FORTNIGHTLY with guaranteed automatic payments for all CLVA Token holders
Think of CLEVER as the digital smart way to STORE YOUR WEALTH which pays a significantly greater interest rate compared to a now outdated everyday bank account paying little to no interest.