Last month we saw the Curve V2 release which will be able to provide liquidity and enable low-slippage swaps between volatile assets. Defi is not a bubble anymore, as more and more people are now using decentralized finance for staking, investing in new projects, etc.
While Bitcoin and other cryptocurrencies are still holding their support besides huge FUD for the world's most popular crypto exchange i.e. BINANCE.
Bitcoin failure to Return to $35,000 Levels Would Bring sub-$34,000 into Play

CLVA is undervalued like BZRX, Ren, and Other Defi coins 
Cryptocurrencies have long been heralded as the future of finance, but it wasn't until 2020 that it finally caught on to an old idea: making money with money. In the crypto world, decentralized finance (or DeFi) encompasses a wide array of blockchain-based applications intended to enhance cryptocurrency holders' returns without relying on intermediaries — to earn the kind of passive returns an investor might get from a savings account, a Treasury bill, an Apple Inc. bond, etc.
Thanks to CLVA with automatic interest payments, where token Holders experience a pre-programmed routine cycle schedule over 888 fortnightly cycles taking exactly 34.15 years to complete and earn upto 11% Compound interest for just holding the CLVA tokens. Let's deep dive into the technical analysis to see the near forecast of the CLVA token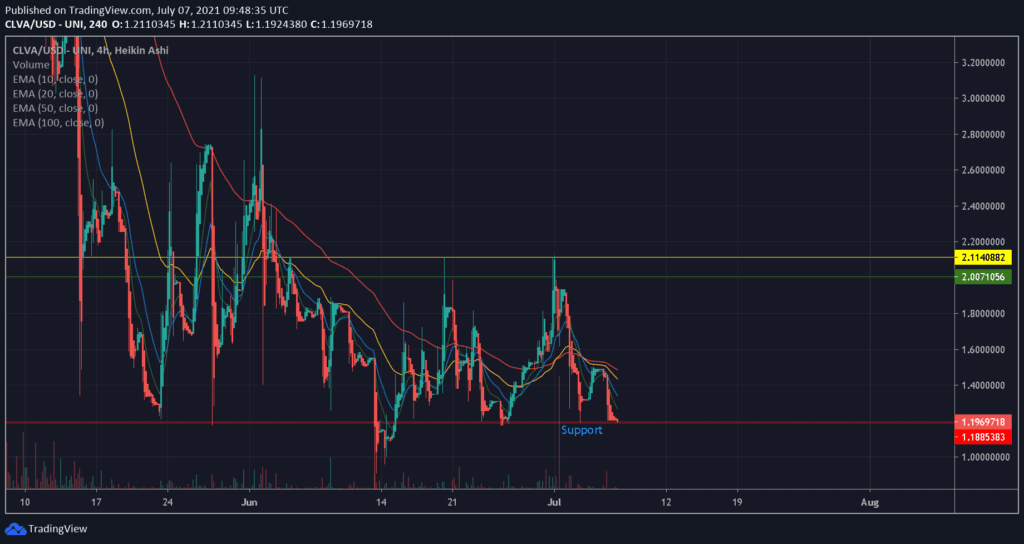 As per the chart above from Dextools, 1.1$ is the key resistance for CLVA, and for daily traders or traders with scalping setups, this is the huge demand zone or buying opportunity.
With EMA (10,20,50,100) in a 4-hour time frame, the moving average patterns look bearish, but as CLVA holds its support, it has psychological support too hence could rally back to 2$ in no time.
RED Line – Key Support
GreenLine – Take profit zone
Yellow Line – Hypothetical Take profit zone
Relative Strength Index is about to enter OverSold Zone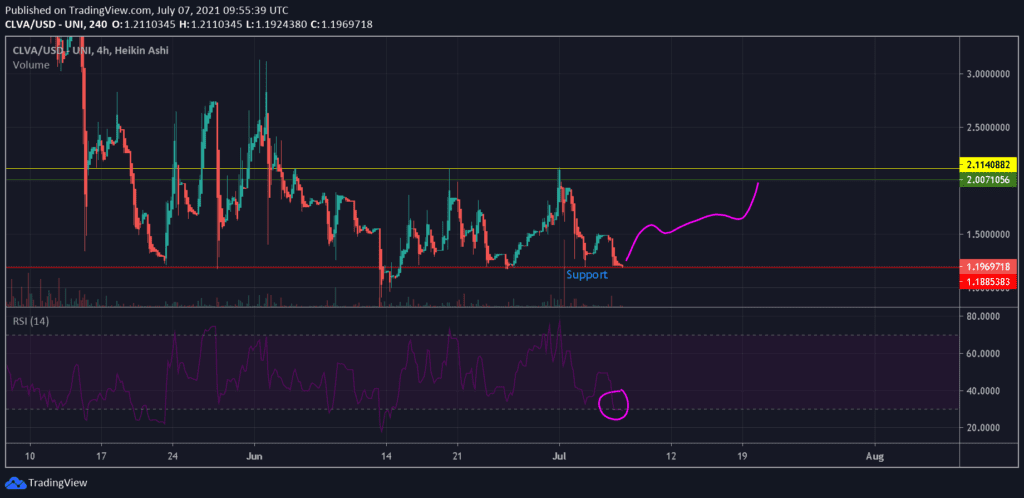 As per the charts above, the Relative strength index line is about to go below 30, which means CLVA is about to enter the oversold zone triggering lots of buy orders to swing traders and scalpers. Hence meaning that the demand still stands for CLVA and buyers are all over the street.
MACD turning bullish, resulting in CLVA rally towards 2$ soon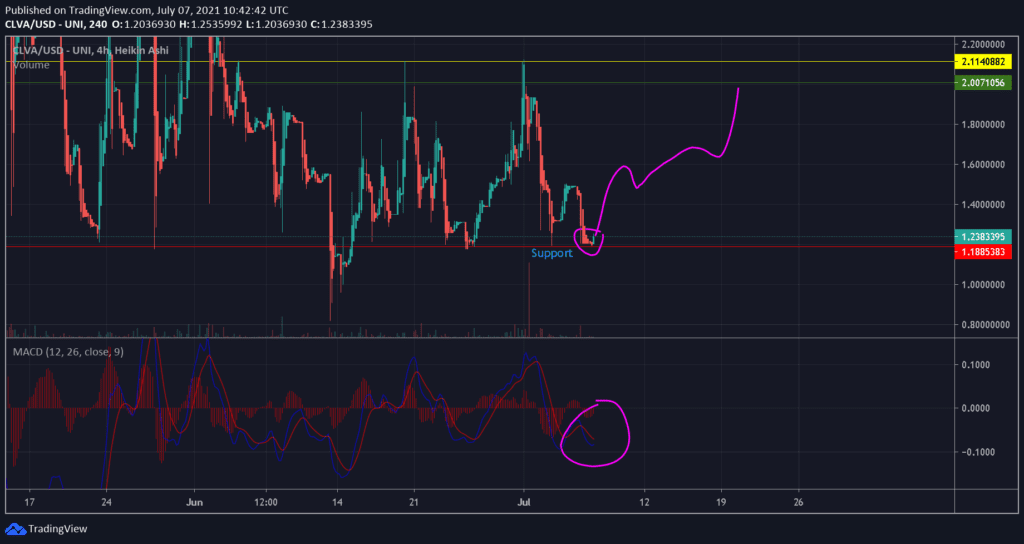 MACD turing bullish in the 4hour chart, due to slightly high buyers demand for CLVA. On the support zone i.e. 1.2$ (approximately) the MACD gave a golden cross resulting in a pump in the price of CLVA. Though many are booking profits at this time, as the number of wallets holding and staking for passive income are stable the price doesn't look to fall much this time.
Confirmation of $2 with Fibonacci Retracement Tool (50% retracement)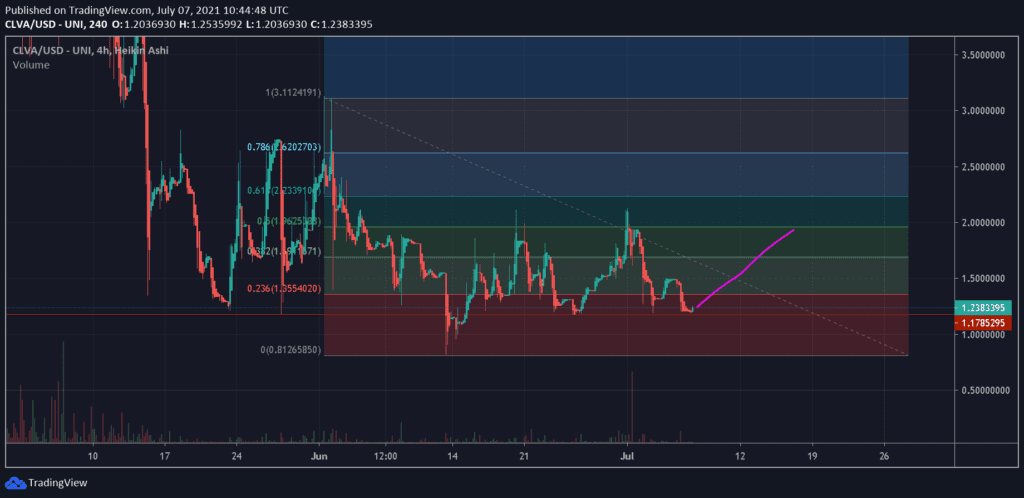 The Fibonacci Retracement setup above gives a clear indication of a $2 rally once again. According to fundamentals of technical analysis 50% retracement is one of the strongest retracements, hence with this CLVA could once again experience a $2 rally very soon.
Clever Defi Resistance and Support Levels (24 hours) Price Forecast
Classic
R3 : $1.40000
R2 : $1.33000
R1 : $1.30000
Pivot : $1.23000
S1 : $1.20000
S2 : $1.13000
S3 : $1.10000
Fibonacci
R3 : $1.33000
R2 : $1.29180
R1 : $1.26820
Pivot : $1.23000
S1 : $1.19180
S2 : $1.16820
S3 : $1.13000
Camarilla
R3 : $1.29750
R2 : $1.28833
R1 : $1.27917
Pivot : $1.23000
S1 : $1.26083
S2 : $1.25167
S3 : $1.24250
According to the Coin Arbitrage Bot, the current price of Clever Defi is 1.27000 USD. By looking at the very recent price changes in Clever Defi, our price prediction system predicts Clever Defi could be roughly 1.26548 USD tomorrow as a closing price. Based on the Clever Defi historical price data, we predict the Clever Defi price could be 3.94069 USD at the end of the year 2021. 
Also it could be 3.94069 USD exactly one year later today. In the next 3 years, the highest level Clever Defi price could reach is 23.0682 USD and the lowest Clever Defi price could be 0.73505 USD. 
According to our calculations, at the end of 2022 we expect the Clever Defi price would be around 6.37604 USD while it could easily end up at price levels 10.3164 USD at the end of 2023. When we calculate the Clever Defi near future price prediction at the end of 2024 we surprisingly find out a remarkable value of 16.6919 USD per Clever Defi
About Clever (CLVA)
CLEVER is a DEFI (Decentralized Finance) Protocol that distributes AUTOMATIC INTEREST PAYMENTS to all CLVA Token Holders on a pre-programmed routine cycle schedule over 888 fortnightly cycles taking exactly 34.15 years to complete.
Up to 11% Compound interest PAID FORTNIGHTLY with guaranteed automatic payments for all CLVA Token holders
Think of CLEVER as the digital smart way to STORE YOUR WEALTH which pays a significantly greater interest rate compared to a now outdated everyday bank account paying little to no interest.
FAQs
What will the Clever DeFi Price be tomorrow?
Our algorithm predicts that the Clever DeFi Price can be upto $1.54 USD by tomorrow.
Where do I buy Clever DeFi?
There are many places to buy and exchange Clever DeFi such as Uniswap, 1inch, p2pb2p.
What will be the price of Clever Defi in 2021?
According to our predictions, Clever Defi price at the end of 2021 could be $4.16459.
In 1 year from now what will 1 Clever DeFi be worth?
The price of 1 Clever DeFi (CLVA) can roughly be upto $8.9 USD in 1 years time a 4X nearly from the current Clever DeFi price.