For the third week in a row, the price of bitcoin is below $ 40,000, after falling as much as 50% in about two weeks (from $ 59,000 to $ 30,000 at its lowest point).
Unlike last week, during the last few days bitcoin has not even momentarily touched the level of USD 40,000 and remains lateral, in a range between 35,000 and 39,000.
So as the CLVA, is still trading at its daily resistance i.e of $1.838.
CLEVER (CLVA) Price Prediction June 2021: What to expect in the upcoming bull run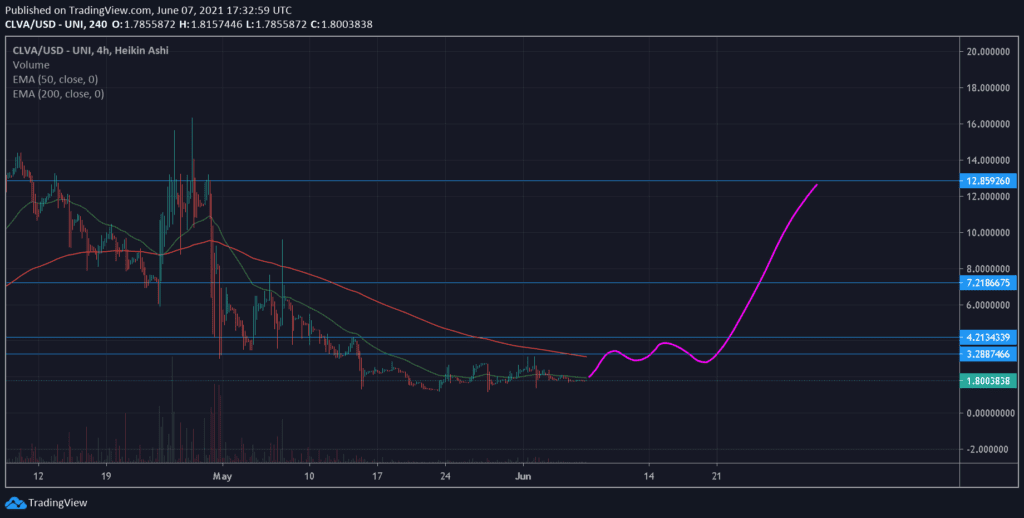 As per the experts in the crypto market, next bull run is coming soon and this time it will be massive. BTC will be expected to surely break 75K$ mark and ETH to break 7.5K$ this time. CLVA is also expected to regain its position at 10$-12$ mark. As you can see in the chart above, the moment CLVA breaks the crucial resistance level we can see a great market gain.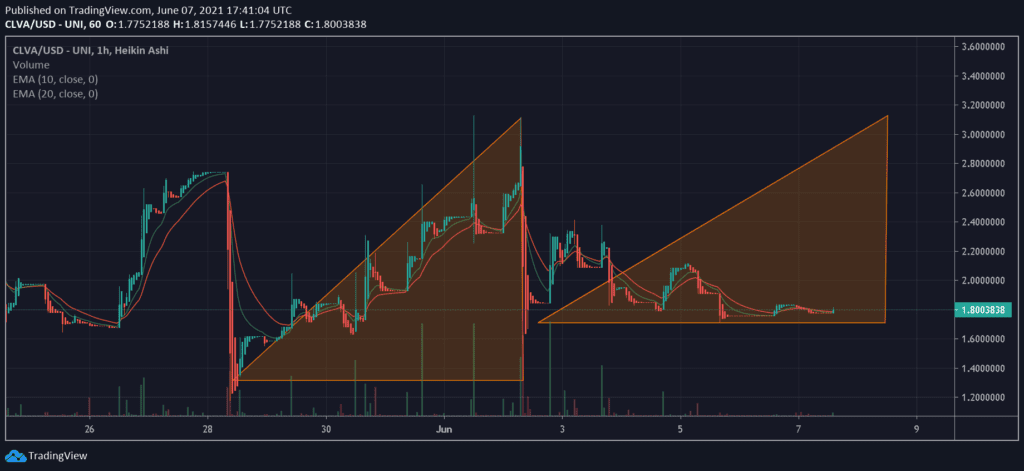 Regain the recent top
Not just CLVA, but almost all the market is facing the issue of FUD and FOMO as traders. However, projects with a smart and strong community like BTC, CLVA, ADA, DOT or ETH will surely be able to sustain this situation.
Fibonacci in 1 hour has the potential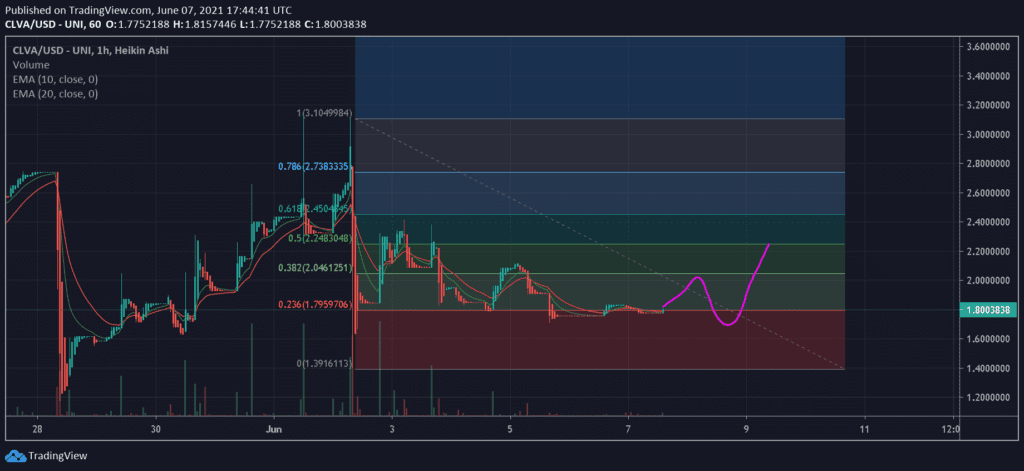 In 1-hour chart, fibonacci retracement is the key to project the price. As the above chart shows just before the fib-retrace drawn, a 100% recovery can be seen. Similarly, this could happen again.[Though do your own research before place your trade]
If the pattern repeats, then the new local target would be 2.3$ if a new entry was made at 1.8$. You can consider this a swing trade setup or simple scalping, but this is all what charts are saying so.
Pivot, Resistance and Support Levels for day trade
Calculation For Trading:
Resistance Level (R3): 1.911
Resistance Level (R2): 1.876
Resistance Level (R1): 1.838
Pivot Point: 1.803
Support Level (S1): 1.765
Support Level (S2): 1.730
Support Level (S3): 1.692
According to CoinArbitrageBot In the next 3 years, the highest level Clever Defi price could reach is 28.5002 USD and the lowest Clever Defi price could be 1.77676 USD. According to their calculations, at the end of 2022 we expect the Clever Defi price would be around 7.87735 USD while it could easily end up at price levels 12.7456 USD at the end of 2023. When we calculate the Clever Defi near future price prediction at the end of 2024 they surprisingly find out a remarkable value of 20.6224 USD per Clever Defi.
About Clever Defi 
CLEVER is a DEFI (Decentralized Finance) Protocol that distributes AUTOMATIC INTEREST PAYMENTS to all CLVA Token Holders on a pre-programmed routine cycle schedule over 888 fortnightly cycles taking exactly 34.15 years to complete.
Up to 11% Compound interest PAID FORTNIGHTLY with guaranteed automatic payments for all CLVA Token holders
Think of CLEVER as the digital smart way to STORE YOUR WEALTH which pays a significantly greater interest rate compared to a now outdated everyday bank account paying little to no interest.
HOW IT WORKS:
GUARANTEED Fortnightly interest payments to EVERY CLVA Token Holder each and every cycle!
No Contract, Terms, or Staking Needed Your CLVA will NEVER be entered into any term contract or staking period whatsoever.
No Lock-In's or Restrictions You always have the FREEDOM to move or send your CLVA anywhere within cycles! Your Crypto is your Crypto always.
No Penalties Forever Buy or sell CLVA at any time with NO PENALTIES ever! The more you own, the more interest you earn!