Delivering transformative solutions to customers requires more than investing in a business strategy. Why? Well, because convenience tops everything for customers. Everything is available at the fingertips, and it raises customer expectations. Hence, businesses continuously look for ways to reinvent themselves and remain at the top of their game.
The increasing need for digital adoption makes choosing the right custom software development company a critical decision that can greatly impact the success of your project.
Moon Technolabs understands that locating the ideal software development partner should be taken seriously. Why? Because any error can leave you dealing with costly errors in the future. We have an organized approach that considers short-term and long-term objectives. They have garnered critical acclaim with 4 and 5-star customer reviews and ratings on Clutch, Good Firms and Bark, earning themselves the badges of Top App Developers. 
This blog is a handy guide to help you make the right decision. After reading this, you'll have a better idea and clarity about assessing potential partners and answering essential questions regarding commitment.
Understand the needs of your business
Innovation is the cornerstone of every business, so no business wants to settle for anything less than excellence. Hence, understanding your business needs is the first step before you search for the best custom software development company. It's the missing puzzle piece to get the bigger picture clearer. Start by clearly defining your project requirements, goals, and expectations.
Determine the scope, features, and functionalities you need in your application. This will help you communicate your requirements effectively to potential development companies and evaluate their fit for your project. The shelf software might not be an adequate solution every time. Sometimes, their functionality may not be the best fit for meeting current and future needs.
Research thoroughly and shortlist
Before engaging with any software development partner, your goal is to list the specific functionalities you desire for your application. Hence, before shortlisting companies, research by brainstorming essential characteristics for a clear understanding.
Research is a crucial part of choosing the top custom software development company. You can start by identifying the companies that specialize in your niche and have experience in developing similar solutions you need. Explore online sources, read customer reviews, and research their portfolio and case studies. Accordingly, you can shortlist the best ones that fir your criteria and have developed quality products. 
And it's mainly because the user experience is the most crucial factor when dealing with customer experience. It's the most integral design part because it decides the user experience. Since users need access to data and the overall navigation should be intuitive.
Select the Right Technology.
Selecting the right technology when hiring a custom software development company is paramount. If you choose an outsourcing company, Moon Technolabs is the USA's top custom software development company. We use technologies like Javascript, Python, and  PHP, among the top 10 most popular programming frameworks. They constitute almost 85% of the projects worldwide in the current landscape.
However, each language has unique characteristics designed to fulfil your project requirements. For example, Javascript is perfect for processing large volumes of data.
Similarly, Python has various libraries like NumPy, Django, and Flask to develop dynamic interfaces.
Assess Expertise and Experience.
Evaluate the expertise and experience of the shortlisted companies. Look for their technical skills, industry knowledge, and familiarity with the latest technologies and frameworks. Assess their previous projects, client testimonials, and success stories to gauge their capabilities and determine if they can handle your project effectively.
Request detailed proposals from the shortlisted companies, including project timelines, milestones, and cost estimates. When you hire a custom software development company, compare the proposals to understand the value offered and ensure they fit within your budget constraints. Remember that selecting the lowest cost option may not always yield the best quality and long-term value for your project.
Transparency and Communication
Effective communication and transparency are crucial for successful collaborations. Evaluate how responsive and transparent the development company is during the initial communication and discovery phase. They should be able to clearly explain their development processes, provide regular project updates, and address any concerns or questions you may have.
Consider the cultural fit between your organisation and the development company. Collaboration and effective communication are key to successful project execution. Assess if their work culture, values, and communication style align with yours to ensure a smooth and productive working relationship.
Development Methodology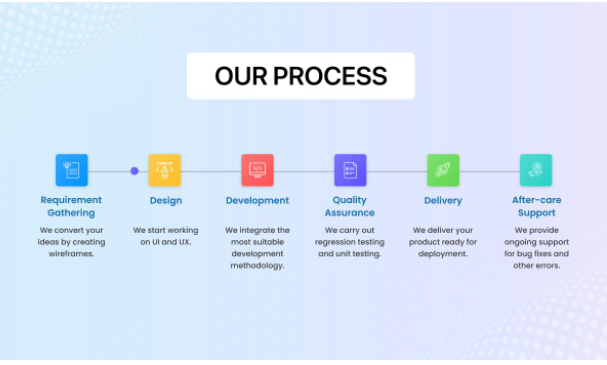 Inquire about the development methodology the company follows. Agile methodologies like Scrum or Kanban are often preferred as they allow for iterative development, continuous feedback, and flexibility in adapting to changing requirements. Ensure the company's development approach aligns with your project's needs and emphasizes regular communication and collaboration.
Inquire about the company's quality assurance practices, testing methodologies, bug tracking, and software documentation. Ask if they have a dedicated QA team or process to ensure the application meets the required performance, security, and user experience standards.
Project Management and Support
Discuss the project management approach and the support provided by the development company after the application is deployed. Understand how they handle project timelines, resource allocation, and change management. Inquire about their support and maintenance services to ensure ongoing support for bug fixes, updates, and enhancements.
Request references from the development company and contact their past clients to gather feedback about their experience working with the company. This can provide valuable insights into the company's professionalism, reliability, and ability to meet project deadlines and expectations.
Wrapping Up
Quality is the primary goal when zeroing in on a software development partner. Besides that, websites with easy navigation, video production, blockchain, and animated content are a few growing demands that give your business a competitive edge. Hence, you shouldn't rush into deciding as many crucial factors must be considered.
Interviewing each company thoroughly is essential to clear all your doubts before you partner with them. The company that you choose should be suitable for not only your initial project but also your future needs. Hence, it's important to keep an eye out for the red flags and choose the one that will support bugs and updates as and when they arise, and even after development.